Tabouli is a very popular middle eastern salad that is made up of fresh herbs, bulgur wheat, tomatoes and scallions.
It's usually served as a side dish, but in this video I'll show you how to bump it up to a Clean & Delicious® main meal that you can feel good about eating.
So watch, cook, and enjoy!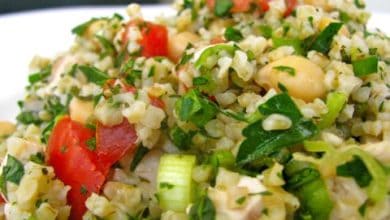 Chicken Tabouli Salad
Yield: 4 servings
Prep Time:20 minutes
Cook Time:15 minutes
Total Time:35 minutes
Ingredients:
½ cup bulgur wheat
2 cloves of garlic, minced
½ cup of chopped flat leaf parsley
¼ cup of chopped mint
½ cup of sliced scallions
1-diced tomato
15oz can of garbanzo beans, drained and rinsed
1-cup of cooked shredded chicken
The juice of one lemon
2 tbsp of extra virgin olive oil
Salt and pepper to taste
Directions:
Bring one cup of water to a boil in a medium saucepan and stir in bulgur wheat.Once it comes back to a boil reduce the heat to a simmer, pop on a lid and cook for about ten to fifteen minutes or until all the water as absorbed.
In the meantime, combine garlic, parsley, mint, scallions, and tomato, in a large bowl.Stir in the bulgur wheat while it is still warm and then add olive oil and season with salt and pepper.Gently toss in the chicken and garbanzo beans.Adjust your seasonings and enjoy!!
Makes 4 - 1 cup servings.
Nutrients per 1-cup; Calories: 282; Total Fat: 8.2g; Saturated Fat: 1.1g; Cholesterol: 35mg; Sodium: 39mg; Carbohydrate: 33.5g; Dietary Fiber: 7.2g; Sugars: 2.1g; Protein: 19.8g