Zucchini taco boats are easy to make and a fun way to put a healthy twist on taco night! This zucchini boat recipe is low-carb, paleo, keto, and Whole 30 friendly, so they work for just about everyone!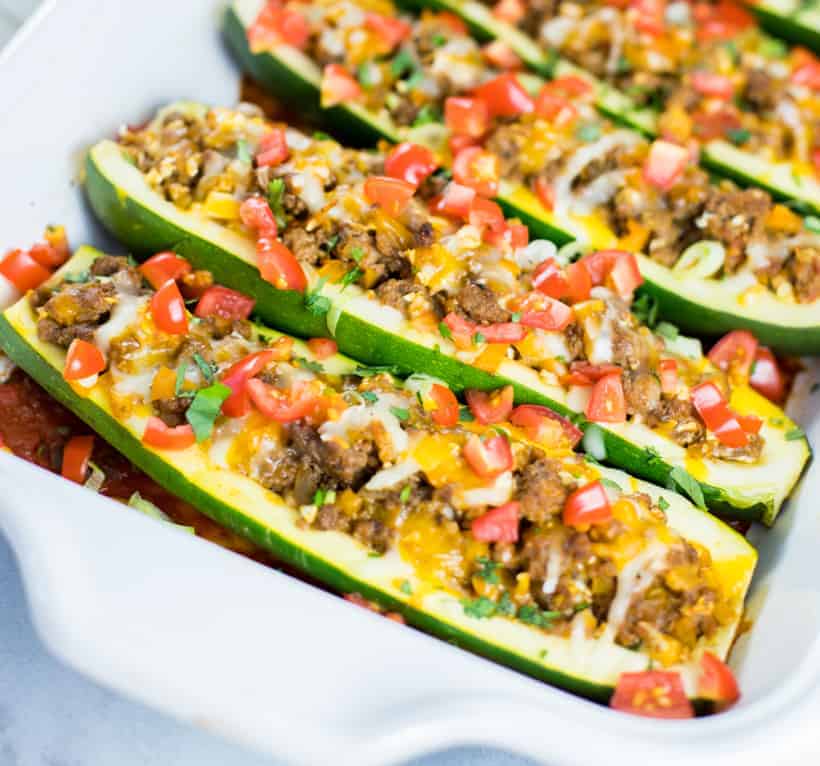 Taco Stuffed Zucchini Boats
Stuffed zucchini boats are one of my all-time favorite meals. I shared a recipe for turkey-stuffed zucchini boats a few years back and it quickly became one of the most popular recipes on Clean & Delicious. So I suspect, that you also really like stuffed zucchini boats too!
The best part about zucchini boats is that you can make so many different flavors, and I'm not sure why it took me so long to make these. Building a taco inside of a zucchini boat is both insanely delicious and one of the healthiest ways to enjoy a taco.
Plus, this meal is super family-friendly and perfect for meal prep as well.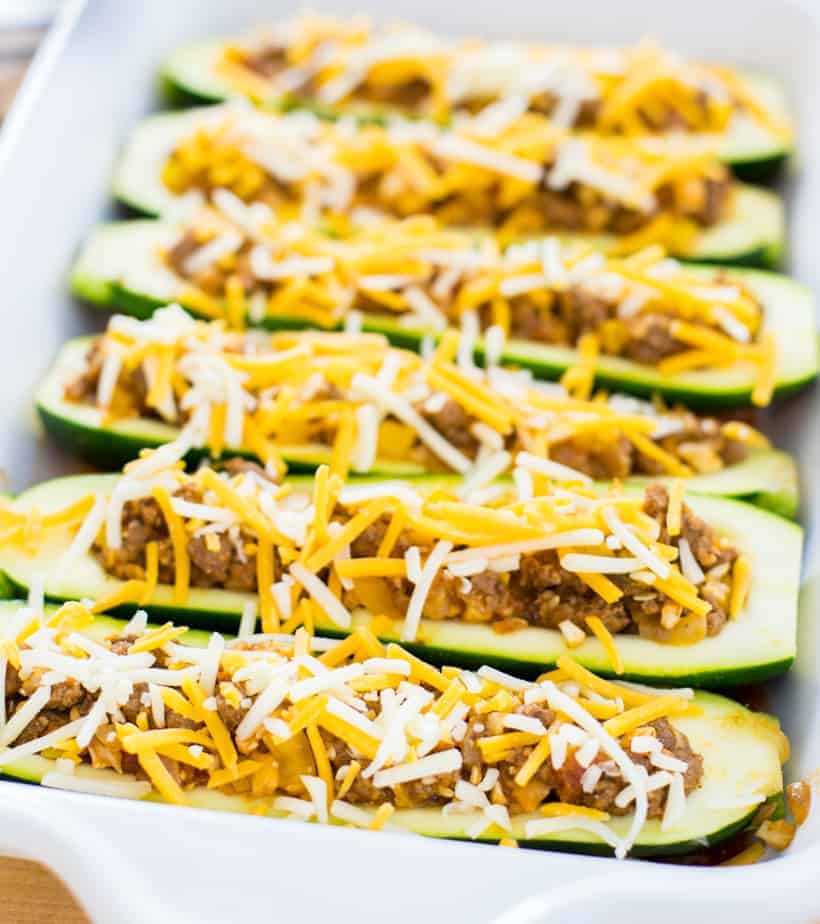 What Type of Meat Should You Use For The Filling?
I wrote this recipe using grass-fed ground beef as the base but you can certainly sub in ground turkey if you prefer. You can also sub in ground chicken or ground bison if you'd like. Really, any ground meat that you love or have on hand will work for this recipe.
Whichever meat you choose, do your best to get the best quality meat that you can find and afford. There is a lot to be said for good, high-quality ingredients. Not only are they better for us, but they tend to taste better as well.
I get 80% of my meat from Butcher Box. They deliver high-quality grass-fed meat, pastured chicken, and heritage pork right to my doorstep on a monthly basis. Not only is the meat of great quality but it's also super convenient. And they are always offering great deals for new members. I highly recommend checking them out if you have been wanting to upgrade the quality of the meat you and your family are eating.
But, with all that being said, don't get fanatic. Make the best choice you can and then choose to feel good about whatever choice you make. I think that is one of the healthiest things we can do for ourselves.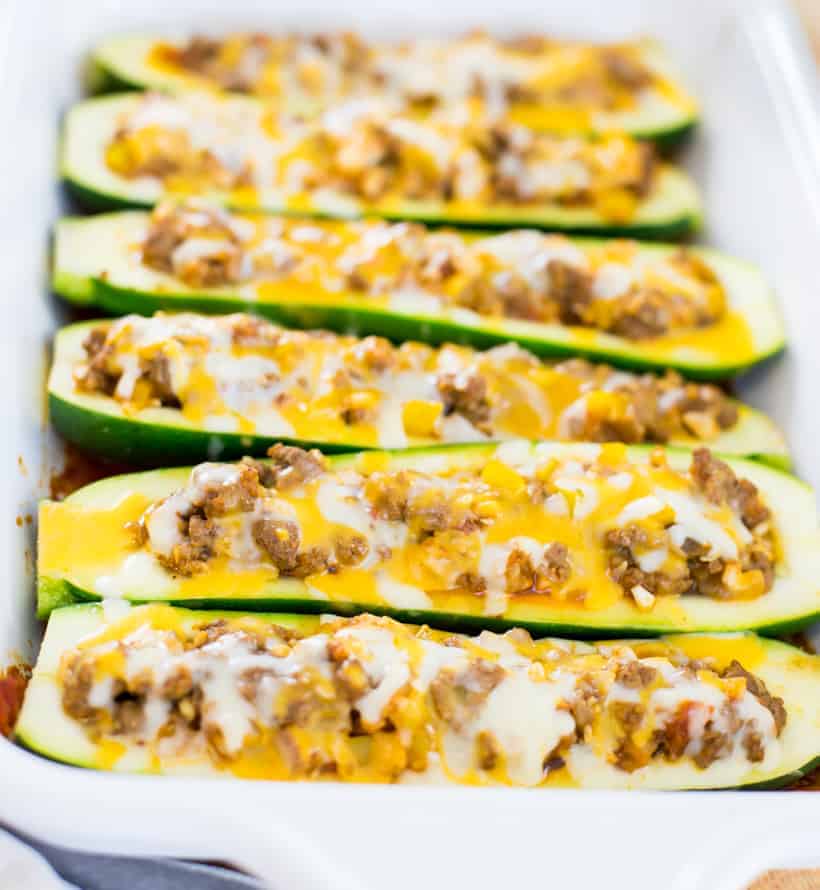 Are Zucchini Taco Boats Keto + Whole 30?
Yes… and no, depending on what recipe you follow.
This recipe is 100% keto because I make the base of the recipe using cauliflower rice in place of brown or white rice. This keeps the carbs super low while adding extra veggies to the dish.
If you wanted to make this recipe Whole 30 compliant, you would have to skip the cheese. I recommend adding some fresh guacamole or diced avocado once it's done baking. This will add a beautiful layer of rich, buttery goodness without the dairy.
Heck, I recommend adding the avocado even if you add the cheese (just not if you are doing Whole 30).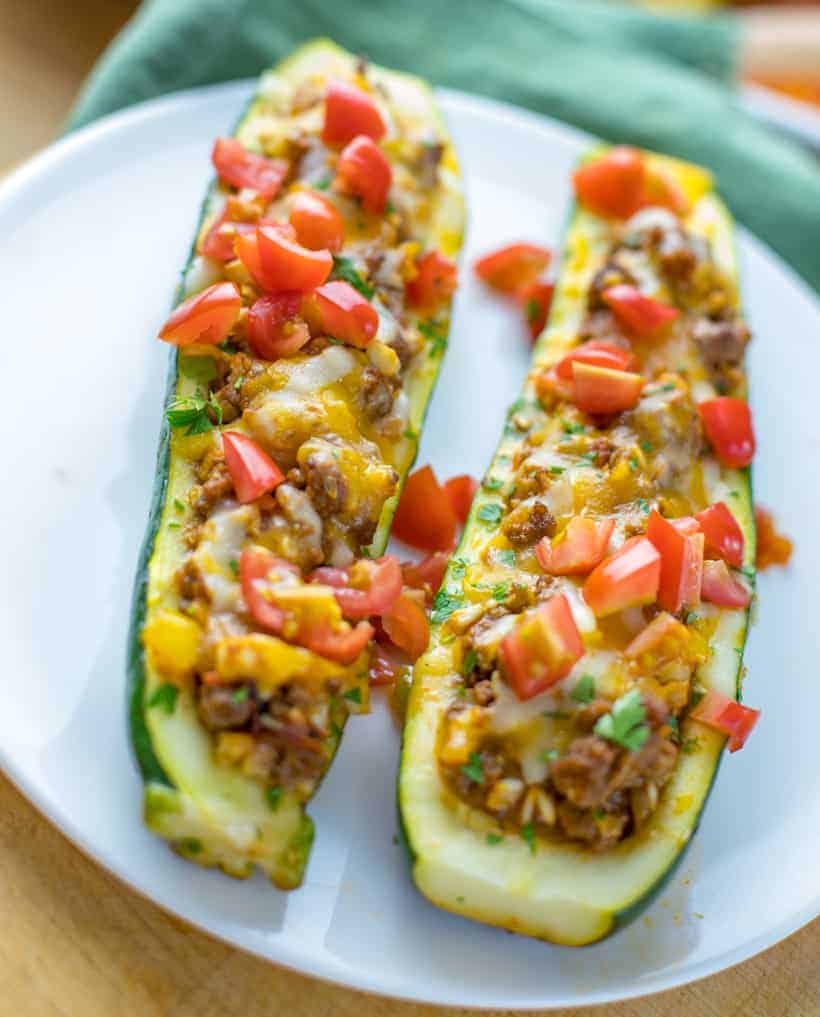 For more delicious taco-inspired recipes, be sure to check out my turkey taco lettuce wraps, turkey and black bean tacos, and my turkey taco dip.
And if you want to be in control of all of your ingredients, try making your taco seasoning from scratch. So easy and so good!
Thanks so much for reading! You can watch the video down below and if you make this recipe I would love for you to give it a ★ rating below. And be sure to follow me on YouTube, Pinterest, Instagram and FaceBook for more healthy food inspiration!
Zucchini Taco Boats
Zucchini taco boats are easy to make and a fun way to put healthy twist on taco night! This zucchini boat recipe is low-carb, paleo, keto, and Whole 30 friendly, so they work for just about everyone!
Ingredients
4

medium

zucchini

1

cup

salsa

1

tablespoon

olive oil

1/2

cup

chopped onion

1

pound

grass-fed ground beef

2

tablespoons

taco seasoning

1

cup

cauliflower rice,

(I buy mine pre-riced)

2

cloves

chopped garlic

1

bell pepper,

chopped

1

cup

chopped zucchini,

reserved

salt and pepper to taste

1

cup

shredded cheddar cheese

1/4

cup

chopped cilantro,

optional

1/4

cup

diced cherry tomatoes

optional
Instructions
Trim the top and bottom of zucchini off. Lay the zucchini flat and slice in half lengthwise. Repeat with all four zucchini.

Using a spoon, scoop the center of the zucchini out leaving 1/4 inch wall around the bottom and sides of the zucchini. Repeat with each zucchini halve.

Reserve 1 cup of the zucchini meat from the center of the zucchini and give it a rough chop. We will use this in the filling.

Add a thin layer of salsa to the bottom of a baking and lay the zucchini boats on top. You may need two dishes to fit all of the zucchini.

Ina large non stick skillet, heat olive oil. Once the oil is hot, add in the onion along with a pinch of salt.

Once the onion is translucent, push to the side and add in ground beef. Season with salt and break up into crumbles. Add taco seasoning and stir to coat.

Next, add in cauliflower rice, garlic, bell pepper and zucchini 'meat'. Season with a little more salt and pepper and stir.

Pour in remaining salsa, stir everything together, and simmer for 5-10 minutes. Turn off the heat and allow to cool until it's easy to handle.

Divide the mixture evenly amongst all 8 zucchini boat halves and then sprinkle each half with shredded cheddar cheese.

Cover with aluminum foil and bake for 25 minutes or until the cheese has melted and the zucchini is tender.

Top with fresh tomatoes and cilantro and enjoy!
Notes
I always buy my cauliflower rice pre-made at the grocer store. You can use fresh or frozen for this recipe, both work.
If you want to keep this recipe Whole 30 compliant, be sure to leave off the cheese.
Nutrition
Serving:
1
boat
|
Calories:
215
kcal
|
Carbohydrates:
9
g
|
Protein:
17
g
|
Fat:
13
g
|
Saturated Fat:
6
g
|
Cholesterol:
52
mg
|
Sodium:
420
mg
|
Potassium:
660
mg
|
Fiber:
3
g
|
Sugar:
5
g
|
Vitamin A:
1074
IU
|
Vitamin C:
49
mg
|
Calcium:
142
mg
|
Iron:
2
mg