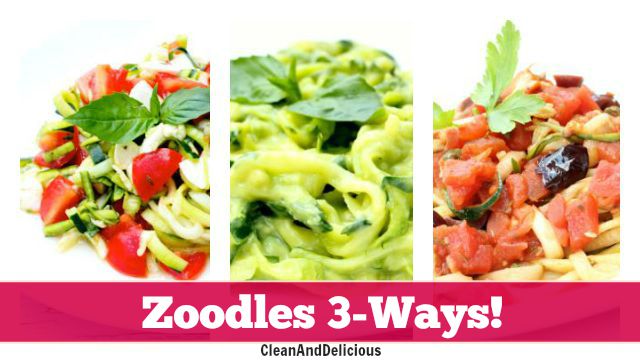 Scroll down to watch the video.
As you guys know by now, I have become a huge fan of zoodles (aka zucchini noodles)!
They're an easy, delicious, low-calorie, nutrient-dense alternative to traditional pasta and if you haven't tried them yet, I highly recommend you do.
If you want to learn more about them, you can watch my Zoodle 101, that's where I cover all of the basics plus I share my favorite tool for making them (hint: it's the Veggetti).
And for the of you who are ready to jump in, I wanted to be sure you had some ideas to get you started, so here are 3 very simple,extremely delicious zoodle recipes!
1. Zoodle Puttanesca
I love puttanesca sauce because it's salty, spicy and has a lot of sass (some of my favorite traits). Plus, most of the ingredients come from the pantry so it's a great option when you are running low on groceries.
This recipe makes enough for 2-3 servings so be sure to make enough zoodles!
Zoodle Puttanesca Recipe
1 tsp. extra virgin olive oil
1 clove chopped garlic
3 anchovies, chopped up
Pinch of red pepper flakes
15-ounce can of crushed tomatoes
½ cup chopped kalamata olives
1 tbsp. capers
Sprinkle of dried oregano
Heat extra virgin olive oil in a medium sized pot then add garlic, anchovies and a pinch of red pepper flakes. Sauté everything for 1-2 minutes or until the anchovies disintegrates and the garlic smells amazing. Next add in a 15-ounce can of crushed tomatoes, ½ cup of chopped kalamata olives, a tbsp. of capers, and a sprinkle of dried oregano.
Let it all simmer for 10-15 minutes. (This sauce will make enough for 2-3 zucchinis, so you will have leftovers if you are making a single serving.)
Serve over some zoodles and enjoy!
Nutrients for ½ recipe: Calories: 135; Total Fat: 9.6g; Saturated Fat: 0.6g; Cholesterol: 5mg; Carbohydrate: 10g; Dietary Fiber: 0.3g; Sugars: 0g; Protein: 4.8g
2. Raw Zoodle Caprese Salad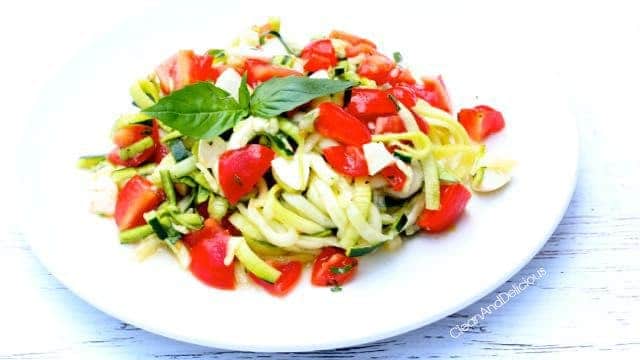 If you are looking for something light and fresh that screams summer, this is the recipe for you! The zoodles are eaten raw so there is no cooking involved (perfect for a hot day!).
Raw Zoodle Caprese Salad Recipe
1 medium to large zucchini
1/3 cup diced tomatoes
1 ounce fresh mozzarella cheese, diced
2 tbsp. fresh basil, chopped
1 clove of garlic, crushed
1 tbsp. extra virgin olive oil
2 tbsp. fresh lemon juice
Salt and pepper to taste
Use your Veggetti (or your favorite tool) to make your zoodles.
Place raw uncooked zoodles in a medium sized bowl. Add in 1/3 cup diced tomatoes, 1 ounce of fresh chopped mozzarella cheese and 2 tbsp. of fresh chopped basil.
In a separate bowl combine crushed garlic, extra virgin olive oil, fresh lemon juice, salt and pepper. Drizzle the dressing over the zoodles and gently toss. Enjoy!
Calories: 185; Total Fat: 17.2g; Saturated Fat: 3.7g; Cholesterol: 10mg; Carbohydrate: 8.5g; Dietary Fiber: 1g; Sugars: 4.3g; Protein: 1.1g
3. Creamy Avocado Pesto Zoodles
If comfort food is your thing, then you are going to LOVE this dish. It's super rich and creamy plus it's loaded with healthy fats because the base of the sauce comes from avocado.
Creamy Avocado Pesto Zoodles Recipe
1 medium to large zucchini
1 clove garlic, roughly chopped
2 tbsp. basil, roughly chopped
½ avocado
1 tbsp. Fresh lemon juice
1 tbsp. water
Salt and pepper to taste
Use your veggetti (or whatever tool you like) to turn your zucchini into zoodles. Place in a microwave safe bowl along with a splash of water and microwave for two minutes (or until tender). Drain excess water.
Pop garlic and basil in the food processor and pulse a few times just to get it started. Add in avocado, lemon juice, water, salt and pepper. Pulse until smooth and creamy. Add extra water if the sauce seems too thick.
Pour the sauce over hot zoodles and toss until the zoodles are coated with sauce. Adjust seasonings and enjoy!!
Calories: 149; Total Fat: 12.6g; Saturated Fat: 2.5g; Cholesterol: 0mg; Carbohydrate: 10.5g; Dietary Fiber: 8g; Sugars: 0.4g; Protein: 3.2g