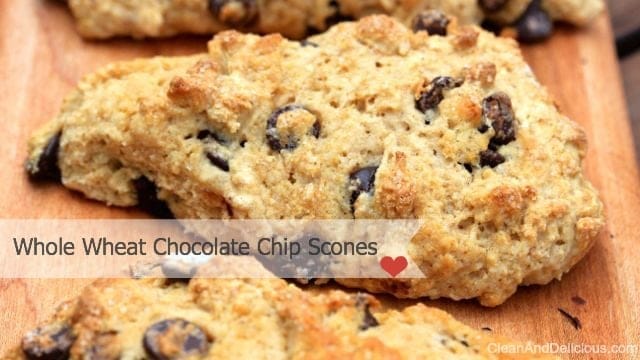 Scroll down to watch the video!
My general rule of thumb when it comes to baked goods is to either find the best, artisanal, local, freshest, amazing bakery in your area, or make it yourself.
If your going to do it, do it right and don't waste your time with pre-packed baked good that were made with no love and could last on the shelf for 5-years if need be.
These scones are a slightly lighter version of a chocolate chip scone my family and I fell in love with this past winter. We buy them from Sook, an amazing french pastry shop in the next town over which may or may not have played a role in my winter weight gain (I'm not pointing any fingers).
I think it's fair to say I've developed some habits over the winter that are going to need a bit of breaking. Eating scones and drinking lattes every time I'm cold and wanting extra comfort being at the top of the list.
So I made a new deal with myself (inspired by Michael Pollan) that I could enjoy a chocolate chip scone as often as I was willing to make them (which in my case is probably still to often, but you guys know how I feel about baby steps).
I did try to lighten them up a bit by swapping out the cream for 2 % milk and adding a few extra nutrients by using white whole wheat flour in place of white flour. Making these changes does result in a more cake like texture when it comes to your scone, but my family and I did not mind one bit.
If you make these, you will notice that the batter is very sticky, but don't let that stop you from moving forward with the recipe. Sure it can be a little messy, but that's where they get all their charm.
Hope you get to give them a try and then all you mamas have an awesome Mothers Day!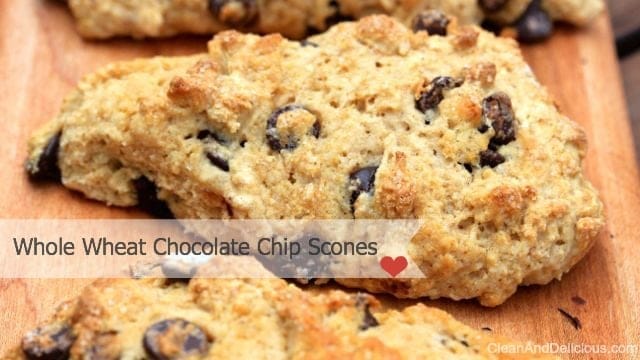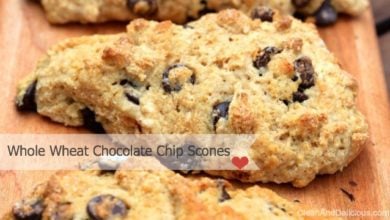 Print Recipe
Whole Wheat Chocolate Chip Scones
Ingredients
2

cups

of white whole-wheat flour

21/2

tsp.

baking powder

1/2

tsp.

salt

1/4

cup

plus one tbsp. of raw sugar

1

cup

+ 2 tbsp. 2% milk

3/4

cup

chocolate chips

1

tbsp.

of melted butter
Instructions
Pre heat oven to 400 degrees.

In a large bowl combine flour, baking powder, salt, and cup of sugar. Stir in the milk and mix just until the dough starts to come together (it will be sticky). Add in the chocolate chips, mixing just enough to get them incorporated.

Place dough onto a floured counter top and knead briefly, just enough to bring the dough all together. Use your hands to pat the dough down into about an 8-inch circle.

Brush the top of the dough with the melted butter and sprinkle with the remaining sugar.

Cut the dough into 8 wedges and place the wedges on a rimmed baking sheet that is lined with parchment paper or a silpat mat making sure that the scones dont touch.

Bake for 18-20 minutes or until the scones are golden brown on top.

Makes 8 scones.
Nutrition
Serving:
1
scone
|
Calories:
244
kcal
|
Carbohydrates:
43
g
|
Protein:
6
g
|
Fat:
7
g
|
Saturated Fat:
4
g
|
Polyunsaturated Fat:
0.1
g
|
Monounsaturated Fat:
1
g
|
Trans Fat:
0.1
g
|
Cholesterol:
9
mg
|
Sodium:
163
mg
|
Potassium:
730
mg
|
Fiber:
4
g
|
Sugar:
18
g
|
Vitamin A:
114
IU
|
Vitamin C:
0.2
mg
|
Calcium:
356
mg
|
Iron:
1
mg