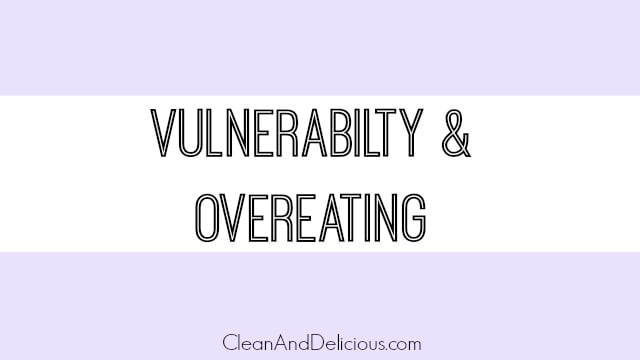 Scroll down to watch my video on vulnerability & overeating.
If you haven't watched this video already it's SO worth 21 minutes of your time.
Author, researcher and storyteller, Brene Brown explains why vulnerability (ie. allowing ourselves to experience all of who we are) is a necessary part of joy, happiness, gratitude, etc.
Many people (myself included) avoid being vulnerable like the plague.
Allowing ourselves to be vulnerable means allowing ourselves to feel ALL of our feelings, not just the pretty, shiny, feel-good, ones.
Because here's the deal:
We cannot selectively numb out feelings. If you avoid and numb out uncomfortable, not-so good feeling feelings, you will also rob yourself of the awesome feelings.
Here's what the cycle looks like for someone who avoids vulnerability:
We do not allow ourselves to feel vulnerable (aka – avoid the hard feelings with all we've got)
Because we cannot selectively numb out emotions we also rob ourselves of feeling the good emotions
Results = we feel miserable (aka – vulnerable)
EAT! Avoid, numb out, distract ourselves
I share this because it demonstrates that food/drinks/overeating is never the real problem. The food is merely a symptom. A messenger. An invitation to know ourselves on a deeper level.
The question is always WHAT is driving us to the eating? What are we feeling or not feeling? What would it take to be vulnerable? Are you willing to sit in the discomfort of an uncomfortable feeling in order to move through to a deeper sense of connection with yourself and your life?
In this video, I share my interpretation of Brene's talk and how I believe it relates to eating.
This topic is SO interesting to me and I would love to hear all about your thoughts and/or experiences down in the comments below!