Veggie Packed Thai Kale Salad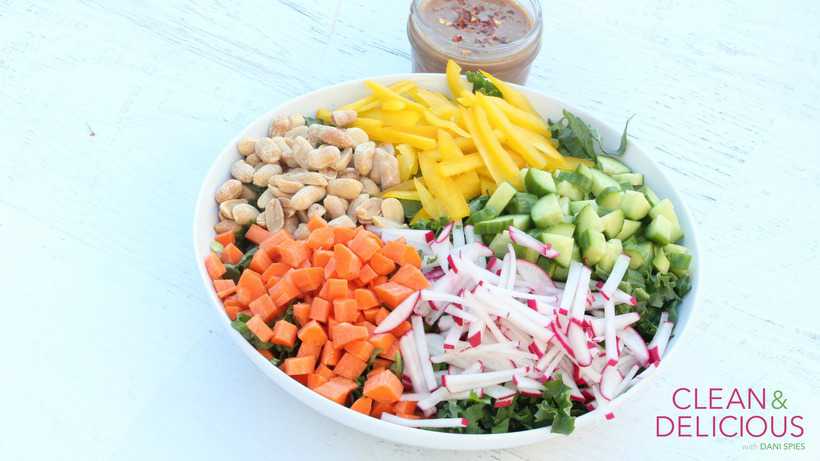 Scroll down to watch the step-by-step video.
If you like crunchy, hearty, veggie packed salads that are full of flavor, then stop right here, because this salad is for you.
Kale + carrots + cucumbers + radishes + peppers + peanuts = salad awesomeness. 
This salad makes a delicious lunch or dinner and is also hearty enough to make on the weekend as a head-start ingredient (just be sure to keep the dressing and peanuts on the side).
If extra protein is your thing, shredded rotisserie chicken is a great match for this delicious salad.
Thai Kale Salad
Yield: 2-4 servings
Prep Time:20-30 minutes
Cook Time:0 minutes
Total Time:20-30 minutes
This salad is addictive. Be warned!
Ingredients:
Thai Kale Salad
1 head of kale, washed + stemmed (8-10 cups)
1 cup chopped carrots
1 1/2 cups chopped cucumber
1 cup radishes, sliced into thin strips
1 yellow pepper, sliced into thin strips
1/4 cup peanuts
Peanut Dressing
(makes 1/3 cup)
1/4 cup natural peanut butter (creamy or chunky)
1 clove crushed garlic
1 tsp. grated ginger
1 tbsp. soy sauce
2 tbsp. honey
Pinch of red pepper flakes
1 tbsp. lime juice
2 tbsp. hot water (to thin dressing out)
Directions:
Salad:
Slice the kale into thin ribbons and then toss together with the remaining ingredients.
Peanut Dressing:
Combine all of the ingredients in a small bowl or spouted glass cup.  Whisk until well combined and then add the hot water, as needed, to thin the dressing out.
Nutrients per 1 tbsp. dressing: Calories: 88; Total Fat: 5g; Saturated Fat: 0.7g; Cholesterol: 0mg; Carbohydrate: 8.9g; Dietary Fiber: 0.7g; Sugars: 6.8g; Protein: 3g
Nutrients for entire salad: Calories: 652; Total Fat: 30g; Cholesterol: 400mg; Carbohydrate: 102g; Dietary Fiber: 23g; Sugars: 12.5g; Protein: 33.3g
Nutrients for 1/2 salad with 2 tbsp. thai dressing: Calories: 499; Total Fat: 21.6g; Cholesterol: 608 mg; Carbohydrate: 68 g; Dietary Fiber: 13g; Sugars: 19.8g; Protein: 22.6g