This classic tuna salad recipe is incredibly tasty and easy to make with simple ingredients. Flaky tuna is mixed with crisp celery, red onion, cornichon pickles, baby spinach and a creamy Greek yogurt and mayonnaise dressing. It turns out delicious every time and is a quick and nutritious meal option that's great served as a sandwich, in a tortilla wrap, on top of sliced cucumbers, or in lettuce cups.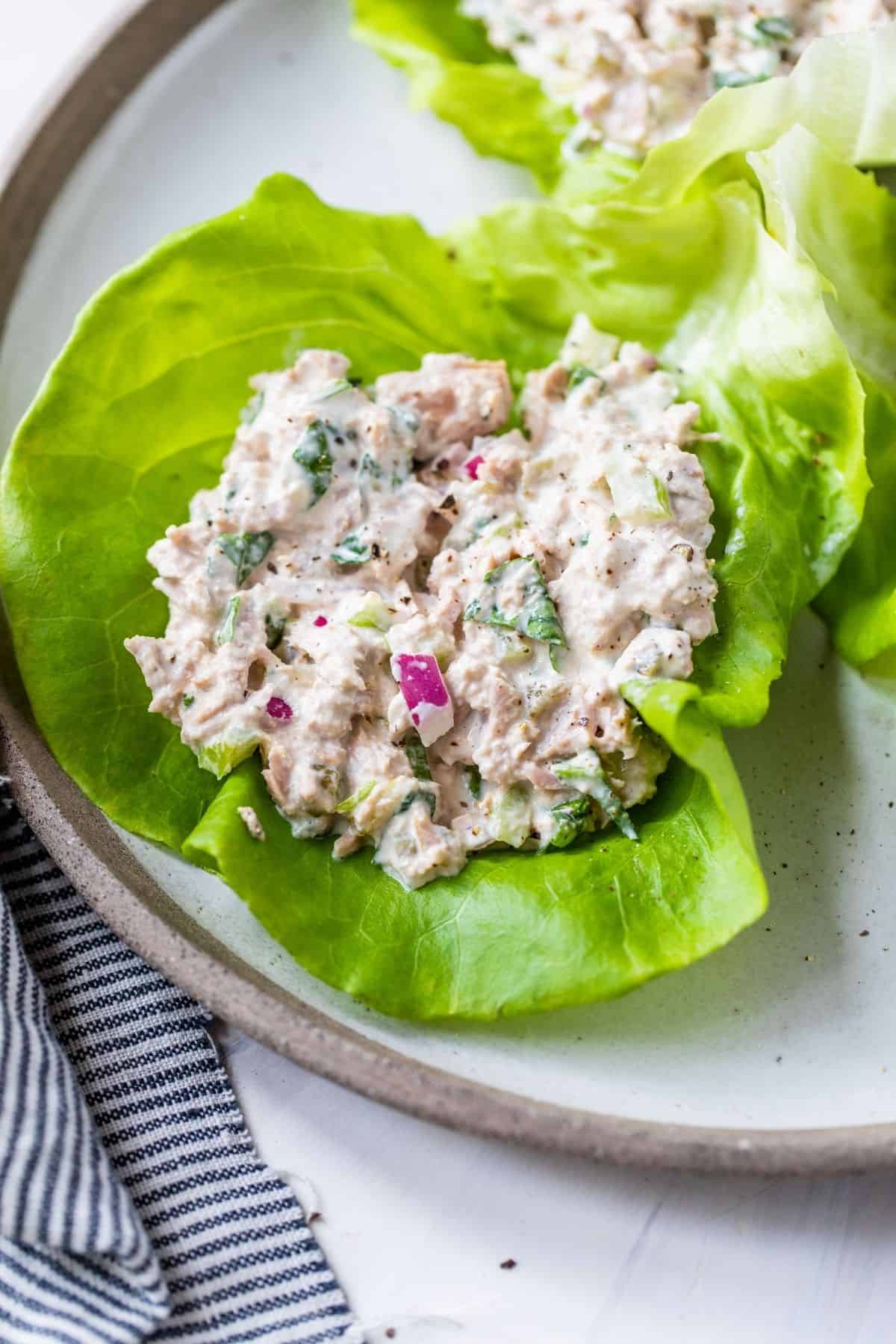 Classic Tuna Salad Recipe
A classic tuna salad recipe is one of my go-to easy lunches (salmon salad is a close competitor). Not only does it make for a super delicious meal, but it's packed with protein and keeps me satisfied for hours. Also, there are no complicated methods or ingredients needed. And meal prep's a cinch. I often make a batch of this salad on Sunday to enjoy for an easy meal or a snack on Monday and Tuesday.
With just a few basic ingredients probably already in the fridge and pantry, you can whip up a salad or sandwiches or even scoop it into half an avocado or lettuce cups for an effortless (and low carb) lunch!
What's in Tuna Salad?
This tuna salad recipe is made with fresh, minimal ingredients and is packed with protein, thanks to the tuna and plain Greek yogurt. Feel free to mix and match ingredients as you like, but personally, I really love the recipe as written. Here's everything you'll need to make this healthy salad recipe:
Tuna – I recommend using skipjack or canned light tuna in water, because both of these options are lower in mercury than other varieties of canned tuna.
Mayonnaise – Primal Kitchen is my go-to brand because the base of the mayo is made with high-quality avocado oil in place of low-quality vegetable oils.
Plain Greek yogurt – Makes the tuna salad super creamy while adding protein to help keep you satisfied.
Celery – Adds a delicious crunch!
Pickles – Bright and tangy with great flavor. If you like that tangy type of flavor, but don't have any on hand, dill pickles, gherkin pickles or chopped capers would work too.
Baby spinach – Adds great flavor and texture and is a really easy and delicious way to work more greens into the day.
Salt + pepper – To bring out all of the flavor in the salad.
Keep in mind, this is a VERY flexible recipe. You can toss in any type of crunchy veggies you like and/or have on hand. I often add chopped broccoli, cauliflower, carrots, and radishes since I always tend to have them in the frige.
Oh! And if you are vegan, no worries! You can try my chickpea tuna salad instead.
How to Make This Easy Tuna Salad Recipe
Let me show you how easy it is to whip up this yummy lunch!
Once you have all of your ingredients out and ready to go, tuna salad is as easy as stirring everything together in a large bowl.
Tuna: Drain the cans of tuna. Add the tuna into a bowl and use a fork to separate the pieces.
Mix-ins: Add mayonnaise, yogurt, diced celery, diced onion, diced pickles, thinly sliced baby spinach and salt and pepper to the bowl with the tuna and mix well. All of these ingredients add great flavor and texture. However, feel free to leave out any ingredient you don't like and add-in what you love.
Serve: We love this tuna salad served as sandwiches on whole wheat bread or spooned into lettuce cups. Another fun way to serve this tuna salad recipe is spooned onto large slices of cucumber (so good!).
If you prefer a lower fat, higher protein option, skip the mayo and use all Greek yogurt. If you prefer a dairy-free option, skip the yogurt and use all mayo. You always have options.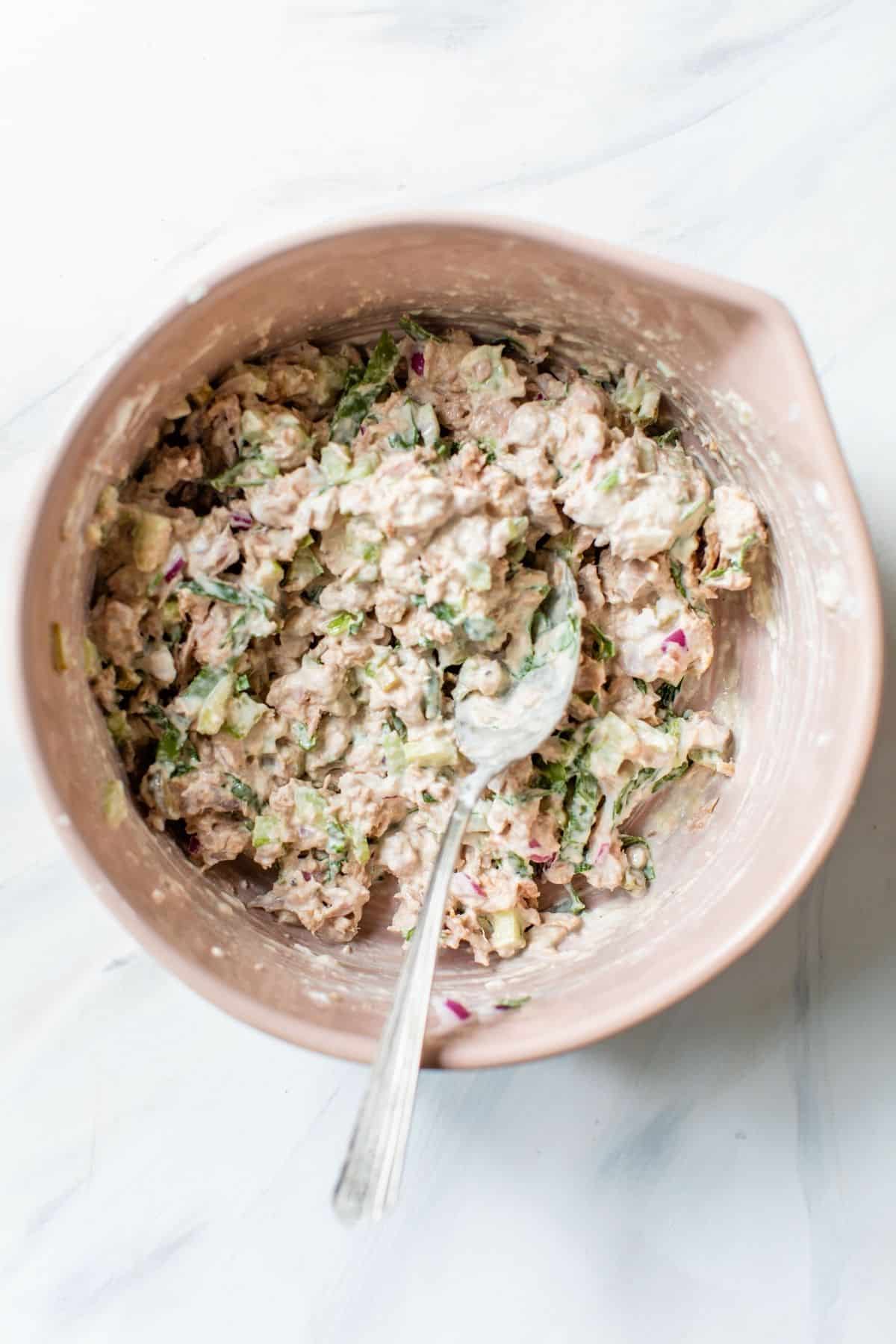 Ways to Serve This Tuna Salad Recipe
There are so many different ways to serve tuna salad, and they all happen to be super delicious!
Bread: Serve your salad on toasted wheat bread with lettuce and tomato.
Pita: Stuff your salad into half of a pita bread. Add lettuce and tomato, if you'd like.
Crackers: Scoop up the salad with crackers.
Lettuce cups: Spoon the salad into romaine or butter lettuce leaves.
Tomato: Stuff the salad into a hollowed out tomato.
Wrap: Spread a tortilla with tuna salad and any other add-ins you like and roll up tightly. Cut in half and serve.
Avocado: Stuff the tuna into avocado halves.
Cucumber slices: Spoon the tuna salad onto large cucumber slices.
Tuna Salad Variations
This is a basic tuna salad recipe, but there are so many different ways to customize it to your preference!
Other mix-ins: Add a small amount of diced crunchy apple. It gives the salad a touch of sweetness and fresh crunch that's absolutely delicious. You could also add sliced green onion or diced cucumber to the salad.
Boiled eggs: For added protein, healthy fats and flavor add 2 chopped hard-boiled eggs.
Dressing: I love using a combo of mayo and Greek yogurt, but keep in mind, you can use all mayo or all yogurt depending on your preference. This salad is nice and creamy, but you can add less mayo or yogurt, if you like tuna salad a little drier.
How Long Does Tuna Salad Last?
Tuna fish salad is a great make-ahead lunch because it will keep in the fridge for a few days. Because it has fish and mayonnaise in it, be careful to not leave it out on the counter for too long.
Once you've made your tuna salad meal, place the tuna salad back in the fridge in an airtight container to keep it as fresh as possible. When you're ready to use it again, be sure to give it a good stir to combine all of the ingredients again.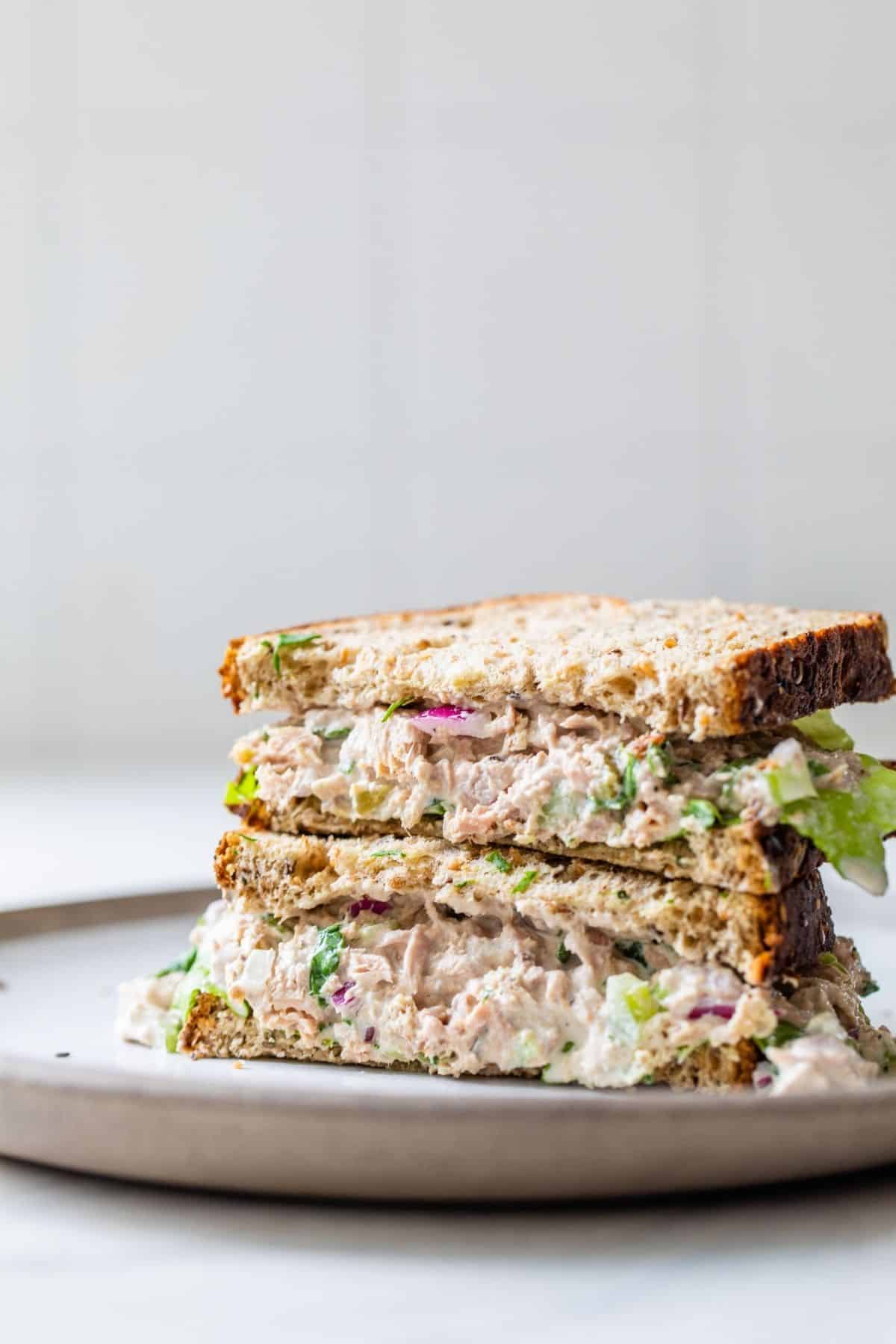 More Easy Salad Recipes:
Looking for more delicious salad recipes? Give these favorites a try!
If you make this tuna salad recipe, be sure to leave a comment and star rating below letting me know how it turned out. Your feedback is so helpful for me and our Clean & Delicious community (thank you!).
Tuna Salad Recipe
This classic tuna salad recipe is incredibly tasty and easy to make with simple ingredients. Flaky tuna is mixed with crisp celery, red onion, cornichon pickles, and a creamy Greek yogurt and mayonnaise dressing. It turns out delicious every time and is a quick and nutritious meal option that's great served as a sandwich, in a tortilla wrap, with a side of crackers or in lettuce cups.
Ingredients
2 5-

ounce

cans of tuna in water

1/4

cup

mayonnaise

1/4

cup

plain Greek yogurt

1/3

cup

diced celery

(1 celery rib)

3

tablespoons

diced red onion

2

tablespoon

diced cornichon pickles

capers work too!

Handful baby spinach

thinly sliced

Salt and pepper to taste
Instructions
Drain the liquid from the tuna cans. Then, into a mixing bowl, add the tuna, mayonnaise, Greek yogurt, celery, red onion, cornichon pickles, thinly sliced baby spinach, salt and pepper.

Stir everything together until well combined.

Serve tuna salad as desired – spoon onto bread for sandwiches or pile it into lettuce cups, spread it on crackers or serve it any other favorite way. Enjoy!
Notes
Feel free to use as much or as little of the above ingredients. If you like a creamier tuna salad, feel free to add more mayo or yogurt. If you don't like one of the ingredients, simply leave it out.
Tuna salad will keep fresh in an airtight container, in the fridge, for up to about 3 days. Give it a good stir before using.
Nutrition
Serving:
1
serving
|
Calories:
169
kcal
|
Carbohydrates:
2
g
|
Protein:
15
g
|
Fat:
11
g
|
Saturated Fat:
2
g
|
Polyunsaturated Fat:
6
g
|
Monounsaturated Fat:
2
g
|
Trans Fat:
1
g
|
Cholesterol:
32
mg
|
Sodium:
340
mg
|
Potassium:
187
mg
|
Fiber:
1
g
|
Sugar:
1
g
|
Vitamin A:
101
IU
|
Vitamin C:
1
mg
|
Calcium:
35
mg
|
Iron:
1
mg