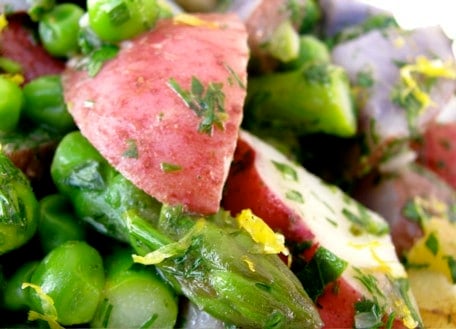 Potatoes get a bad rap.  It's the whole "high glycemic index thing" that sends people into a "potatoes-are-the-anti-christ" frenzy.  Sure potatoes have a lot of carbs and a high glycemic index but for the love of God they grow out of the ground… how bad can they be??  Let's discuss…
First things first – the Glycemic Index is a ranking which rates the effect of carbohydrate-containing foods on blood glucose levels.  Basically, it's how quickly or slowly our blood sugar is raised after eating a specific type of carbohydrate.  Carbohydrates that break down quickly during digestion have a high GI value (meaning the blood glucose response is fast and high).  Carbohydrates that break down slowly, releasing glucose (aka=energy) into the blood stream have a low GI value.
Maintaing stable blood sugar levels plays a huge part in good health.  When our blood sugar levels are spiking and crashing all the time this puts a lot of uneccesary stress on our hearts and arteries and can lead to things like diabetes, mood swings, cardiovascular disease and kidney probems.  Needless to say, we want to keep those sugars moderate and balanced.
Okay, back to potatoes.  Yes, potatoes do have a high glycemic index and if eaten alone will most definietly spike blood sugar levels.  But if eaten as a side dish along with some grilled chicken or fish, and maybe some greens with a squish of lemon, or topped with an over easy egg, this changes up the entire story.  Pairing High GI foods with Low GI foods creates balanced meals that we can feel good about eating.
Okay, so my potato salad.  It's so good.  I actually got this idea from a vegetarian cooking class that was being offered at Whole Foods for five bucks!  Five bucks?!  Unheard of for a cooking class, but I digress.  I love combining different herbs together so when I heard of the combination of the dill, tarragon and parsley I was all in.  I'm telling you guys, if you want to take a pretty basic dish over the moon, it's all about the fresh herbs… it's crazy how such a small addition can make a big change in flavor.
I served this with a lemon herb grilled chicken that I will try to post soon.  I'm not so crazy about the picture I took of the chicken and you guys know I can be anal with the picture thing so I'm not super excited about posting it but maybe I'll get past my photo vanity and do it anyway… we'll see;).
Print Recipe
Triple Herbed Potato Salad
Ingredients
2

lbs

of thin skinned baby potatoes

chopped into bite size chunks

1

bunch of asparagus

stemmed and cut into 1/2 inch pieces

1

cup

of frozen peas

2

cloves

of garlic

minced

1/4

cup

each of dill

tarragon, and parsley

2

tsp

of honey mustard

The zest and juice from one lemon

1 1/2

tbsp

of extra virgin olive oil

Salt to taste
Instructions
Steam potatoes for about eight minutes or until fork tender. Place potatoes in a large bowl and then use the same steamer basket to steam the peas and asparagus. The veggies should only take three or four minutes to cook, watch them closely because you want them to remain crisp and vibrant.

Once the veggies are done add them to the bowl with the potatoes. Stir in garlic, lemon juice, honey mustard and a pinch of salt. Combine well.

Finish with the olive oil, fresh herbs, and lemon zest, combine everything again and then give it a quick taste. Adjust the seasonings to your tastes and then enjoy!!