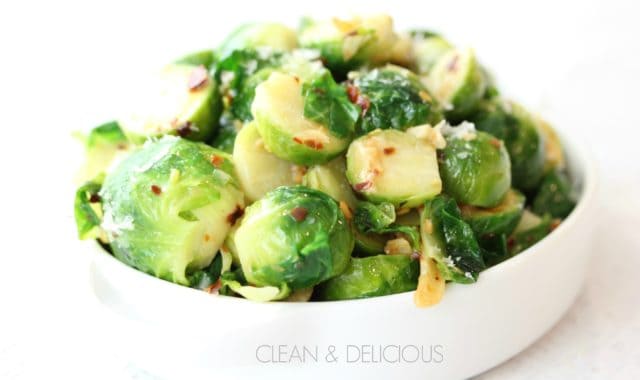 This my friends is a brussels sprouts recipe for anyone who thinks they don't like brussels sprouts.
I'm telling you, these brussels will make you a believer.  They are so.dang. good!
I originally found this recipe about ten years ago in a cookbook called, 'The Healthy Kitchen' written by Andrew Weil + Rosie Daley.  This was one of the very first cookbooks I ever bought when I was transitioning to cooking and eating healthier and this recipe has been a favorite of mine ever since.
The secret ingredient is nutmeg.
A little fresh nutmeg along with garlic and olive oil can create some serious flavor-magic.  Not only does this combo taste great with the brussels sprouts, but it would also be delicious with cauliflower and just about any leafy green.
But be warned, this dish is spicy!  So if you don't like the heat, pull back on the red pepper.  Other then that, be prepared to eat the BEST brussels sprouts you have ever eaten.
The Best Brussel Sprout Recipe
Yield: Makes 4 servings
Prep Time:10 minutes
Cook Time:10 minutes
Total Time:20 minutes
This recipe is from
The Healthy Kitchen
, a cookbook written by Andrew Weil + Rosie Daley.  This is one of the first cookbooks I ever bought when transitioning to cooking and eating healthy.
Ingredients:
1 lb. brussels sprouts

1 tsp. salt

2 tbsp. extra virgin olive oil

1 tsp. hot pepper flakes (adjust

 

to your tastes)

5 cloves finely minced garlic

1/4-1/2 tsp freshly grated nutmeg

1/2 cup freshly grated parmesan cheese
Directions:
Trim the ends of the brussels sprouts and remove and discard any discolored outer leaves.

 

If the sprouts are large (more than 1 inch in diameter), cut them in quarters lengthwise through the

 

stem end.

 

If smaller, cut them in half.
Bring 2 quarts of water to a boil, add salt and the sprouts.

 

Boil the sprouts uncovered until they are just crunchy-tender (about 5 minutes).

 

Drain the sprouts well.
Wipe and dry the pot and heat the olive oil over a medium heat.

 

Add the red pepper flakes and garlic and saute for 1 minute or until fragrant.

 

Add the sprouts and nutmeg and sauce for another minute.

 

Mix the Parmesan cheese and toss the sprouts until the cheese melts.
Calories: 162; Total Fat: 10g Saturated Fat: 3g; Cholesterol: 8mg; Carbohydrate: 12g; Dietary Fiber: 4.5g; Protein: 8.3g