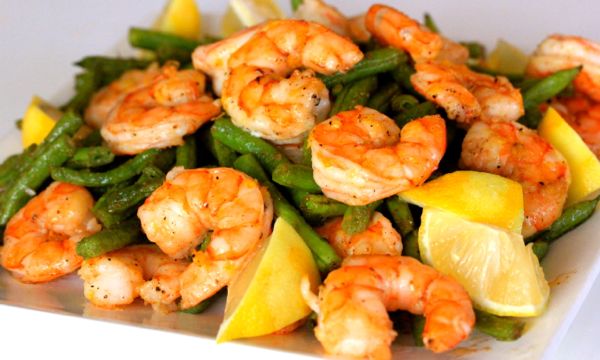 WATCH THE VIDEO HERE.
In my world, the two key factors that weigh the heaviest when it comes to cooking, are simplicity and nutritional density.
Notice how I put simplicity first?
Truth be told, that even for me (a self-proclaimed, 'health conscious foodie') more times than not 'time and ease' tend to outweigh health and nutrition once the clock starts ticking (which is of course why I am a huge advocate of 'pre-preppin' – but that's a whole other story!)
After spending three (fun-filled!) weeks on the east coast being over-tired, under-prepared, and swollen from eating one too many bagels, cookies, pasta dishes, glasses of wine, etc… I was ready to get back to my routine and lighten things up a bit.
And where do I always turn for a simple and nutritious recipe that I know I can rely on? Good ol' Kalyn from Kalyn's Kitchen.  Yep, I know you know her because I've raved about her many times before.  She focuses on South Beach Diet friendly recipes, but at the end of the day she simply has a blog jam-packed with easy and nutritious meals (and this one could not get much easier!)
For starters, I always forget that you can roast shrimp.  I don't know why, it's just one of those things I learned later in my 'cooking' life that doesn't seem to stick in my brain.  And what could be easier than adding a few dried seasonings to some green beans and shrimp and tossing it all in the oven for a quick roast?
For me, roasting sings winter.  But since it's been like 70 and sunny in LA lately this dish was a perfect way to marry lighter ingredients with a cozy-cooking-technique.
I pretty much used Kalyn's recipe verbatim, but this is one of those dishes you could take a million different ways just by changing up your seasonings.
Serve this over some quinoa or brown rice and you've got your self a super-quick, super-easy, clean & delish meal!
HELPFUL KITCHEN TOOLS + RESOURCES:
To watch the step-by-step video guide for this recipe, CLICK HERE.