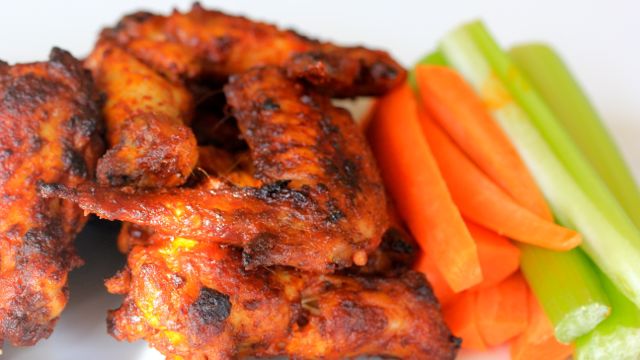 With Super Bowl Sunday quickly approaching I knew it was due time for a video featuring my Spicy Baked Buffalo Wings!
Not only are these wings baked and not fried, but they just so happen to be a very simple recipe to whip up.
As a matter of fact, you could easily prep and season the wings the night before so come Super Bowl Sunday all you have to do is pop them in the oven.  This is especially helpful if you are having some friends over and don't want to miss all the socializing cause you're stuck in the kitchen!
And if wings aren't you're thing, have no worries because here are 10 more recipes that would be sure to please any Super Bowl crowd:
Lots of quick and simple options up there, hope you find something you like!
Do you have any plans for Sunday?  Do you plan on cooking?
Oh!  And if you are interested in making some Clean&Delish Blue Cheese Dressing to go with your wings, you can find my recipe here!
Baked Buffalo Wings
Yield: 8 servings
Prep Time: 20-25 minutes
Cook Time: 40 minutes
Total Time: 1 hour
Ingredients:
3 lbs chicken wings, split (about 16 wings)
1 tbsp garlic powder
1 tbsp paprika
1 tbsp chili powder
1/2 tsp kosher salt
3/4 cup wing sauce
Directions:
Pre heat oven to 400.
Cover a rimmed baking sheet with aluminum foil (for easy clean up) and place a wire rack over on top.
Rinse your wings under cold water and then pat them dry with some paper towels. Use a nice sharp knife to separate the wing from the drumette right at the joint.
Place wings in a large bowl and toss in garlic powder, paprika, chili powder, salt, and 1/4 cup of the wing sauce. Toss everything together, being sure that all the wings are evenly coated in the spice mixture.
Place wings on top of the wire rack that you've placed on your baking sheet and pop in the oven for 20 minutes. Flip the wings and pop them back into the oven for another 15-20 minutes or until the wings have cooked through.
Toss cooked wings into the remaining 1/2 cup of wing sauce and serve with some carrots, celery, and blue cheese dressing for dipping. Enjoy!
Makes 8 servings (4 pieces)
4 pieces (2 whole wings); Calories: 252; Total Fat: 18.1g; Saturated Fat: 4.3g; Cholesterol: 76mg; Carbohydrate: 2g; Dietary Fiber: 0.3; Sugars: 0.1g; Protein: 18.1g