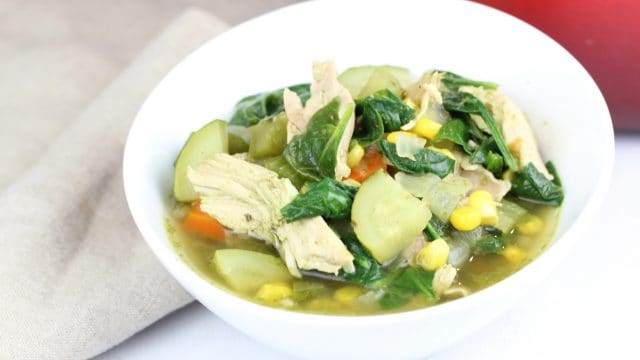 As soon as the New Year came this year, I was knocked down with a big fat cold that has since turned into a sinus infection.  It's been a blast but I am more than ready to be done with the whole thing so I getting extra rest and making sure to eat amazing, nourishing food like this bowl of Green Chicken and Veggie Soup.
The secret to this soup is blending cilantro, garlic, and serrano pepper in the blender along with some broth and then stirring it into the pot so that all of that immune boosting goodness (and amazing flavor!) is infused throughout the soup making every bite healing and delicious.
If you despise cilantro (like many do) simply swap in some parsley in it's place.  I like making a nice big pot of this soup on the weekend so I have it all week long as a quick, simple, healthy meal for lunch or dinner (and even breakfast sometimes!).
If you decide to give it a try, please come back and let me know what you think!  And if anyone has a magical, natural remedy for a sinus infection, feel free to share that as well
[Read more…] about Immunity Boosting Green Chicken + Veggie Soup