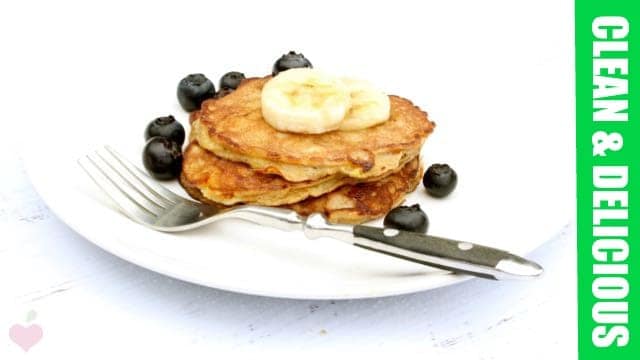 Scroll down to watch the step-by-step video.
These grain-free, dairy-free, refined sugar-free banana pancakes have become one of my favorite ways to make pancakes.  They are so light, fresh and simple that they are hard not to love.
Essentially, all you have to do is mash up some banana with egg, cinnamon and baking powder and your pancake batter is ready to go.  The baking powder is not essential, but I do find it helps keep the pancakes a little bit fluffier.
Here are a few tips I learned along the way to ensure your pancake making experience is EASY and DELICIOUS:
Weigh your bananas.  I have found seven ounces of banana and two eggs is the perfect ratio for these pancakes, but because bananas come in all different sizes it's best  to weigh them if you can.  If you can't then just know seven ounces is usually somewhere between two and three bananas, so if they look small or skinny use three and if they are big fat bananas two will do the job.
Keep it chunky.  When you mash the bananas leave some chunks (you can watch the video below to see the consistency that works best) this will help to keep the pancakes light and fluffy.
Make them small.  Because there is no flour, these pancakes are a little delicate (read: tricky to flip).  If you use about two tablespoons of batter per pancake, you will make the flipping process a whole lot easier and you'll have cute little silver dollar pancakes.
Give them space.  Do not be tempted to overcrowd the pan because this will also make 'the flip' a nightmare.  Giving them a little extra wiggle room will give you a lot more sanity.
As for toppings, I have a few favorites.  You can always stick to the traditional drizzle of real maple syrup (which is aways delicious) or try a smear of almond butter or coconut oil over the top with some fresh berries.  I find the extra fat helps me stay full longer and the berries add a fresh, bright boost of flavor.
If you are interested in the step-by-step, you can watch the video below. And if you have any thoughts, tips, or questions, please leave them down in the comments!
Here are a few of my other Clean&Delicious pancake favorites:
HELPFUL KITCHEN TOOLS:
Glass Mixing Bowls
Glass Mixing Bowls with Lids (great for storage and traveling)
12-inch Non Stick Saute Pan