This post is sponsored by Happy Egg Co®
Today, I'm sharing a recipe using some pantry staples that's flavorful, healthy, and should keep you satisfied for hours. This sweet potato quinoa power bowl is packed with roasted sweet potatoes, quinoa, fresh arugula, chickpeas and topped with perfectly, creamy Happy Egg Organic Free Range Eggs. A meal that tastes like it's from your farmer's market but can really be created using some easy ingredients. Plus, any of the ingredients can easily be swapped out for what's in your pantry and fridge today!
It's times like these that make us all thankful for what we have – whether that be shelter, family, food or companionship. I hope my channels can be a source of inspiration for you and your family – a place to come together, share ideas, advice and ways to continue making positive choices, even when it can seem overwhelming.
That said, I recently posted a video on YouTube, sharing 5 simple tips that helped me create a happier + healthier kitchen (and life!) and one of my 5 tips is to 'eat and repeat'.
As you experiment and discover new foods and dishes that work for you and that you really enjoy eating and making, put them in your back pocket and let them become go-to staples that you can work into your daily and weekly rotation. This keeps mealtime super simple (and incredibly delicious).
A few of my favorite family staples that you can always find in my home include; sweet potatoes, dark leafy greens, beans, whole grains and Happy Egg Organic Free Range Eggs. When you have high-quality, healthy ingredients you really enjoy, creating a nutrient-packed, tasty sweet potato power bowl is super easy and simple.
Let's start with the eggs, shall we?
Happy Egg Organic Free Range Eggs are USDA Certified Organic and their hens are raised with love under the highest animal humane standards. They are honestly the best tasting egg I have ever eaten, and I feel that's because Happy Egg knows that happiness is the single, most-important ingredient.
These large brown, Grade A eggs come from hens living hormone, pesticide, and antibiotic-free. The hens receive an organic non-GMO feed that is vegetarian and nutrient rich! Also, Happy Egg raises its hens on over 8 acres of pasture, which is especially important considering most eggs at your grocery store come from hens who never go outside. The creamy, rich yolk of the Happy Egg ties the entire power bowl together. You don't even need any additional sauce or dressing.
With eggs being a household staple, we love that Happy Egg continues to uphold its Always Choose Happy mission by working efficiently alongside its family farmers during these dynamic times ensure we always have access to healthy, high quality products.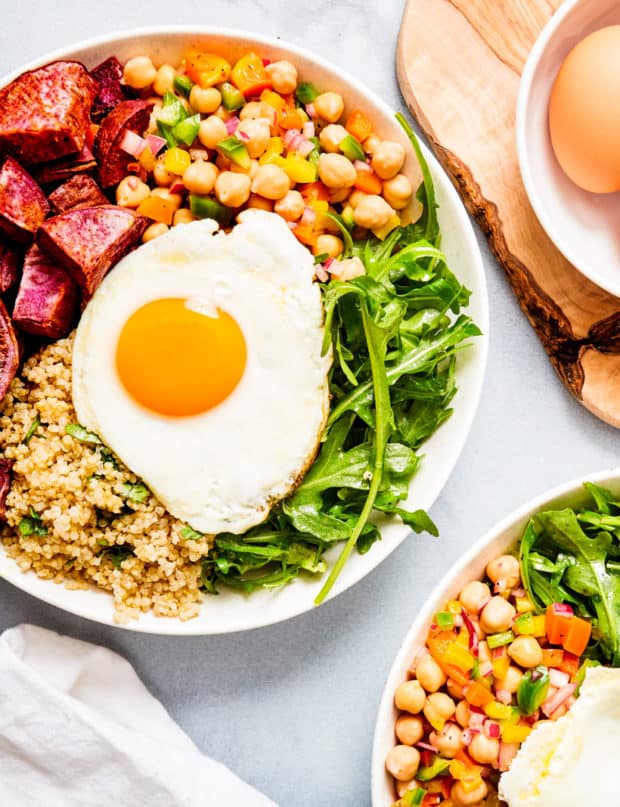 How To Make A Power Bowl?
Power bowls are great because they are so flexible. You can take any combination of vegetables and whole grains to create a delicious power bowl. So be sure to use this sweet potato quinoa power bowl as a blueprint and not a strict set of rules.
I like to start by roasting my sweet potatoes and cooking up some quinoa. Try cooking your quinoa with broth instead of water to infuse a little extra flavor.
Next, I whip up a couple of simple salads. Simple being the keyword! First, I combine a can of chickpeas with diced peppers and onions, and season with olive oil, lemon salt and pepper. Then, I toss baby arugula with lemon, olive oil and kosher salt. Easy, peasy.
Divide all of the ingredients amongst four wide bowls and top each one with a vibrant, creamy Happy Egg for added protein that has exceptional flavor you'll love.
I hope you enjoy making this nutrient-packed, easy-to-make recipe as much as we did and don't forget to #AlwaysChooseHappy! You can learn more about Happy Egg here and visit the store locator to find Happy Eggs nearest you!
Thanks so much for reading! You can watch the video down below and if you make this recipe I would love for you to give it a ★ rating below. And be sure to follow me on YouTube, Pinterest, Instagram and FaceBook for more healthy food inspiration!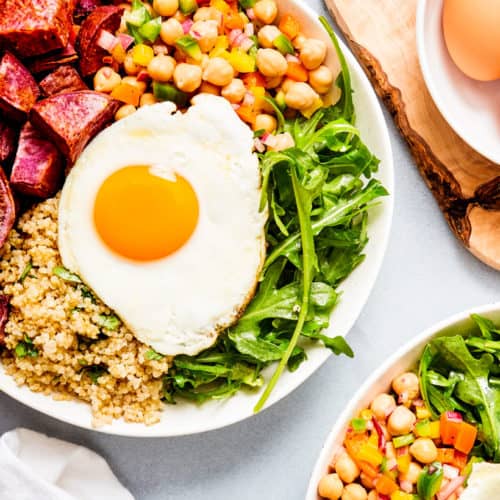 Print Recipe
Sweet Potato Power Bowl
Simple and nutritious this sweet potato power bowl is loaded with roasted sweet potatoes, chickpea salad, quinoa, arugula and eggs! A healthy and satisfying, family-friendly meal.
Ingredients
Sweet Potatoes
1

pound

purple sweet potatoes

or any color you have or love

1

tablespoon

olive oil

1/2

teaspoon

kosher salt

1/4

teaspoon

black pepper

1/2

teaspoon

curry powder
Quinoa
1

cup

quinoa,

rinsed

2

cups

low sodium veggie broth,

or water
Chickpea Salad
1

15-ounce

can of chickpeas,

drained and rinsed

3/4

cup

bell peppers,

diced (mix and match colors)

1/4

cup

red onion,

diced

1

tablespoon

lemon juice

2

teaspoons

olive oil
Arugula Salad
6

ounces

arugula

2

teaspoons

olive oil

2

teaspoons

lemon juice
Happy Egg Organic Free Range Eggs
2

teaspoons

ghee

or butter

4

organic eggs,

Happy Eggs
Instructions
Pre-heat oven to 425 Fahrenheit. Rinse and dry the sweet potatoes, before cutting into bite sized chunks. I like to keep the skin on my sweet potatoes, but you can peel them if preferred.

Transfer the sweet potatoes to a rimmed baking sheet and season with olive oil, salt, pepper and curry powder. Gently toss so all the sweet potatoes are coated with the oil and spices. Bake for 20 minutes or until fork tender.

Place quinoa in a small pot with the veggie broth (or water). Bring to a boil, reduce to a simmer, pop on a lid and cook for about 15 minutes or until the liquid has absorbed and the quinoa is nice and fluffy.

Place chickpeas in a medium sized bowl along with peppers, onion, lemon and oil. Season with salt and pepper and mix well.

Season arugula with olive oil, lemon, salt and pepper; gently toss to coat.

Divide all four ingredients amongst 4 medium wide bowls.

Heat a small non-stick saute pan over low heat. Add in ghee.

Add 1-2 Happy Egg Organic Free Range eggs to the pan and cook for 30 seconds and then place a lid over the top. Cook for 2-3 minutes or until the whites are set through and the yolks a bright and runny.

Place on top of power bowl and repeat with the remaining eggs. Enjoy!
Notes
If you wanted to meal prep this recipe, prepare the sweet potatoes, quinoa and chickpea salad ahead of time and then store in the fridge for up to 5 days. Once ready to assemble, dress your greens and cook up your eggs. Super fast and easy!
Nutrition
Serving:
1
bowl
|
Calories:
406
kcal
|
Carbohydrates:
57
g
|
Protein:
12
g
|
Fat:
15
g
|
Saturated Fat:
4
g
|
Cholesterol:
88
mg
|
Sodium:
870
mg
|
Potassium:
882
mg
|
Fiber:
8
g
|
Sugar:
8
g
|
Vitamin A:
18341
IU
|
Vitamin C:
48
mg
|
Calcium:
134
mg
|
Iron:
4
mg