This easy, 4-ingredient slow cooker pulled pork recipe is simple to make and family-friendly. I love making this Kalua pulled pork as a head-start ingredient to help make healthy meals during a busy week. Try it on top of a roasted sweet potato, wrapped in a lettuce cups or used as the base in a burrito bowl. So many options!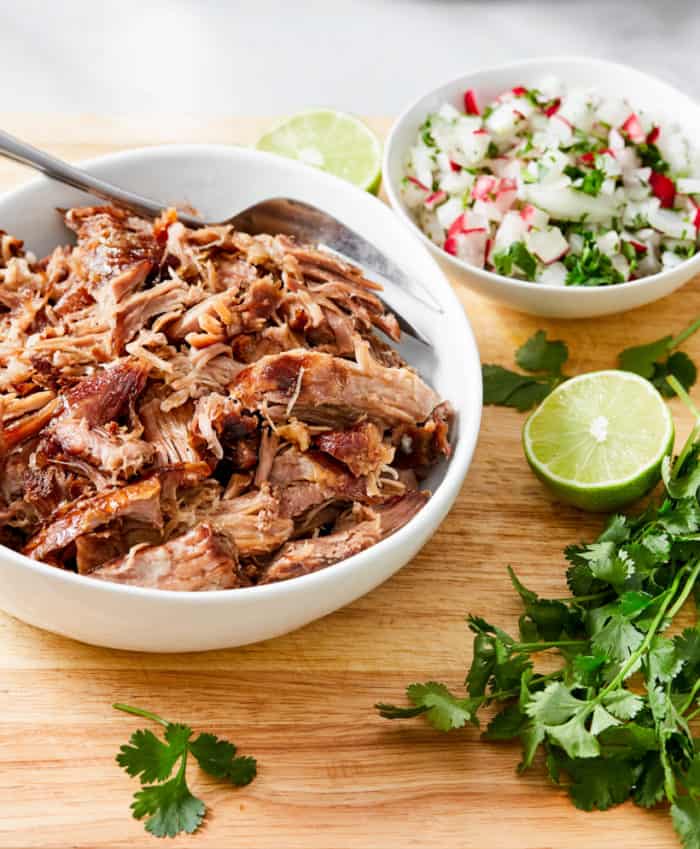 This insanely delicious, slow cooker pulled pork recipe was inspired by my Butcher Box delivery + NomNom Paleo.
Butcher Box is a monthly delivery service that brings high quality, grass fed meat, pastured chicken and heritage pork right to your door. I LOVE them. They make my life so easy and I highly recommend checking them out, especially if you have a hard time locating quality meats where you live.
4-Ingredient Slow Cooker Kalua Pork
This pulled pork recipe is about as easy as it gets. Using just four ingredients, it takes 15 minutes to prepare and then it's 100% hands off! I LOVE making this recipe on the weekend so I can use it as a head start ingredient for lots of meals throughout the week (I've shared some below).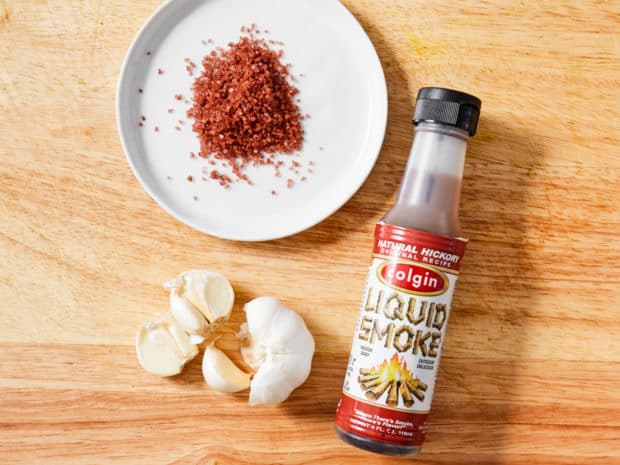 The only ingredients you will need for this recipe are:
Pork Butt/Shoulder: You will want a 3-4 pound cut. I get mine from Butcher Box.
Garlic: Remove the cloves from the skins.
Coarse Salt: Hawaiin Alaea sea salt is both gorgeous and delicious. Apparently, it's the official salt they use to roast a pig at a luau (how cool is that?! I learned that on NomNom Paleo). If you don't want to buy another ingredient, no worries, you can make this recipe using kosher salt and it will still be delicious.
Liquid Smoke: This gives the pork a smoked fire pit flavor without the fire pit. If you don't have liquid smoke, sub in a couple teaspoons of smoked paprika. Just pat it all over the outside of the pork. I promise it as equally as delicious.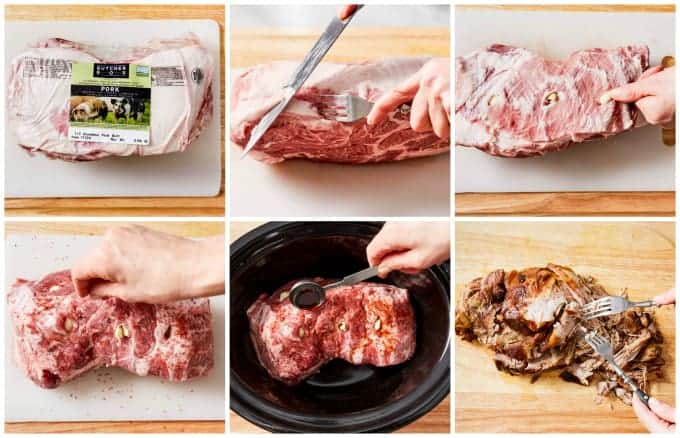 How to Make Slow Cooker Pulled Pork
Okay, are you ready for the easiest recipe ever? Because that's pretty much what this. Crazy easy and insanely delicious. Here's what you need to do.
Place pork on a plastic cutting board and trim off as much visible fat as possible. There is a lot of fat, so don't hesitate to cut it off.
Use a sharp knife, make 5-6 slits all around the pork and stick a whole clove of garlic in each slit made. This will infuse lots of flavor as the pork cooks.
Sprinkle coarse sea salt all around the outside of the pork. Don't forget the bottoms and sides.
Place pork in slow cooker and drizzle liquid smoke over the top.
Pop on the lid and cook on low for 12-16 hours.
Remove cooked pork from slow cooker and use two forks to shred the pork apart. It will be very tender (and delicious!).
Pour excess liquid out of the slow cooker (it will be salty) and place shredded meat back in to keep warm
Serve and enjoy. Be sure to scroll down to see some of my favorite 5 minute meals, using this pulled Kalua pork.
For the amount of effort that goes into this meal, I can honestly tell you it is ABSOLUTELY DELICIOUS. It has quickly become a staple in our house. I usually make it once a month.
There are so many ways to enjoy this pork! Here are a few of my favorites.
PULLED PORK OVER A ROASTED SWEET POTATO
This is one of my favorite ways to enjoy slow cooker pulled pork. Simply stuff it inside half a roasted sweet potato and top with an easy salsa.
For this salsa recipe, I chopped up equal parts white onion and radish, tossed in some chopped cilantro, a squish of lime and a pinch of kosher salt. But this salsa would also be great. Easy, beautiful + delicious!
PULLED PORK LETTUCE WRAPS
Another simple way to use this pork is to make lettuce wraps.
Place a forkful of pork in a butter lettuce or romaine lettuce leaf and top with a simple coleslaw. If you are planning ahead, try prepping your lettuce leaves and coleslaw ahead of time, so you have a two-minute meal ready to roll for busy weeknights or as an easy weekday lunch.
PULLED PORK BURRITO BOWL
My Chicken Burrito Bowls have become one of the most popular recipes here on Clean & Delicious so I know you all are fans!
I love them because they are so easy to make (are you noticing a theme here, lol?). Simply mix some jasmine rice (I use frozen) with chopped cilantro and lime, layer in some kalua pork and crunchy romaine. Then, I take that same salsa from above (chopped onions, radishes + cilantro) and spoon it right over the top.
You can enjoy as is, or try drizzling some of your ranch dressing or salsa right over the top.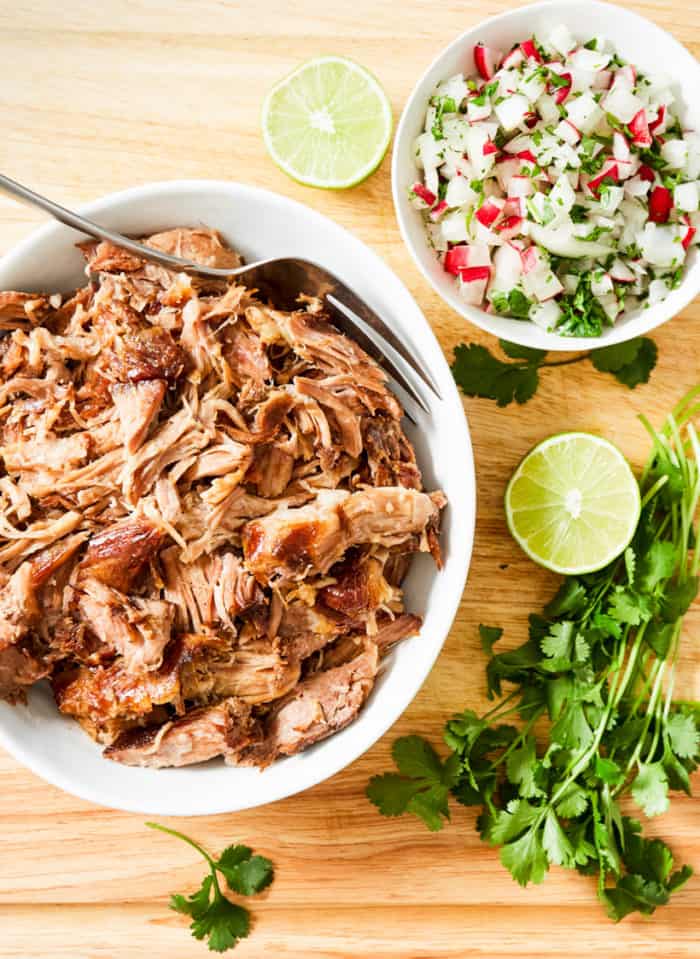 I'd love to know if you try this (or any) recipe! Tag @clean_and_delicious on Instagram to let me know and be sure to subscribe to our mailing list to receive more healthy, delicious recipes straight to your inbox.
Slow Cooked Pork Roast | Kaluha Pork
This EASY slow cooker dish has become a staple in our house! It's SO easy to make, family-friendly and makes a great head start ingredient. Recipe inspired by NomNom Paleo's Kaluha Pig.
Ingredients
3-4

pounds

boneless pork butt

6

cloves

garlic,

peeled

1

tablespoon

liquid smoke

1

tbsp

coarse sea salt,

(I used Hawaiian red sea salt)*
Instructions
Place pork on a plastic cutting board and use a sharp knife to trim and visible excess fat off of the roast. I try to cut off as much as possible.

Using a small pairing knife, make 5-6 small slits around the outside of the pork and tuck once piece of garlic in each slit.

Season the outside of the meat with sea salt. Be sure to season the top, bottom, and both sides.

Place the pork butt into your slow cooker and pour the liquid smoke over the top and set heat to low and cook for 12-16 hours. I like to set this up before bed so the pork is cooking overnight.

When the pork is done, there will be a lot of liquid in the pot. You can save a little to drizzle over the top, but be sure to discard the rest otherwise the meat will be too salty.

Remove pork from slow cooker and shred apart. Be careful not to place back into the juice from the slow cooker, because it may make your pork too salty.

Place pork back into the slow cooker (or in serving dish) and enjoy!
Notes
I learned from NomNom Paleo that some of the newer slow cookers may cook faster, finishing the meat in 9-12 hours. I cooked mine for the entire 16 hours using this slow cooker.
Nutrition
Serving:
3
ounces
|
Calories:
146
kcal
|
Carbohydrates:
1
g
|
Protein:
26
g
|
Fat:
4
g
|
Saturated Fat:
1
g
|
Cholesterol:
68
mg
|
Sodium:
646
mg
|
Potassium:
435
mg
|
Fiber:
1
g
|
Sugar:
1
g
|
Vitamin C:
1
mg
|
Calcium:
11
mg
|
Iron:
1
mg