Slow Cooker Buffalo Chicken Meatballs! Tender, juicy chicken meatballs made from scratch and seasoned with bold flavors that are slow-cooked in buffalo wing sauce. Enjoy these chicken meatballs as an appetizer or a main course.
Looking for an easy and delicious dinner recipe that's also perfect for meal prep? Look no further than these slow-cooked buffalo chicken meatballs! A fun alternative to a traditional buffalo wing, buffalo chicken meatballs are made with lean ground chicken (you could also use turkey), baked in the oven, and finished in the slow cooker.
Much like my pan-seared buffalo chicken bites, these yummy buffalo meatballs are healthier than traditional wings since there is no frying involved, and are equally delicious. They are excellent for meal prep, perfect for a crowd, and also delightful for anyone who loves a good meatball (don't you just love a good meatball?).
Why You'll Love These Buffalo Chicken Meatballs
Easy to make and perfect for a crowd.
Can be doubled or even tripled, which makes them great for families and meal prep.
Healthier than traditional buffalo wings! They're baked, not fried.
They're made with ground chicken (or turkey) which is a really easy way to add some lean protein onto your plate.
Equipment You'll Need To Make Slow Cooker Chicken Meatballs
Large Bowl
Baking Sheet
Parchment paper
Slow Cooker or Instant Pot with a slow cook setting
Ingredients For Your Chicken Meatballs
ground chicken
egg
Panko breadcrumbs
cauliflower rice
garlic powder
onion powder
smoked paprika
salt
black pepper
fresh parsley
buffalo wing sauce
Greek yogurt blue cheese dressing for dipping
How To Make Slow Cooker Buffalo Chicken Meatballs
Step 1: Prepare the Chicken Meatballs
Preheat the oven to 350 degrees Fahrenheit and line a rimmed baking sheet with some parchment paper.
Then into a nice big bowl, combine ground chicken, egg, Panko breadcrumbs, and cauliflower rice. Add one-half of a teaspoon of each; garlic powder, onion powder, smoked paprika, sea salt, black pepper, and fresh chopped parsley.
Step 2: Make The Meatballs
Use your hands to mix everything together. You will notice that the mixture is pretty sticky, so it helps to have a bowl of cold water nearby when you're ready to roll the meatballs, to help prevent the mixture from sticking to your hands.
Scoop up a heaping tablespoon of the meat mixture and loosely roll it into a ball. Place the meatball on your baking sheet and repeat until you've worked through all of the meatball mixture. You should have twenty meatballs when you're done.
Step 3: Baking Your Meatballs In The Oven
Pop the chicken meatballs into the oven for just 10 minutes so they can set up. If you put them directly in the crockpot, they will need up sticking to one another.
Alternatively, you could cook them right in the oven as a quick cook method. They would be fully cooked in about 20 – 25 minutes, MAX, and then you could toss them in buffalo sauce and enjoy. However, I prefer to finish them in the crockpot because they become super tender.
Step 4: Finishing Your Buffalo Chicken Meatballs In The Slow Cooker
Transfer the meatballs into a slow cooker and cover them with buffalo wing sauce. I love the Primal Kitchen Buffalo wing sauce – it has the best buffalo sauce flavor – it's tangy, creamy, and dairy-free (cashews are what helps give it this rich, creamy texture). But you can use whatever your favorite buffalo sauce is!
Set your slow cooker to low and leave it be for 2-2.5 hours! Easy peasy. When the meatballs are done, they will be covered in creamy buffalo sauce, cooked through, and fork-tender. So simple and so delicious!
These Buffalo Chicken meatballs have so much flavor for such an easy recipe – I can't wait for you to try them.
What to serve with your buffalo chicken meatballs
I love to serve these meatballs with my Greek yogurt blue cheese dressing, celery, and carrots. But they're also great on top of a salad, served alongside your favorite roasted veggies, or over some brown rice. So many options!
How To Store & Reheat Any Leftovers
You can store the meatballs in an airtight container, in your fridge for up to five days, and in the freezer for up to 3 months.
To reheat, simply pop them in the oven on a baking sheet at 350 degrees F for 10-15 minutes or until heated through.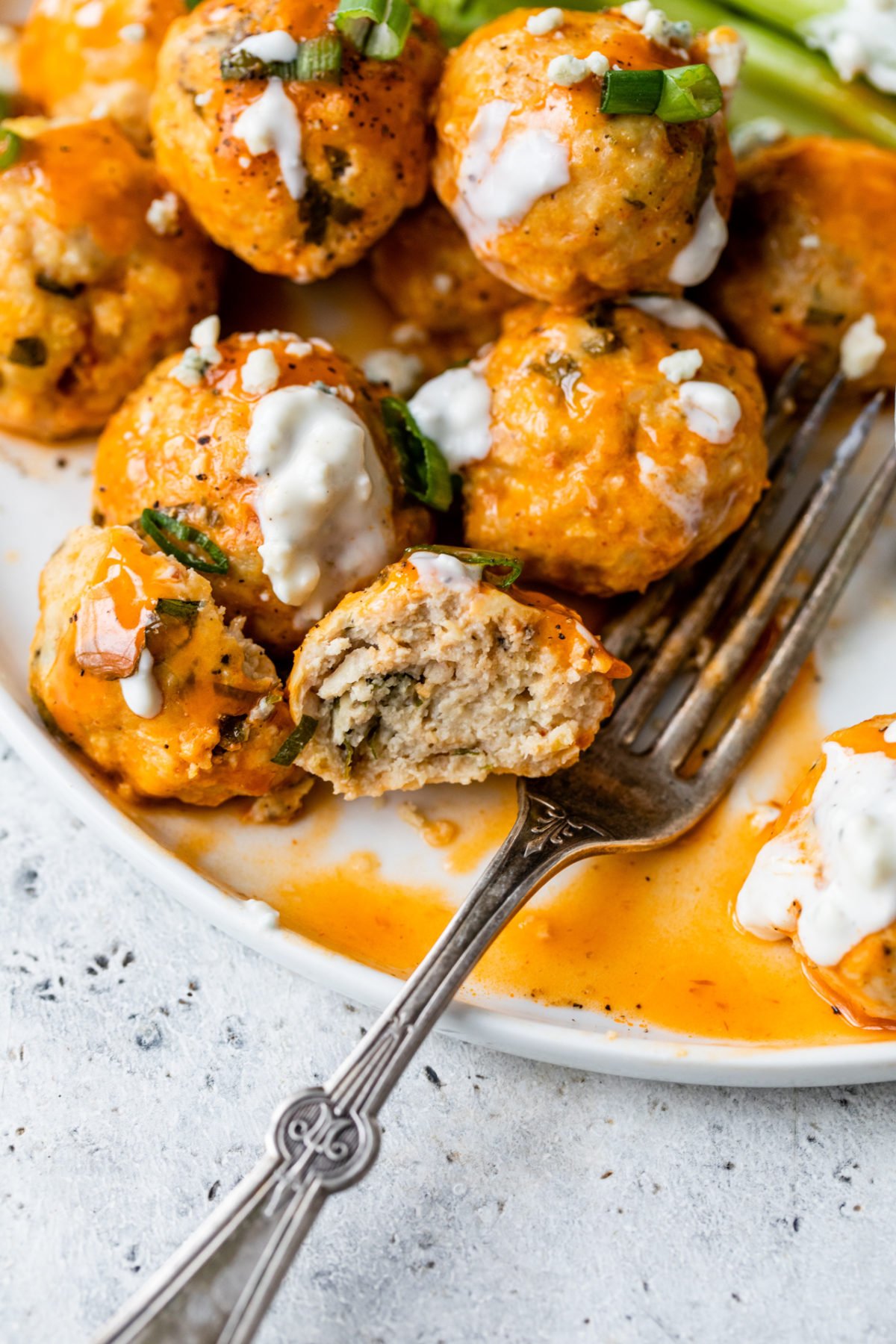 Buffalo Chicken Meatballs FAQs
Can I make these chicken meatballs keto?
Yes! You can omit the panko bread crumbs and replace them with almond meal or ground pork rinds for a keto-friendly version of this recipe. A 1:1 ratio will work perfectly.
Can I make these meatballs gluten-free?
Yes! You can use gluten-free panko bread crumbs or almond flour.
What other sauces can I use with this chicken meatball recipe?
The great thing about this recipe is that it would work with lots of sauce options. You could try using BBQ sauce, teriyaki sauce, honey mustard, or even just a simple marinara sauce.
How do I keep my meatballs from falling apart?
If you follow the recipe as written, your meatballs should not fall apart. However, if you find that they are still too delicate for your liking, you can add in an extra egg or extra breadcrumbs to help bind them together (or even some parmesan cheese).
Why are my chicken meatballs tough?
If you end up with touch meatballs, it is because you have overworked the meat. To avoid this, make sure you don't overmix your mixture. Once everything is mixed together, you can stop mixing.
How big should I make my meatballs?
Roll your meatballs into roughly the size of golf balls. I like to scoop about a heaping tablespoon for each meatball.
Thanks so much for reading! If you make this recipe I would love for you to give it a ★ rating below. And be sure to follow me on YouTube, Instagram, and Facebook for more healthy food inspiration. Cheers!
Slow Cooker Buffalo Chicken Meatballs
Ingredients
1

lb.

lean ground chicken

1

egg

1/2

cup

Panko breadcrumbs

1/2

cup

frozen cauliflower rice,

defrosted

1/2

teaspoon

onion powder

1/2

teaspoon

garlic powder

1/2

teaspoon

smoked paprika

1/2

teaspoon

salt

1/2

teaspoon

black pepper

1/4

cup

chopped parsley

3/4

cup

buffalo wing sauce
Instructions
Line a rimmed baking sheet with a Silpat mat or parchment paper and set a side.

In a large bowl, combine; ground chicken, egg, bread crumbs, cauliflower rice, onion powder, garlic powder, parsley, salt and pepper. Use your hands to gently mix together just until everything is incorporated.

Grab a hearty tablespoon of the mixture and roll in between the palms of your hand to form a ball.

Place on a baking sheet and continue until you have rolled all the meatballs.

Bake in oven for ten minutes and then transfer to a slow cooker. Cover with buffalo sauce and cook for two hours .

Serve with carrots, celery and blue cheese dressing. Enjoy!
Nutrition
Serving:
4
meatballs
|
Calories:
217
kcal
|
Carbohydrates:
8
g
|
Protein:
23
g
|
Fat:
11
g
|
Saturated Fat:
3
g
|
Polyunsaturated Fat:
2
g
|
Monounsaturated Fat:
5
g
|
Trans Fat:
0.1
g
|
Cholesterol:
138
mg
|
Sodium:
1818
mg
|
Potassium:
718
mg
|
Fiber:
1
g
|
Sugar:
1
g
|
Vitamin A:
500
IU
|
Vitamin C:
15
mg
|
Calcium:
39
mg
|
Iron:
2
mg