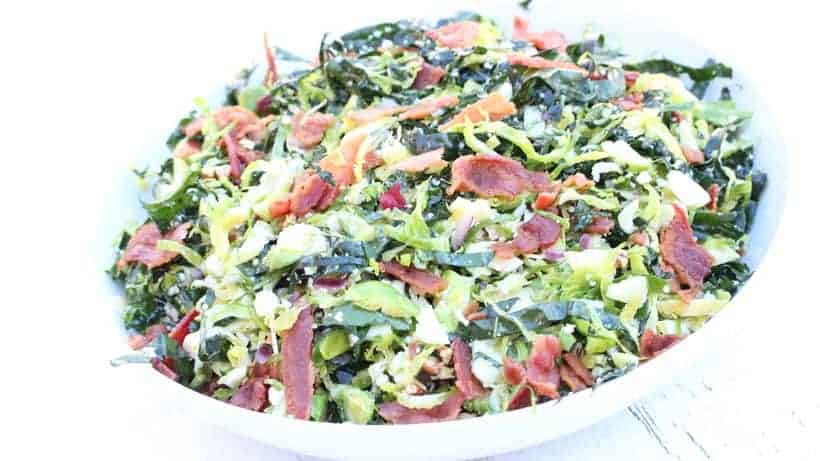 Scroll down to watch the step-by-step video.
Oh, how I love a good salad.
Especially as the weather gets colder and I have to begin an internal, ongoing conversation with myself about why drinking hot chocolate and eating scones on a daily basis will not make the winter pass any faster!
But, no matter how you cut it, the colder weather definitely leaves me craving more comfort food. And while I do understand that salad is not typically considered comfort food; you may be surprised to see how comforting it can be when you use a hearty green as your base (in this case kale + brussels sprouts) and then sprinkle in some cheese and bacon.
I mean, doesn't cheese and bacon automatically equal comfort? Even when it's sprinkled onto a bed of nutrient rich greens, it does a fantastic job at be delicious and comforting.
So, walk with me for a minute, will you?
Imagine, finely shredded kale and brussels sprouts dressed with a clean and bright, lemon and garlic vinaigrette and then tossed with creamy + nutty pecorino, salty + crunchy bacon, AND buttery toasted pecans.
YES! That's what's happening here.
And it's so easy.
This is one of those salads you can make on a Tuesday night and blow your family's mind OR bring it along to a holiday or dinner party if you want to impress your friends and family.
I'm telling you, this delicious and comforting salad combination is a true, 'show-stopper'.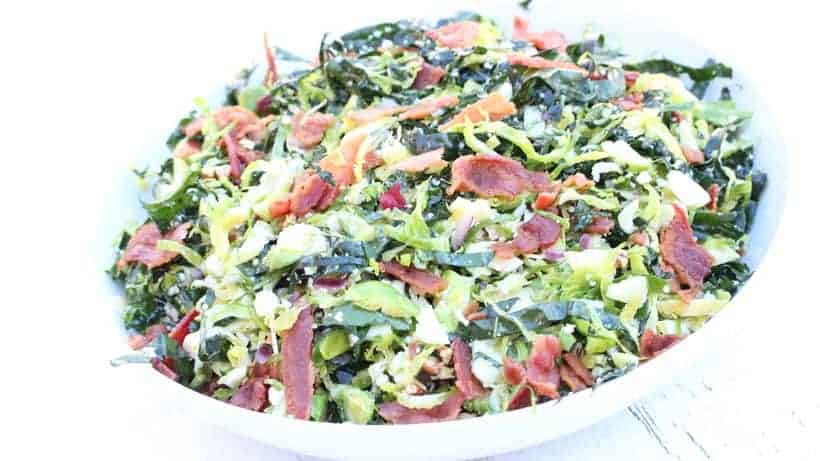 Print Recipe
Shredded Kale and Brussels Sprout Salad with Bacon and Pecorino
Ingredients
4

cups

thinly sliced kale

4

cups

brussels sprouts

thinly sliced*

6

slices

bacon

cooked and crumbled

1/4

cup

roasted pecan

chopped

1/3

cup

grated Pecorino cheese

2

cloves

crushed garlic

2

tbsp.

diced red onion

1

tsp.

dijon mustard

1/4

cup

lemon juice

1/4

cup

extra virgin olive oil

salt and pepper to taste
Instructions
Combine kale and brussels sprouts in a large bowl. Add in the bacon, pecans, and Pecorino cheese.

In a spouted glass cup or a mason jar, combine garlic, onion, mustard, lemon juice, extra virgin olive oil, salt and pepper. Whisk together until everything is well combined.

Pour the dressing over the top of the salad and gently toss everything together. Serve and enjoy!