This Shiitake Mushrooms Recipe is cooked shiitake mushrooms with onion and garlic until tender and caramelized. It's an easy side dish recipe that adds a special finishing touch to your main dish and takes just 20 minutes to cook. Eat these sautéed shiitake mushrooms right out of the skillet, atop a pile of pasta, as a burger or pizza topping, or alongside a juicy grilled steak, pork chops, or chicken.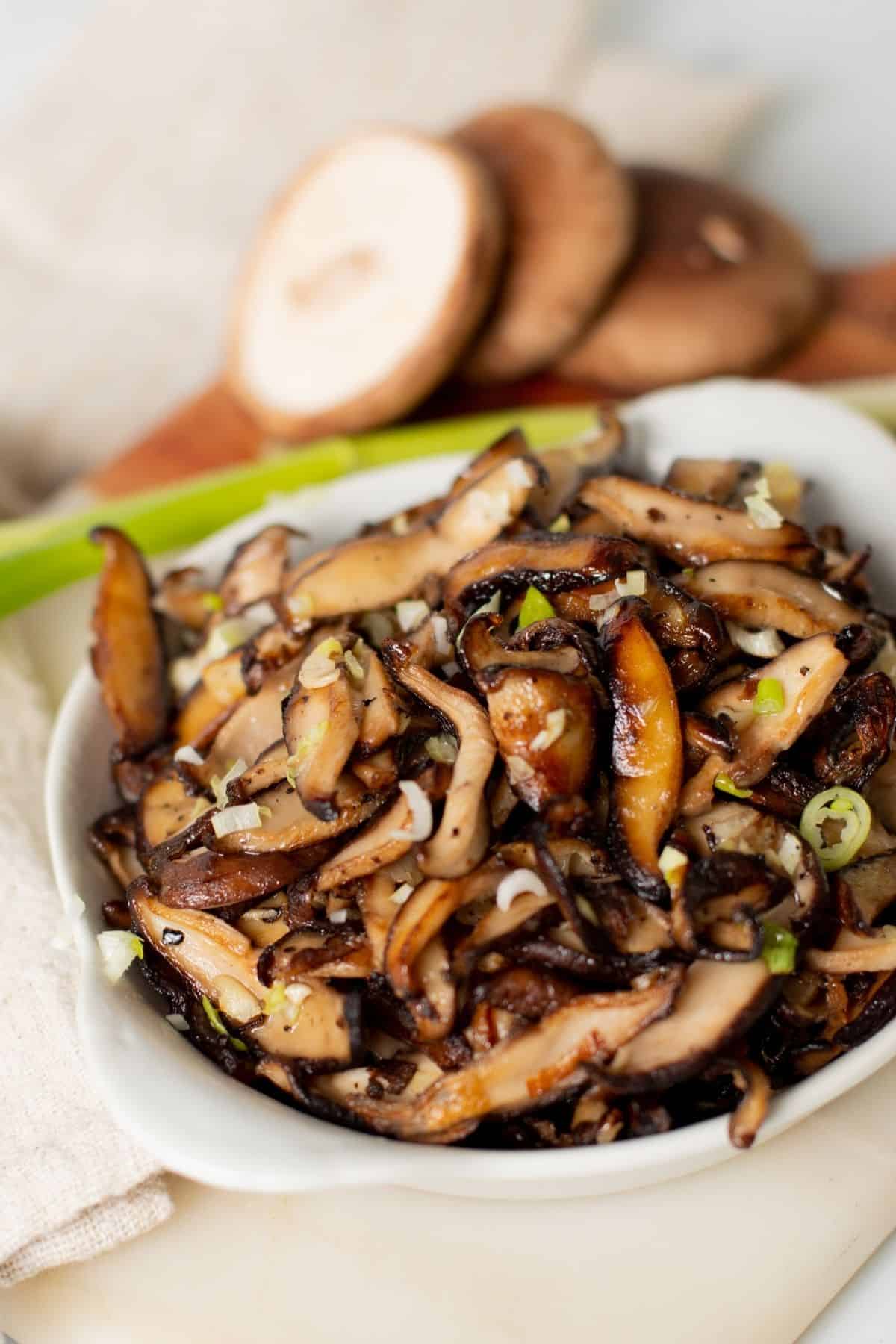 Sautéed shiitake mushrooms have quickly become one of my favorite go-to, weeknight side dishes. They are easy to prepare, and the simple combination of mushrooms, onion and garlic is just so insanely delicious. I have been making this recipe 2-3 times per week because it's just that good!
If you're looking for a simple, yet flavorful vegetable side dish recipe that pairs well with almost any main entrée, look no further because this shiitake mushrooms recipe is just that. Let's get to all of the details!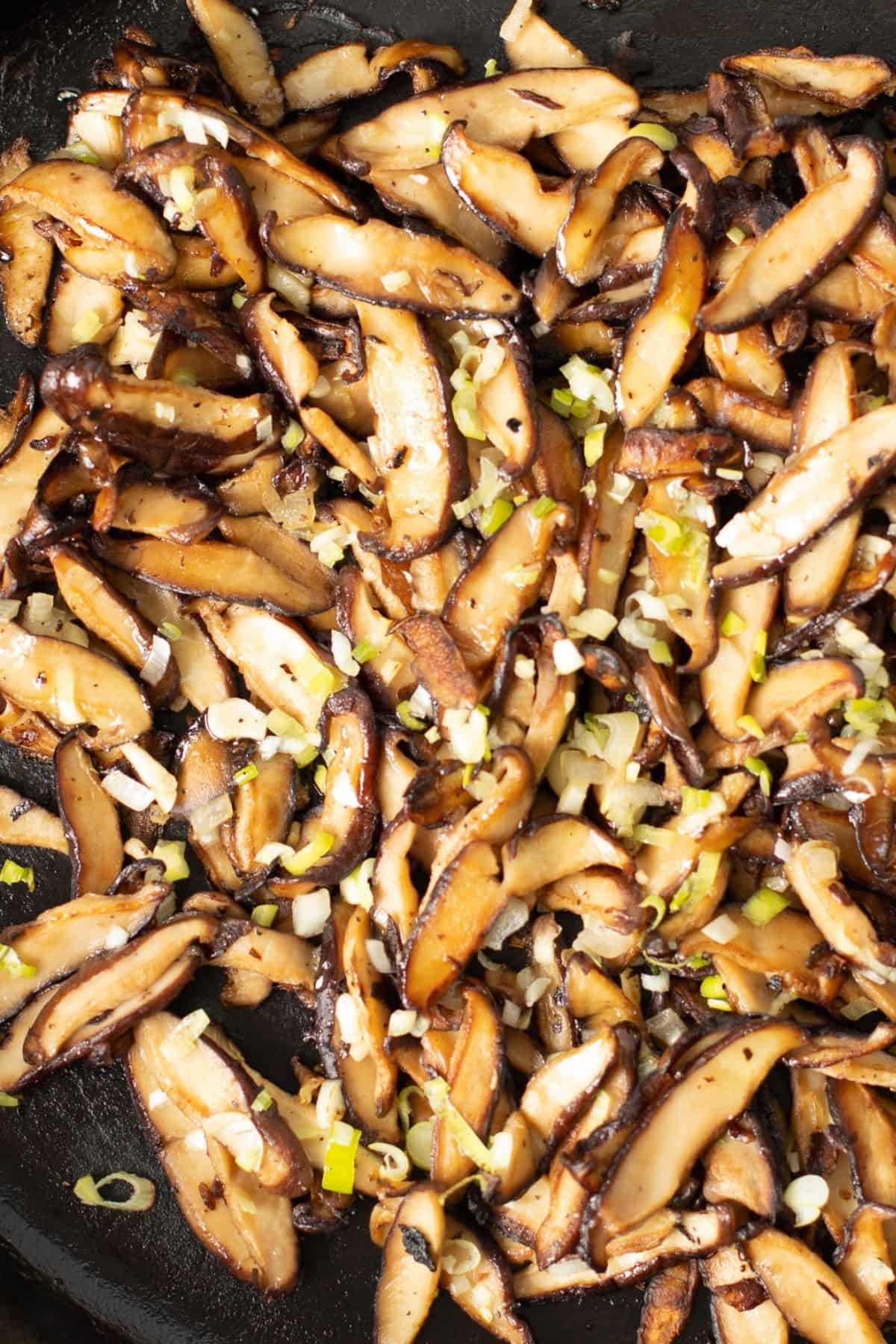 What are shiitake mushrooms?
Shiitake mushrooms are one of the most popular cultivated variety of specialty mushrooms, and they can conveniently be found in the produce department of your local grocery store.
They have a meaty texture and a delicious earthy, umami, flavor that pairs well with soups, salads, eggs, meat dishes and stir-fries. They are delicious, nutritious and super versatile!
When shopping for shiitake mushrooms, look for mushrooms that are firm and plump. Avoid any that look slimy or wrinkled.
Shiitake mushrooms do tend to be a bit pricey. One pound of mushrooms at my local store is 10.99, and if buying pre-sliced mushrooms, they are $12 per pound.
Are shiitake mushrooms healthy?
Yes, shiitake mushrooms are super nutritious! They have one of the highest amounts of natural copper, a mineral that supports healthy blood vessels, bones, and immune support. And they are also great source of selenium.
Shiitake mushrooms are great for heart health and contain eritadenine, a compound known to reduce cholesterol levels in the blood. They also contain beta-glucans that reduce inflammation and help prevent the intestines from absorbing cholesterol.
Other essential nutrients shiitake mushrooms provide are: vitamin B6, potassium, vitamin D, riboflavin, phosphorus, thiamin, folate, iron and manganese.
Shiitake mushrooms are definitely a healthy addition to your diet!
Ingredients for sautéed shiitake mushrooms:
This sautéed mushroom recipe is made with just 5 key ingredients. They are all common, easy-to-find ingredients and come together for the tastiest mushrooms!
You will need:
Oil – For cooking the veggies. Feel free to sub with butter.
Shiitake mushrooms – You'll need one pound of cleaned, trimmed and sliced shiitake mushrooms. To save time, buy your mushrooms washed and pre-sliced at the grocery store.
Onion + garlic – Sautéing the diced onion and garlic with the mushrooms adds delicious aromatic flavor to the recipe.
Green onion – For bright color and freshness.
Salt + pepper – To bring out all of the delicious flavors!
How to cook shiitake mushrooms:
This shiitake mushrooms recipe comes together very easily and moves quickly. I recommend having all of your ingredients prepped and ready to go, near the stovetop before getting started. Here's a quick rundown of how to cook this dish, but scroll down to the recipe card for the full printable recipe.
Clean and slice the mushrooms. Rinse the mushrooms briefly under cold water. They are very porous, so we do not want to soak them in water. The stems are too woody to eat, so you want to cut them off and then, thinly slice the mushrooms.
Sauté the mushrooms. Heat oil in a large non-stick or cast-iron skillet over medium heat. Add the sliced mushrooms and cook for about 15 minutes or until they are golden brown.
Add onion + garlic. Now, stir in the onion, garlic, salt and pepper. Continue to sauté for about 5 minutes.
Serve. Garnish with sliced green onion and enjoy!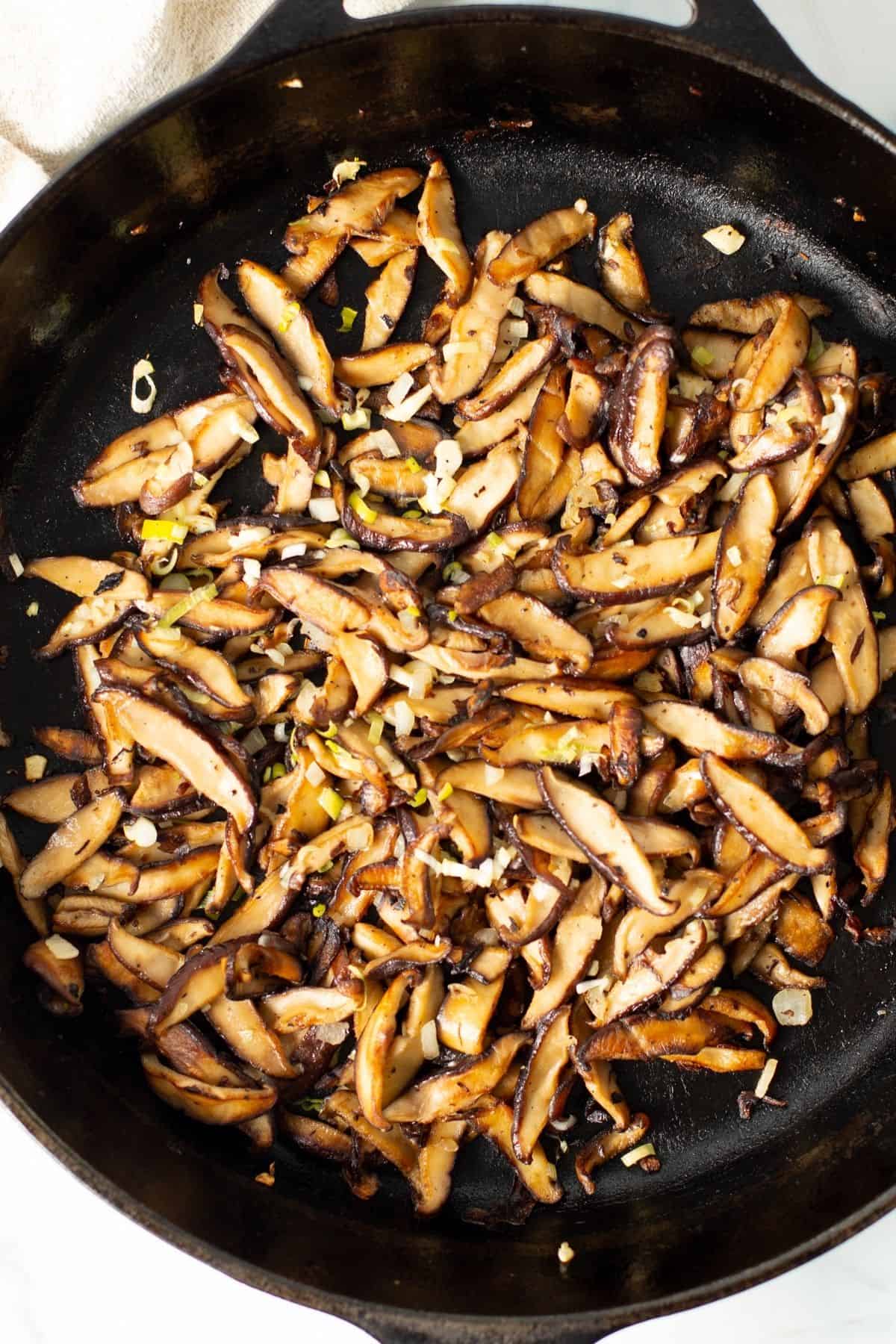 Ways to serve sautéed shiitake mushrooms:
These shiitake mushrooms are wonderful straight out of the pan or as a simple side, but here are some other tasty ways to serve them.
Burger or sandwich topping. Drain any liquid and spoon some mushroom slices over your burger patty or sandwich fixings. For the ultimate deliciousness, melt some cheese over the top. Yum!
Pizza. Drain the liquid from the mushrooms and use the mushrooms as a pizza topping. So much flavor!
Potatoes. These sautéed shiitake mushrooms (juice and all) are fabulous served over baked or mashed potatoes.
Protein. Sautéed shiitake mushrooms are a tasty topping for steak, chicken or pork chops!
Pasta. The mushrooms along with the juices are super tasty mixed in with almost any type of pasta or even zucchini noodles.
No matter how you serve your sautéed shiitake mushrooms, they're sure to be a huge hit!
Helpful tips and recipe notes:
After cutting off the stems of the mushrooms, you can save them and along with some other veggie scraps make a really delicious and flavorful vegetable broth.
I prefer my mushrooms cut into thin slices, but you can leave your mushrooms whole or simply slice them in half. Just be sure to adjust the cook time accordingly.
Once you add the mushrooms to the pan, resist the temptation to move them around. Just let the mushrooms cook, untouched for a good 5 minutes. And we don't want to salt them until they've cooked down because that will pull out the water, which will make them steam and we won't get the beautiful brown color that we want.
In this recipe we're garnishing with a sprinkling of green onion, but other options are fresh parsley, chives or thyme leaves.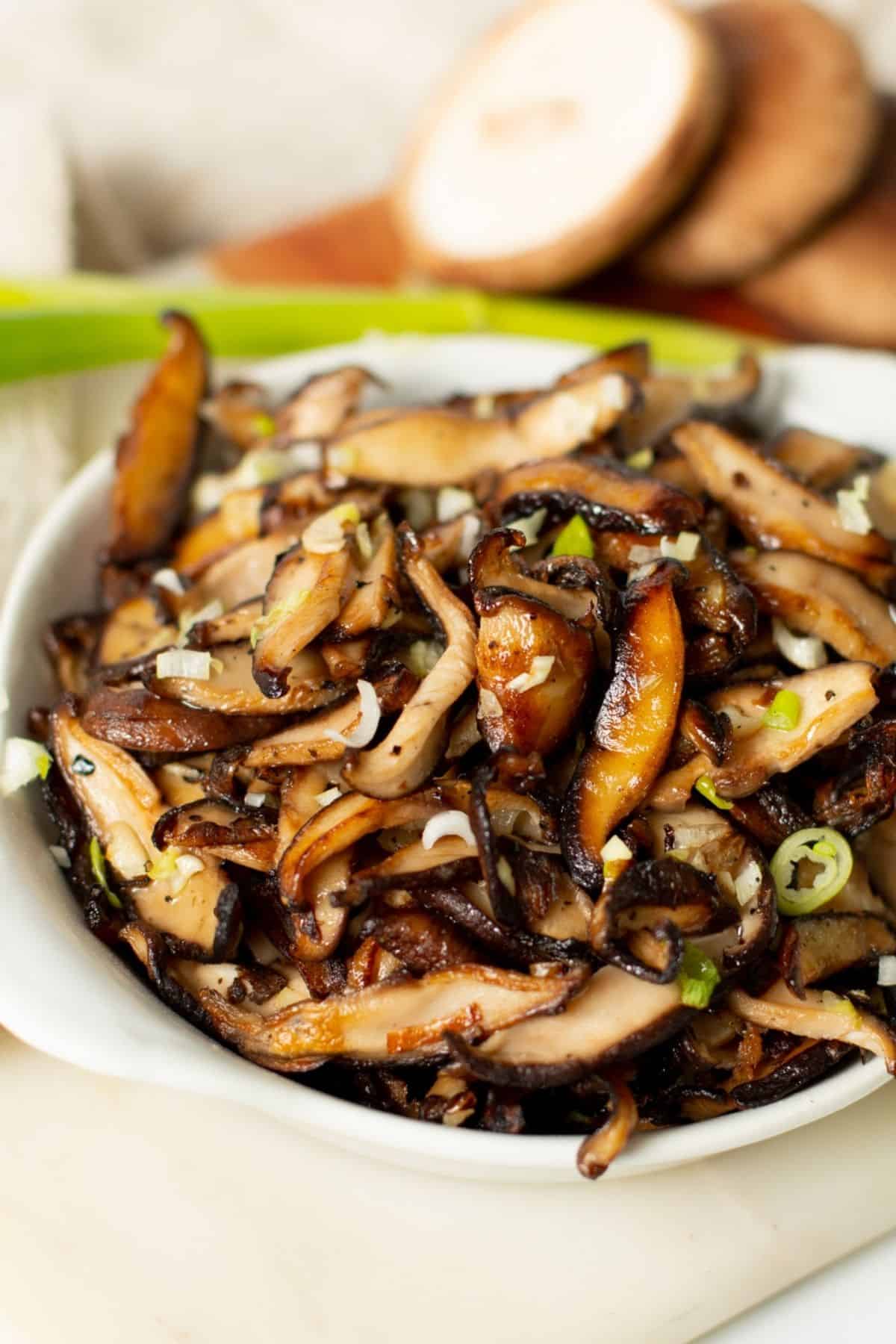 This sautéed shiitake mushrooms recipe is irresistible, easy, dependable and versatile. Put the ingredients on your shopping list today and make your tastebuds very happy!
More delicious side dish recipes to try:
If you make this shiitake mushrooms recipe, be sure to leave a comment and ★ rating below letting me know how it turned out. Your feedback is so helpful for me and our Clean & Delicious community (thank you!).
Print Recipe
Shiitake Mushrooms Recipe
These sautéed mushrooms are sliced shiitake mushrooms cooked with onion and garlic until caramelized and tender. An easy side dish recipe that adds that special finishing touch to your main dish and takes just 20 minutes to cook.
Ingredients
1

tablespoon

oil

1

pound

shiitake mushrooms

cleaned, trimmed and sliced

1/4

cup

diced onion

2

cloves

garlic, minced

Salt and pepper

sliced green onion
Instructions
Heat a large non-stick skillet over medium heat, add oil to the pan.

Once the oil is hot, add in the shiitake mushrooms and cook for about 15 minutes, stirring occasionally, or until the mushrooms have become golden brown.

Add in onion, garlic, salt and pepper and sauté for another five minutes, just long enough to take the raw edge off of the onions and garlic.

Top with chopped green onion and serve! Enjoy.
Notes
I like to wipe my mushrooms down with a damp towel to clean them off. You can rinse them with water if you prefer, but be sure to work quickly so the mushrooms don't absorb the water.
Nutrition
Serving:
1
serving
|
Calories:
74
kcal
|
Carbohydrates:
9
g
|
Protein:
3
g
|
Fat:
4
g
|
Saturated Fat:
1
g
|
Polyunsaturated Fat:
1
g
|
Monounsaturated Fat:
2
g
|
Trans Fat:
1
g
|
Sodium:
11
mg
|
Potassium:
358
mg
|
Fiber:
3
g
|
Sugar:
3
g
|
Vitamin A:
1
IU
|
Vitamin C:
1
mg
|
Calcium:
6
mg
|
Iron:
1
mg