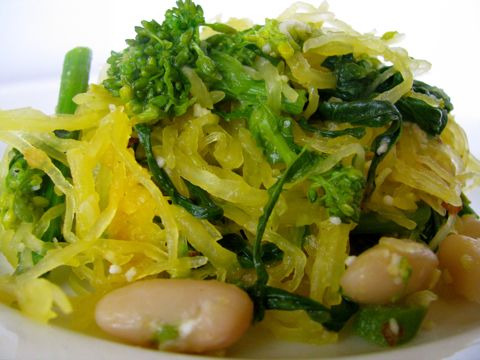 Hip hip hooray for an extra hour of light.
This is huge in my world because it buys me that much more time to get a decent picture of what I'm making for dinner so I can share it with you guys.
So, can you guess what was for dinner last night?  This absolutely delicious, vegetarian, clean eats meal.
Normally when I make spaghetti squash I just poke a few hole in it and throw it in the microwave for ten minutes or so (like I do in this video) but I had some time on my hands so I decided to roast the squash in the oven.  I really liked it this way and will definitely do this again.
Once the Spaghetti Squash was done I got started on the Broccoli Rabe.
When I was kid we ALWAYS had Broccoli Rabe in the house. My Mom would make it just about every Sunday.  She sauteed the Broccoli Rabe in a generous amount of olive oil with some garlic and red pepper flakes and would finish it off with some fresh squeezed lemon juice.  Often times we would gobble it up so fast that it never made it to a weeknight meal but on the rare occasion that it didn't disappear it would be a head start ingredient for a super fast weeknight supper (sorry, couldn't resist… that's what my Dad always referred to dinner as…"supper"…cracks me up). Sauteed Broocli Rabe and Pasta – SO good!
These days I don't eat nearly as much pasta as I used to.  Mostly because Beng is not a big pasta fan but also because I have a tendency to pretty much overeat anytime pasta is on the menu.  Which is exactly why I LOVE Spaghetti Squash – gives you the same overall feel with a whole lot less energy (aka calories).
I basically made my Moms Broccoli Rabe minus the lemon juice and added some beans.  I know everyone has their own idea of comfort food but for me this is the ultimate comfort food.
Maybe it's the taste.
Maybe it's the texture.
Maybe it's the memories.
Whatever it is, it's a favorite around here. Not to mention it's a super easy way to get some vegetarian clean eats on the table that everyone will LOVE.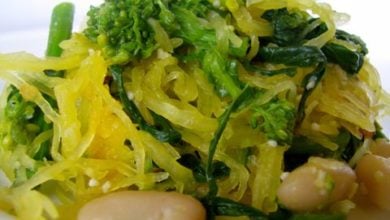 Print Recipe
Spaghetti Squash With Broccoli Rabe And Canellini Beans
Ingredients
1

medium spaghetti squash

Olive oil cooking spray

1

tbsp

olive oil

4

cloves

o garlic

chopped

Pinch

of red pepper flakes

2

small or 1 large bunch of broccoli rabe

trimmed

1/4-1/2

cup

of low sodium veggie broth

1

cup

of cannellini beans

2

tbsp

of Pecorino Romano cheese

Salt and pepper to taste
Instructions
Pre heat oven to 400.

Cut Spaghetti Squash in half lengthwise and scoop out the seeds.Spray each half with a light coating of olive oil spray and season with salt and pepper.

Place squash flesh side up on a rimmed baking sheet.Bake for 45 minutes or until squash is tender and cooked through.Once the spaghetti squash has cooled enough to be handled, use a fork to scrape out the flesh into spaghetti like strands.

In the meanwhile, heat olive oil over a medium heat in a large non-stick saut pan.Add garlic and red pepper flakes and cook until the garlic is fragrant, NOT brown.

Add broccoli rabe to the pan and season with salt and pepper.Pour in broth and pop a lid on.Allow to cook for about ten minutes or so or until the broccoli rabe is tender.

Remove the lid and add the spaghetti squash and the beans to the pan.Combine everything together and allow to cook for another ten minutes or until everything is heated through.Adjust seasonings and top with grated cheese.

Enjoy!

Makes about 4 1-1/4 cup servings.
Nutrition
Calories:
159
kcal
|
Fat:
18
g
|
Saturated Fat:
2
g
|
Sodium:
1
mg