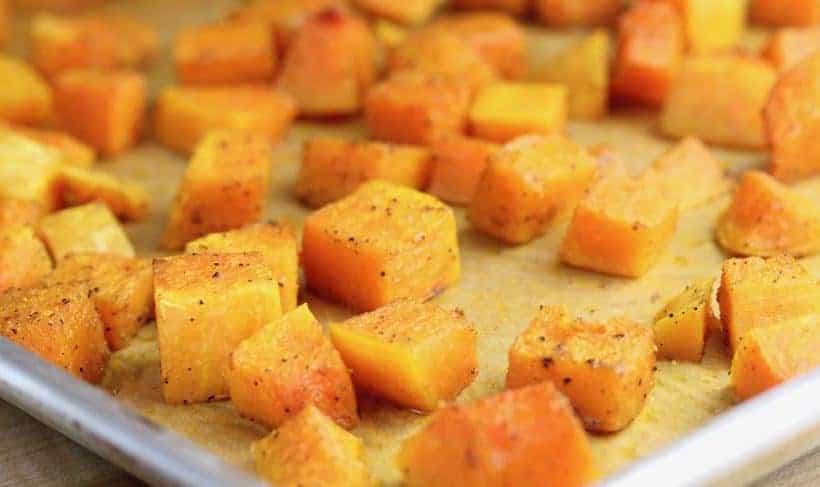 Have you ever wondered how to cook butternut squash? It's a lot easier to peel, cut and roast a butternut squash than it seems. You just need a peeler and a good knife and you'll be making butternut squash recipes in no time!
How To Peel Butternut Squash
The easiest way to peel a butternut squash is with a vegetable peeler (I grew up calling them potato peelers).
I like to trim off the top and bottom of the butternut squash first, so I can safely stand it up before peeling off the skin.
How To Cut a Butternut Squash
The hardest part about prepping a butternut squash is cutting it in half. But as along as you have a good knife and can throw a little muscle into it, you will be just fine.
First, make sure you have plenty of space to work on. I like using a large wooden cutting board as the base. Then take the base of your knife over the top of the butternut squash and use a gentle rocking motion to begin cutting the squash in half.
Once you get it started you can then push straight down and you will end up with two long halves of butternut squash.
Each half will have some seeds in it, so use a spoon to scoop them out.
From here, you are ready to chop up your squash. Try to cut the squash into fairly uniform, bite sized pieces so they cook up evenly.
The smaller you cut them the faster they will cook and visa versa.
How To Roast Your Butternut Squash
Once you've got your squash cut into cubes, drizzle them with some avocado oil (or any oil you prefer) and season with salt, pepper, garlic powder and curry powder.
Feel free to adjust the seasonings to your preferences!
Gently toss the squash with the oil and seasonings (I like to use my hands for this step) and pop them into your oven.
You will know your squash has finished cooking once the edges are golden brown and the center is fork tender.
Butternut Squash and Meal Prep
Butternut squash is a great ingredient to add to your weekend meal prep. Simply roast it up and then let it cool to room temperature before transferring into an airtight container.
It will last in your fridge for up to 5 days this way and is delicious tossed on top of salads, served underneath some over medium eggs or added to a rice or quinoa bowl. #somanyoptions
More Butternut Squash Recipes:
Print Recipe
Roasted Butternut Squash Recipe
Remember, you can always buy pre-cut butternut squash at the grocery store if you want to save yourself some time and effort.
Ingredients
1

large butternut squash

about 3 pounds

1

tablespoons

avocado oil

1

teaspoons

kosher salt

1/2

teaspoon

freshly ground black pepper

1/2

teaspoon

garlic powder

optional

1/2

teaspoon

curry powder

optional
Instructions
Preheat oven to 425F.

Then, use a vegetable peeler to peel your butternut squash.

Use a good knife to cut your butternut squash in half lengthwise. Its easiest to do if you stand the butternut squash upright.

Once cut in half, use a spoon to remove any seeds from the center.

Then cut your squash. I like to cut the butternut squash in to fairly uniform, bite size pieces so they can cook evenly.

Place the butternut squash on a rimmed baking sheet and drizzle with the olive oil, salt, pepper, garlic powder and curry powder.Gently toss everything together to coat the squash .

Spread the squash out into one layer (if needed, use two pans to avoid overcrowding) and roast for 25 to 30 minutes, turning once half way through. Enjoy!
Notes
Don't be afraid to use a little muscle when cutting up your butternut squash. Just be sure to use a good knife and a large cutting board so you have plenty of space to work on.
Nutrition
Calories:
132
kcal
|
Carbohydrates:
2
g
|
Protein:
1
g
|
Fat:
14
g
|
Saturated Fat:
2
g
|
Sodium:
2327
mg
|
Fiber:
1
g
|
Sugar:
1
g
|
Iron:
0.3
mg