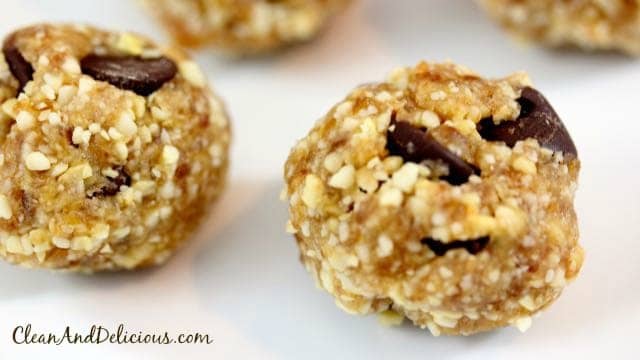 I get very excited over little things, especially when then little things have anything to do with food, family, friends or fitness!
So you can imagine my delight when my friend (and yoga teacher!) brought a container of Raw Chocolate Chip Cookie Dough Bites over for a playdate. A simple, delicious, real food snack that uses only 3-ingredients (dates, cashews, + chocolate chips). Heaven!
Now in full disclosure, my 3-year old son was all-in but my 5-year old daughter was a bit more hesitant about the whole thing. She knew this was not your traditional ball of cookie dough and she wasn't nearly as excited as her Mommy.
I've have noticed that as my kids become more and more exposed to traditional foods like pizza, cookies, cupcakes, candy, etc. they also become more hesitant and picky about real food alternatives. Just like adults!! When our palates get bombarded by artificial flavors, and excessive fats and sugar, the subtle deliciousness of real food starts to lose it's appeal.
Since I can't control everything my kids eat all day long, (ie. birthday parties, school snacks, and at Grandmas house) I simply focus on what we do at home (aka most of the time). You won't find me trying to persuade my daughter to eat what she turns her nose up to, I just go about eating and enjoying it myself. And while I won't fight with her to eat certain foods I also don't offer a traditional alternative. I just let the whole thing rest on neutral ground.
I think sometimes as parents, when we want what is best for our kids, we can easily be lured into conflict – trying to push and control them (in the name of their best interests, of course) but it doesn't work.
So I simply work on setting examples. Often times quiet examples.
I won't force them to eat their veggies but I will still serve them every night (and eat them myself).
I won't stop them from eating cake and goldfish at a party (nor will I judge them) but I won't buy that stuff for my home.
Sometimes they come on board. Sometimes they don't. But what I am learning as their parent is that it is my job to create the example and their job to decide whether to not they will choose to follow.
And if my 5-year old doesn't want to try these insanely delicious Raw Cookie Dough Bites, then that just means there is more for her Mommy!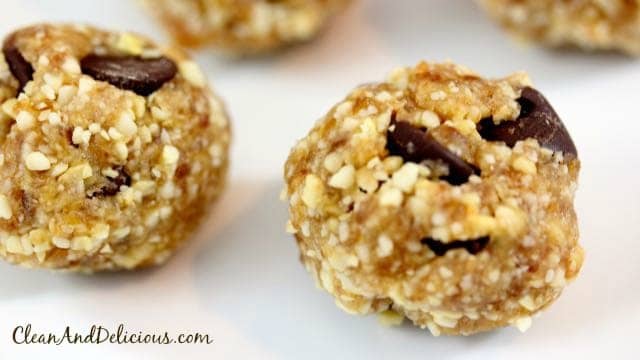 Print Recipe
Raw Chocolate Chip Cookie Dough Bites
Ingredients
1-

cup

raw cashews

1-

cup

dates

1/3-

cup

chocolate chips

I like using the mini chips!
Instructions
Soak your dates in hot water for one hour to make them nice and soft. (*Note: if you have fresh soft dates, you can skip this step).

Combine dates and cashew in a food processor and blend until you have a cookie dough consistency. If all of the mixture sticks to the side, just scrape it down and repeat until the dough comes together.

Transfer dough to a medium mixing bowl and mix in the chocolate chips.

Take one tablespoon of dough and roll between the palms of your hands until you have a small ball. Place on a rimmed baking sheet lined with a silpat mat or some parchment paper. Continue until all of the balls are done.

Chill in the fridge for about an hour or until the balls are cols and have firmed up a bit and then transfer to an airtight container to store. They will keep in the fridge for up to two weeks.
Nutrition
Calories:
79
kcal
|
Carbohydrates:
11
g
|
Protein:
2
g
|
Fat:
4
g
|
Saturated Fat:
1
g
|
Cholesterol:
1
mg
|
Sodium:
3
mg
|
Potassium:
101
mg
|
Fiber:
1
g
|
Sugar:
8
g
|
Vitamin A:
5
IU
|
Calcium:
10
mg
|
Iron:
0.6
mg