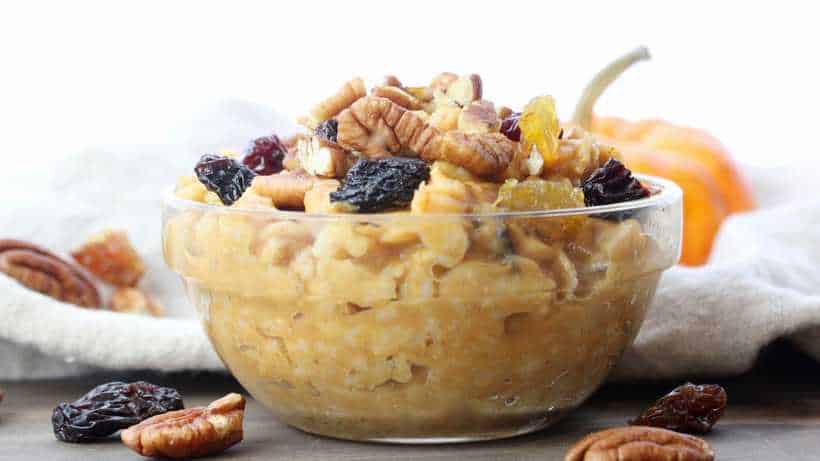 I love oatmeal and I love pumpkin, so naturally I am a huge fan of pumpkin flavored oats.
They both taste so good on a chilly morning, so you can only imagine how delicious the combination of the two will be.
You will notice that I like to stir some egg whites into the oats towards the end of cooking.  Not only does this add a bit of extra protein, but it makes the oats extra rich and creamy.  Just be sure that you add them in slowly, so that they don't scramble. And of course, you also have the option of skipping them all together.
Pumpkin Oatmeal
Yield: Serves 2
Prep Time:2 minutes
Cook Time:10 minutes
Total Time:12 minutes
Ingredients:
1 cup dry rolled oats

2 cups water

pinch of kosher salt

1/2 cup pumpkin puree

1/4 cup egg whites (optional)

1 tablespoon raisins

1 tablespoon real maple syrup

few dashes cinnamon + pumpkin pie spice

1 tablespoon raisins

1 tablespoon maple syrup
Directions:
Combine rolled oats, water and salt in a small saucepan.

 

Stir and bring up to a boil before reducing to a simmer and cooking for another 4-5 minutes or until the oats have absorbed the water and look nice and creamy.
Turn the heat to low and then stir in the pumpkin puree and slowly add the egg whites (if using).

 

You want to be sure to go slowly and stir as you go so that the egg whites don't get too hot and end up scrambled.

 

They should make your oatmeal super creamy.

Cook for another a couple more minutes and then stir in your raisins and male syrup.

 

Once everything is heated through serve and enjoy!
*Note: I love topping this oatmeal with an extra drizzle of maple syrup, a few extra raisins and some walnuts.
Nutrients per 1/2 of the recipe (no toppings included) Calories: 154; Total Fat: 1.8g; Saturated Fat: 0.3g; Cholesterol: 0mg; Sodium 51mg, Carbohydrate: 29.7g; Dietary Fiber: 3.8g; Sugars: 12.4g; Protein: 6.3g