I cannot believe it will be two years this July since my family and I have up and moved from California to New Jersey, where my husband and I both grew up. Being close to family and lifelong friends again has been amazing but I do miss many of the perks that came with living in Southern California (think beaches, mountains, hikes, perfect weather, farmers markets every day of the week, and being surrounded with amazingly fresh, beautiful food at all times).
But here in New Jersey, I have been fortunate enough to find a few little local gems that help me feed my addiction to fresh, delicious, nutritious foods and the Nectar Cafe was one of them. It's just a small little shop, tucked away in the back of a big parking lot, near my home that makes fresh cold-pressed juices and lots of little raw salads, snacks, and treats. Food like this was as easy as finding a bottle of water in California but here in New Jersey it's not nearly as abundant and so I have a great appreciation for this little cafe.
This simple, flavorful salad is my attempt at remaking one of the salads I like to buy at Nectar. It's light and fresh so it makes a great lunch on its own or as a side dish for a larger meal. The combination of quinoa, nuts, and seeds gives this salad a great punch of plant-based protein which also makes this a great post-workout meal.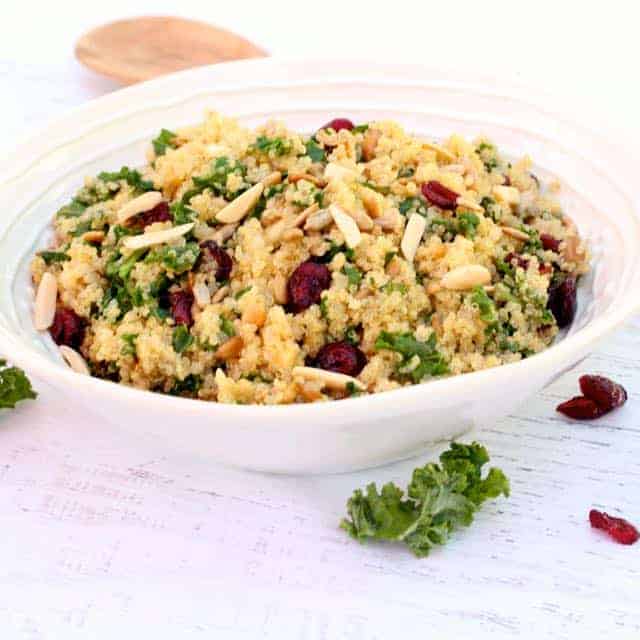 For those of you who like to do some meal prep on the weekend, you're definitely going to want to add this to your rotation. It holds up really well in the fridge and will still taste great after 3-4 days (side note: if you do plan to use it as a head-start meal try holding the nuts and seeds and then sprinkling them on top when you are ready to eat. this keeps them nice and crunchy.).
To watch the step-by-step demonstration for this recipe be sure to check out the video below. And let me know if you have thoughts, tips, or questions down in the comments below.
Print Recipe
Protein Packed Quinoa + Kale Salad
Ingredients
2

cups

cooked quinoa

2

cups

kale

1

clove

crushed garlic

3

tbsp.

apple cider vinegar

2

tbsp.

extra virgin olive oil

3

tbsp.

sunflower seeds

3

tbsp.

slivered almonds

3

tbsp.

dried cranberries

Salt and pepper to taste
Instructions
Place kale in the bottom of a large bowl and add warm quinoa on top (this will wilt the kale just a bit).

In a separate bowl, whisk together garlic, vinegar, olive oil, salt, and pepper. Pour dressing over quinoa and kale mixture and combine well.

Sprinkle in the sunflower seeds, almonds, and cranberries. Gently toss. Serve and enjoy!
Nutrition
Calories:
1435
kcal
|
Carbohydrates:
147
g
|
Protein:
41
g
|
Fat:
83
g
|
Saturated Fat:
9
g
|
Sodium:
86
mg
|
Potassium:
1893
mg
|
Fiber:
22
g
|
Sugar:
35
g
|
Vitamin A:
13385
IU
|
Vitamin C:
161.7
mg
|
Calcium:
416
mg
|
Iron:
11.7
mg