Chocolate-Peanut Butter 'Pizza'
Although my Chocolate-Peanut Butter 'Pizza' isn't much of a recipe, it sure is a "yummy-scrummy-I just-feel-like-having-something-good-to-eat" snack idea.
What can I say guys, the truth of the matter is this… I just haven't been doing a lot of blog-worthy cooking lately (this damn pregnancy, I tell ya;)).  And the few times I have made someting worth sharing, it's so dark outside that I am unable to snap a worthwhile picture and you guys know how I feel about really bad pictures (what's the point?).
So that's my sob story.
But just because I'm not doing a lot of cooking, doesn't mean I'm not doing a lot of eating.  I have been having a lot of small-snackish meals all day long and let me tell you, as no-brainer as this one is, it has become a favorite.  It's basically a sweet, indulgent, little something that I can feel good about eating.
All I do is take a small Ezekiel tortilla (whole grain, complex carbs), a spread of natural peanut butter (healthy fats with a kiss of protein), and a few chocolate chips (it actually never fails to suprise me how far a few chocolate chips can take ya), pop it in the microwave and voila', my Chocolate-Peanut Butter 'Pizza' is born.  It's fast, easy, satisying, and really filling; and truth be told, sometimes I even have it for breakfast!
If you wanted to make it even more delicious, you can try adding some sliced banana or strawberries.  I've tried them both and trust me when I tell you, they both work.
SO, do you guys have any super-simple, cold weather snack ideas that you have been enjoying?  If so, I'd love to hear about them.  I'm always looking for a new idea around here.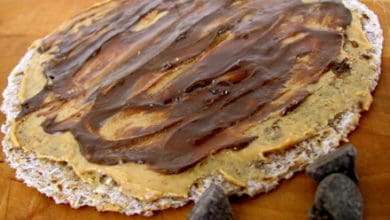 Print Recipe
Chocolate-Peanut Butter "Pizza"
Spread peanut butter over your tortilla and then dot with chocolate chips.

Pop it in the microwave for 8-12 seconds (depending on your microwave). Spread melted chocolate chips with a knife and enjoy!!

Serves 1.
Calories:
30
kcal
|
Carbohydrates:
4
g
|
Protein:
1
g
|
Fat:
1
g
|
Saturated Fat:
1
g
|
Cholesterol:
1
mg
|
Sodium:
4
mg
|
Sugar:
4
g