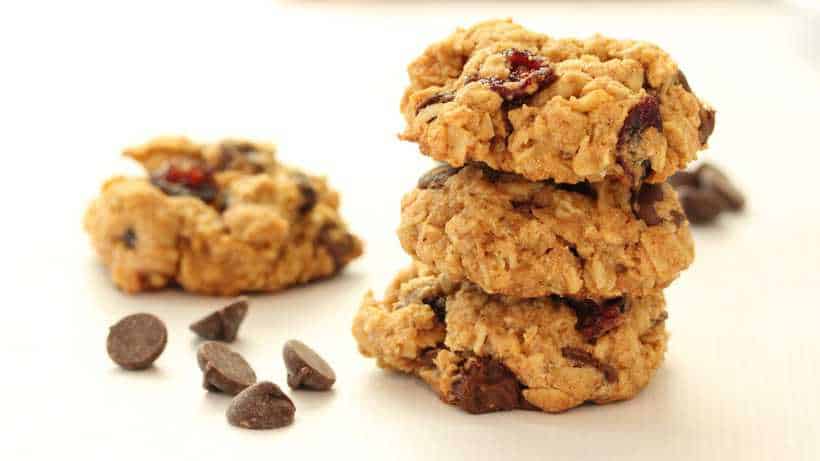 This is a recipe that I adapted from "Eat, Drink, and Be Healthy" by Walter C. Willett, M.D.. If you haven't read this book, I highly recommend it. It's a great no-nonsense book that tackles the facts of a healthy diet. No scams, no gimmicks, no crazy diets… just the facts!. And of course my favorite part of the book is all of the recipes provided at the end of the book (honestly, I could read other peoples recipes all day).
When I tried this simple recipe I thought they would be the perfect cookie to share with you guys. They're easy, healthy, and really good. I made a few basic changes to the original recipe; I swapped agave for the honey, used cranberries as the fruit, added chocolate chips, skipped the sunflower seeds and almonds and sprinkled in a few walnuts. But other than the stir-ins, I pretty much stuck to the original recipe (this is a good example of how easy it is to change the flavor of cookie with out changing the base of the recipe) so by all means, make this one your own!
I had originally planned on posting this for Valentine's Day, which is why I chose cranberries and chocolate but planning ahead isn't always my strong point (this will really be evident when I post my Super Bowl recipe nearly a month after it has passed… yep, that's what's coming next).
So ladies and gentleman, with no further ado… I give you Oatmeal, Chocolate, and Cranberry Cookies (w/ walnuts). I hope you like them as much as we did.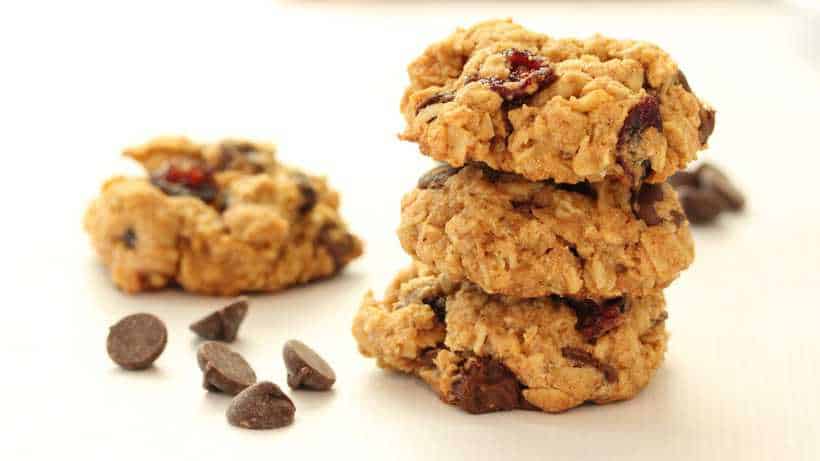 Print Recipe
Oatmeal, Chocolate & Cranberry Cookies
Ingredients
1/2

cup

canola oil

1/3

cup

brown sugar

2

tbsp

agave nectar

2

egg whites

2

tsp

vanilla extract

2

cups

of rolled oats

3/4

cup

white whole-wheat flour

1

tsp

baking powder

1

tsp

cinnamon

1/2

tsp

salt

1/3

cup

semi-sweet chocolate chips

1/3

cup

unsweetened dried cranberries

1/4

cup

chopped walnuts
Instructions
Preheat oven to 350.

Combine oil, brown sugar, and agave in a large bowl and beat with a mixer to blend (you can also just use a spoon if you dont have a blender). Stir in egg whites and vanilla.

In a small bowl, combine oats, flour, cinnamon, baking powder, and salt. Add oat mixture to the oil mixture; mix (or stir) until well combined.

Stir in cranberries, chocolate chips, and walnuts (and if nobody is looking, sneak a taste).

Spoon heaping tablespoons of dough onto a non-stick cookie sheet and gently flatten with your fingers. Bake for 10-12 minutes or until slightly browned.

Allow cookies to cool for a couple of minutes before transferring to wire rack to cool completely. Enjoy.

Makes 36 cookies.
Nutrition
Calories:
64
kcal
|
Carbohydrates:
6
g
|
Protein:
1
g
|
Fat:
4
g
|
Saturated Fat:
1
g
|
Cholesterol:
1
mg
|
Sodium:
36
mg
|
Potassium:
35
mg
|
Fiber:
1
g
|
Sugar:
3
g
|
Calcium:
12
mg
|
Iron:
0.2
mg