Oatmeal Raisin Cookies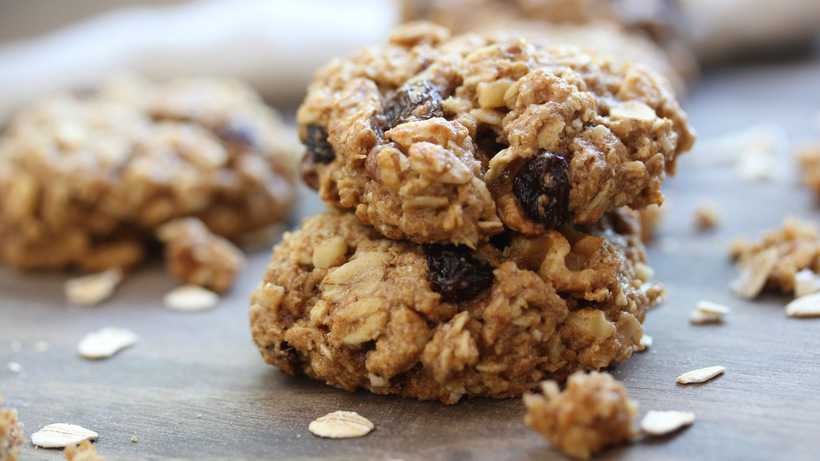 I can't believe this is the first time I am sharing an Oatmeal Raisin Cookie recipe with you (what the what?!).
Better late then never, I suppose, so let's get to it.
There are so many ways to make an oatmeal raisin cookie; crunchy, chewy, crisp, etc.
This particular recipe is more cake-like (which I love) and comes together in just one bowl with no fancy tools needed.  Just dump and stir and and bake and enjoy.
If you prefer chocolate over raisins, that would be a delicious swap.  And this recipe can easily be made vegan by swapping out the egg for a flax or chia egg (just take 1 tablespoon of ground chia or flax seed and mix with 3 tablespoons of water and let sit until it thickens).
So what are you waiting for?!  Happy baking!
*Note: These cookies are the third recipe shared in my Whole Grain Summer Recipe series below.  The recipe start at 7:30 (if you want to jump ahead).
*Thank you to Bob's Red Mill for partnering with me on my Whole Grain Summer Recipe series.  If you want to try any of Bob's products, Bob's is offering 20% off all of their products to everyone in the C&D Community!

Simply click HERE  and use code: CLEAN20 to save 20% off on TONS of delicious, nutritious ingredients! *EXPIRES 8/31/18
Oatmeal Raisin Cookies
Yield: 20 Cookies
Prep Time:10 minutes
Cook Time:10 minutes
Total Time:20 minutes
Ingredients:
1.5 cups oatmeal

1 cup white whole wheat flour

1/2 cup light brown sugar

1 teaspoon cinnamon

1/2 teaspoon baking soda

1/2 teaspoon kosher salt

1/3 cup melted coconut oil

1/3 cup applesauce

1 tablespoon ground chia seeds

3 tablespoons water

1 teaspoon vanilla extract

1/3 cup chopped walnuts

1/2 cup raisins
Directions:
Preheat oven to 350ºF/176ºC.
Line a rimmed baking sheet with a silat mat or parchment paper (you can also just spray the pan with some cooking spray. You choose!).
In a large bowl combine oatmeal, white whole wheat flour, light brown sugar, cinnamon, baking soda, and kosher salt. Gently toss everything together.
Combine ground chia seeds with water in a small bowl and let rest for 5 minutes or until thickened.
Add in coconut oil, applesauce, chia mixture, and vanilla extract. Mix everything together until you have a thick, cookie-dough consistency. Add in the walnuts and raisins, stir until they are evenly distributed thought out the batter.
Scoop up a tablespoon of dough and use your had to form a ball, place on the baking sheet and squish down a bit with your fingers so they look like fat discs. These cookies down spread a lot once they cook, so you want to form the into a cookie shape before baking.
Bake for 10 minutes or until lightly browned on top and set through. Repeat until you have used all of your dough. Cool, eat and enjoy!
*Storage: I like to keep these stored in an airtight container on my counter for up to 5 days. You can also store them in the fridge or pop them in the freezer.
Nutrients per cookie: Calories: 129; Total Fat: 6.3g; Saturated Fat: 3.9g; Cholesterol: 10mg; Sodium 93mg, Carbohydrate: 16.8g; Dietary Fiber: 1.6g; Sugars: 8.3g; Protein: 2.3g