Learn how to make the most delicious oatmeal pancakes using just ten everyday ingredients and one bowl. These healthy pancakes have no (wheat) flour and no banana! They are gluten-free, dairy-free, and can easily be made vegan as well. A simple, delicious breakfast recipe the whole family will love.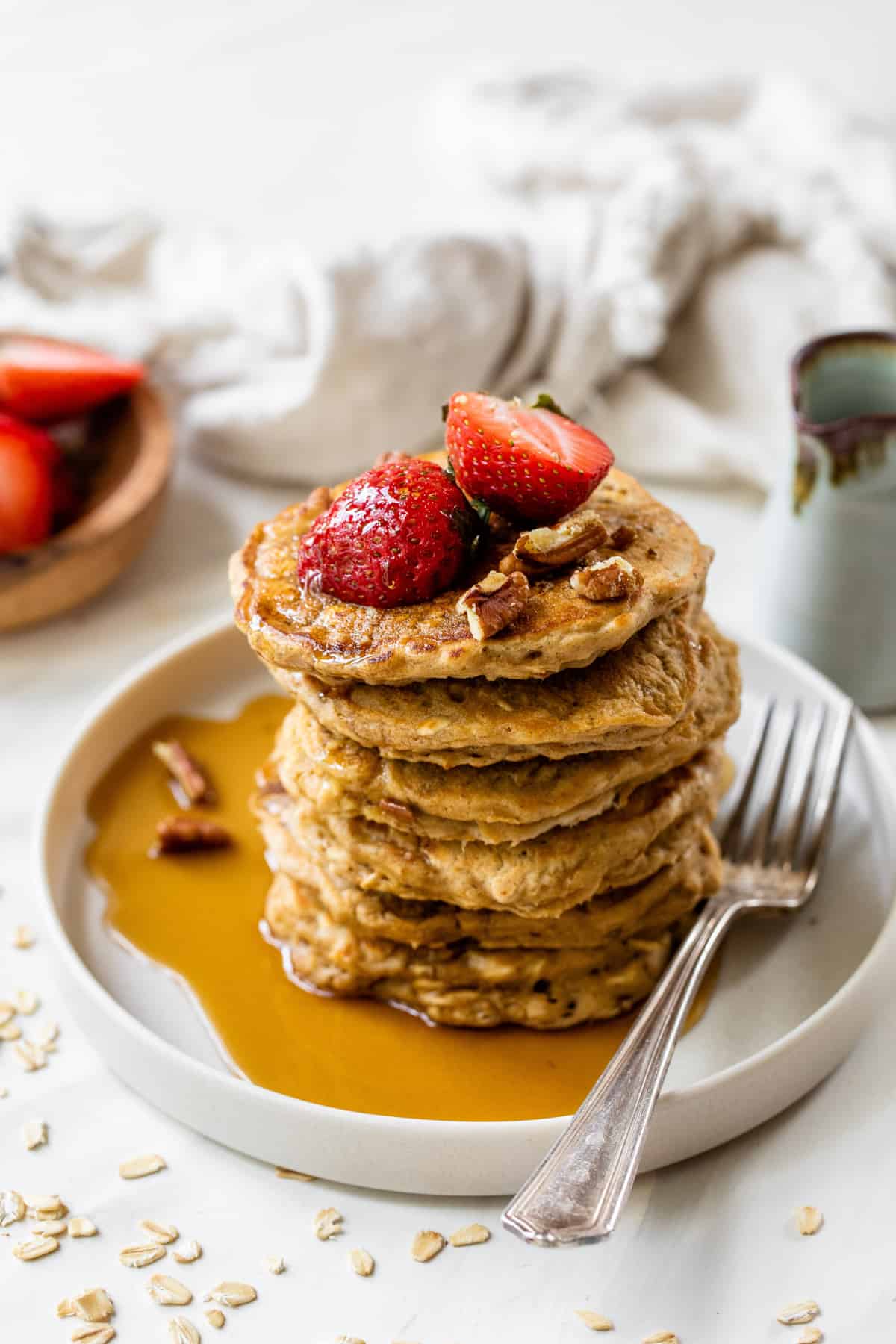 If you are looking to level up your morning pancake routine, these healthy oatmeal pancakes will be your new best friend (shhh, don't tell my beloved banana-baked oatmeal that I said that)! Made with a combination of rolled oats and oat flour (no wheat or gluten!) they are both light and fluffy, yet wholesome and hearty all at the same time.
This recipe was inspired by my Banana Oatmeal Pancakes (which are so very loved by readers). I wanted to create a version that was made without bananas, so those who don't like bananas (or don't have bananas on hand), can still enjoy some healthy oatmeal pancakes.
I also want to share a little trick to keep your oatmeal pancakes from becoming too dense or heavy! SOAK the rolled oats in milk (almond, soy, cow, etc.) for ten minutes before you add the rest of the ingredients. This helps to soften the oats which result in lighter, more tender oatmeal pancakes. So smart and so easy.
I really can't wait for you to give this recipe a try!
How To Make Healthy Oatmeal Pancakes
The key to making your oatmeal pancakes healthier than a traditional pancake (aka; a pancake that is made with lots of refined flour, sugar, and oil!) is to focus on real, whole, unprocessed ingredients. This is a lot easier than it may sound! Let me show you what I mean.
Here are the key ingredients (I bet you already have most of them on hand!).
Rolled Oats. Good old-fashioned rolled oats create a nice hearty texture. You can get away with quick oats but I don't recommend steel-cut oats (they won't soften and will make your pancakes super heavy).
Unsweetened Almond Milk. It's super important to soak your rolled oats in almond milk for ten minutes before making the pancakes. This will allow them to soften and keep the pancakes nice and tender. Don't like almond milk? No problem! Use what you have and/or love!
Oat flour. A great way to keep your pancakes gluten-free is to use oat flour! Just make sure it's labeled 100% gluten-free (or make it yourself by blending up rolled oats in a coffee grinder or blender).
Eggs. I used two eggs to help bind the batter together. If you prefer more protein, swap in 4 egg whites. To keep this recipe 100% vegan, swap in one flax or chia egg.
Cinnamon. Lots and lots of cinnamon. It's simply the perfect flavor companion for these oatmeal pancakes.
Oatmeal Pancakes Without Eggs
This recipe can easily be made vegan by swapping in on chia or flax seed egg. I found two chia or flaxseed eggs made the batter too thick but one was just right!
If you have never made a chia or flax egg before, it's super easy! Simply combine one tablespoon of ground-up flax or chia seeds with three tablespoons of water. Let it sit for 10 minutes or until it has thickened.
Serving Suggestions for Oatmeal Pancakes
Keep it traditional and top with a bit of pastured butter and real maple syrup! I also love them topped with some fresh fruit; strawberries, blueberries, and raspberries are all delicious.
If you are on the go, try them topped with a schmear of peanut butter or almond butter!
Want more protein? Top them with a hearty dollop of Greek yogurt.
Add Your Favorite Stir-Ins
I love the addition of chopped pecans in this recipe! The combination of cinnamon, oats, and nuts is just perfect to me! BUT you can of course add in your favorite flavor combos, here are a few fun ideas:
Chopped apples. Bright, tart, and delicious! Apples are just perfect in for these pancakes.
Chopped pears. Don't overlook these autumn and winter fruits. When ripe, they are soft and sweet and work really well stirred into this pancake batter.
Mini chocolate chips. Always been a kid's favorite! My daughter always requests them in her pancakes.
Raisins. There's nothing better than oatmeal and raisins! If you really want to go crazy, try raisins and apples together (so good!).
Walnuts. I happen to love this recipe with pecans, but walnuts would also be delicious!
And I'm not going to suggest bananas since this is an oatmeal pancake recipe without bananas BUT if you like bananas, they would be delicious too! Just sayin', LOL!
Looking for more healthy pancake recipes?
If you make and enjoy these oatmeal pancakes, be sure to leave a comment and ★ rating below letting me know how they turned out. Your feedback is so helpful for me and our Clean & Delicious community (thank you!).
Oatmeal Pancakes
These easy and healthy oatmeal pancakes are simple to make and great for meal prep. Try topping them with fresh fruit and maple syrup for a traditional breakfast or spread on some almond butter or Greek yougurt when you need to take your pancakes on the go!
Ingredients
Instructions
Combine rolled oats and almond milk together in a large bowl. Let stand for 10 minutes for the oats to soften.

Add the coconut oil, eggs, and maple syrup to the oats, and stir to combine. Add oat flour, baking powder, and cinnamon and stir until just combined; do not over mix. Gently fold in pecans.

Heat a nonstick skillet over medium-high heat and grease with some extra coconut oil (or whatever you prefer). Scoop 1/4 cup of batter and drop into the pan to make small sized pancakes (I like to cook 3-4 at a time).

Cook until you see tiny bubbles appear on the surface of the pancakes and the bottoms are golden brown, about 2 to 3 minutes. Flip the pancakes and cook until the other side is golden-brown, 2 to 3 minutes more.

Transfer pancakes to a warm oven or late and repeat until you have used all the batter. Serve and enjoy!
Notes
Want to make this recipe 100% plant-based and vegan? Swap in one flax or chia egg in place of the eggs.
Have some fun with the stir-ins! Try mini chocolate chips, walnuts, diced apples and pears, or blueberries. Make it your own.
Want to make this recipe for meal prep? Easy-peasy! Simply store the pancakes in an airtight container and pop them in the fridge for up to five days. You can also freeze them for up to 3 months.
Nutrition
Serving:
3
pancakes
|
Calories:
310
kcal
|
Carbohydrates:
33
g
|
Protein:
10
g
|
Fat:
16
g
|
Saturated Fat:
5
g
|
Polyunsaturated Fat:
4
g
|
Monounsaturated Fat:
6
g
|
Trans Fat:
1
g
|
Cholesterol:
82
mg
|
Sodium:
411
mg
|
Potassium:
432
mg
|
Fiber:
5
g
|
Sugar:
4
g
|
Vitamin A:
125
IU
|
Vitamin C:
1
mg
|
Calcium:
213
mg
|
Iron:
2
mg