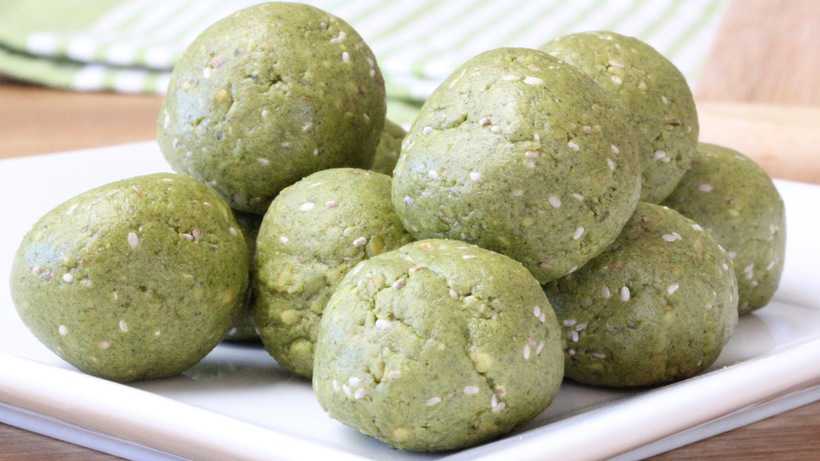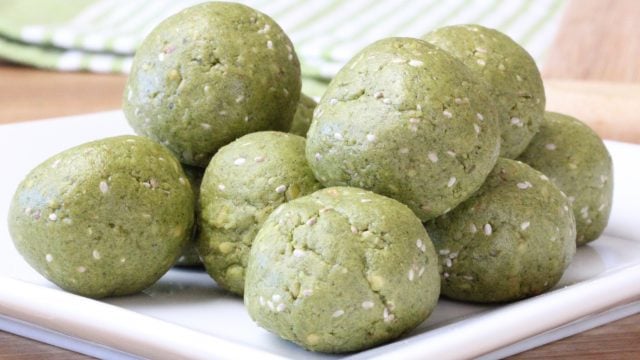 A combination of almond butter, matcha powder, oats and protein powder create a tasty base for these Matcha Green Tea Protein Bites making them the perfect pick me up snack for mornings, afternoon, or before and after a workout.
I came up with this recipe after sharing my Matcha 101.  I couldn't wait to find more ways to work matcha into the kitchen.  I just love the sweet, earthy, grassy flavor that matcha has and you can't beat the health benefits.
SOME HEALTH BENEFITS OF MATCHA
Is packed with antioxidants including the powerful EGCg.
Calms the mind and relaxes the body
Boosts metabolism and helps burns calories
Naturally detoxifies the body
Calms the mind and relaxes the body
Is rich in fiber, chlorophyll and vitamins
Enhances mood and helps with concentration
MORE CLEAN & DELICIOUS MATCHA RECIPES
No Bake Matcha Protein Bites
Yield: 12 pieces
Prep Time:15 minutes
Cook Time:0 minutes
Total Time:15 minutes
Ingredients:
4 tablespoons almond butter
1/2 cup rolled oats
1 scoop vanilla protein powder (20 grams)
2 teaspoon matcha powder*
1 tablespoon chia seeds
1 tablespoon honey
2 teaspoons coconut oil
pinch of sea salt
Directions:
Combine all ingredients in a food processor and blend until mixed together.  The mixture will resemble sand but stick together when squished with your finger.
Scoop a small amount of the mixture (I used 13 grams for each ball to get 12 balls total) and form into a ball with your hands.
Place a plate or baking sheet lined with parchment paper and repeat until you have made 12 balls.
Transfer to an airtight container and store in the fridge for up to two weeks.
I am not a matcha aficionado, but the matcha I have been using and really enjoying is from The Matcha Reserve.  It costs just under $40 for 40 grams.  Not only do they sell traditional matcha, they also have flavors like mango and caramel, which are made by adding a tiny bit of extract to the matcha.  If you are interested in trying out their matcha, you can save 15% by using my code: DaniMatcha
Nutrients per ball:  Calories: 72; Total Fat: 4.3g; Saturated Fat: 0.9g; Cholesterol: 0mg; Sodium: 9mg Carbohydrate: 5.5g; Dietary Fiber: 1.5g; Sugars: 1.9g; Protein: 4.5g