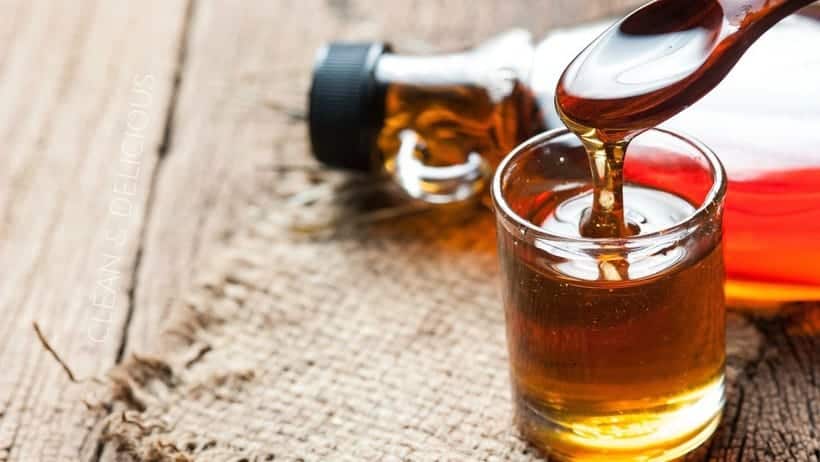 This post is sponsored by Pure Canada Maple. All opinions are my own.
What is Pure Maple Syrup?
Pure Maple syrup is a sweetener that is derived directly from the sap of maple trees and did you know that Quebec Canada produces the most maple syrup in the world!
Unlike refined cane sugar, which undergoes a long, complex process in order to be condensed in crystalized sugar, pure maple syrup is a much more natural and unrefined; which makes it a healthier alternative to sugar.
Think of the difference like you would between whole and refined grains. Unrefined natural sweeteners, like pure maple syrup are a lot less processed and so they maintain more nutrient density and are 100% pure and free of any coloring or additives.
Some Nutritional Benefits
Pure maple syrup also contains zinc and manganese, which helps to keep the heart healthy and the immune system strong. It has 65 beneficial plant compounds with antioxidant properties. Recent research has uncovered that pure maple syrup may help reduce chronic inflammation, promote brain health, improve liver functions and help to manage Type 2 diabetes.
So clearly there are a lot of nutritional benefits that come along with enjoying pure maple syrup.
Buying Maple Syrup
One thing you want to be sure of when you buy maple syrup is that you are buying 100% Pure Maple syrup, you want to get the real deal. There are a lot of brands (that usually come in plastic squeeze bottles) that sell imitation maple syrup, this is really just a combination of corn syrup and artificial flavorings, that is not the maple syrup you want to be buying.
You want to look for good quality maple syrup, and all you have to do is read the ingredient list. The only ingredient that should be listed is maple syrup.
Looking to see that it's from Canada is also important because Quebec, Canada is the only place that has strict quality controls and tests every barrel. The maple forests in Quebec are also protected, which is great for the environment, too. It's Delicious, nutritious, + sustainable!
Storing your maple syrup
When you get your maple syrup home, keeping it in your fridge is just perfect.
Flavor + Versatility
Now there are different grades of maple syrup, and without getting into too much detail what you want to know is that the lighter the color of your maple syrup the more delicate the taste will be. The darker the color the stronger the maple flavor will be.
If you've never tasted maple syrup before, it really has a unique and delicious flavor, it's hard to describe but I would say it's sweet and a little bit buttery and slightly nutty.
And while it's absolutely delicious drizzled on pancakes and waffles it's a lot more versatile then that.
You can use it in so many different ways! Try adding some to your tea or coffee, use it as a sweetener in smoothies and lemonade, add in into your baked goods like muffins and energy bars and it's also adds depth and complexity to savory dishes as well so it's great in salad dressings, stir-fries and even as a rub or marinade meat and fish.
This Maple Inspired 30 minute meal is one of my favorite ways to enjoy maple syrup.
Are you a maple fan? What are some of your favorite ways to use maple syrup in your kitchen?
[ytp_video source="Up4SuLGNcaI"]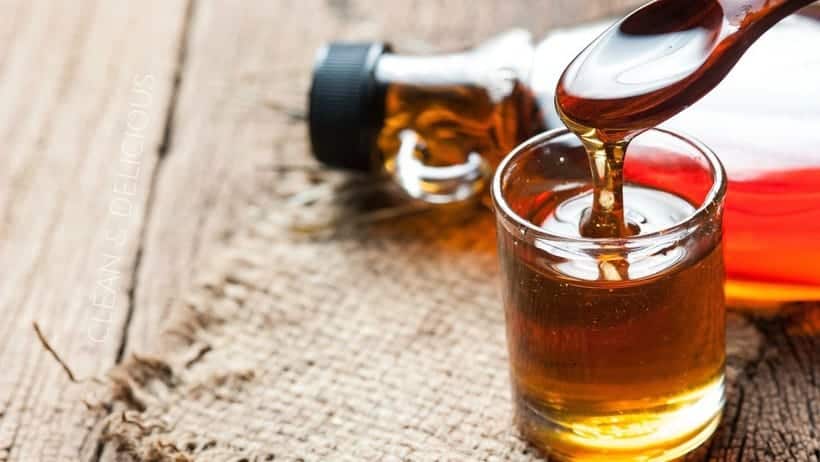 Print Recipe
Maple Glazed Salmon + Maple Tahini Kale Salad
Ingredients
2

six ounce salmon filets

I like King salmon

1

tablespoon

maple syrup

1

tablespoon

soy sauce

1

teaspoon

dijon mustard

1

teaspoon

ground cumin

1

clove

crushed garlic

4

cups

shredded kale

1

yellow pepper

sliced into strips

5

radishes

sliced into strips

1

tablespoon

maple syrup

1/4

cup

tahini

1

tablespoon

lemon juice

1

clove

crushed garlic

salt and pepper to taste
Instructions
Pre heat oven to 350 f.

Line a 1/4 baking sheet with parchment paper or spray with some cooking oil and place salmon on top.

Whisk together maple syrup, soy sauce, dijon mustard, ground cumin, and crushed garlic. Brush half of the mixture on top of the salmon filets, saving the other half to glaze salmon when its done cooking.

Bake salmon for 15-20 minutes or until cooked through. Top with remaining sauce.

Place kale, peppers, and radishes in a large bowl.

In a separate bowl or spouted cup, whisk together maple syrup, tahini, lemon juice, garlic, salt and pepper.

Pour dressing over the veggies and gently toss until the salad is lightly coated in the dressing.

Divide amongst two plates and top with maple glazed salmon. Enjoy!