This lemon garlic baked chicken recipe is tender, juicy and super easy to make. A simple combination of fresh lemon juice, lemon zest, olive oil, garlic and herbs paired with some simple cooking tips creates a pop of flavor that your whole family will enjoy.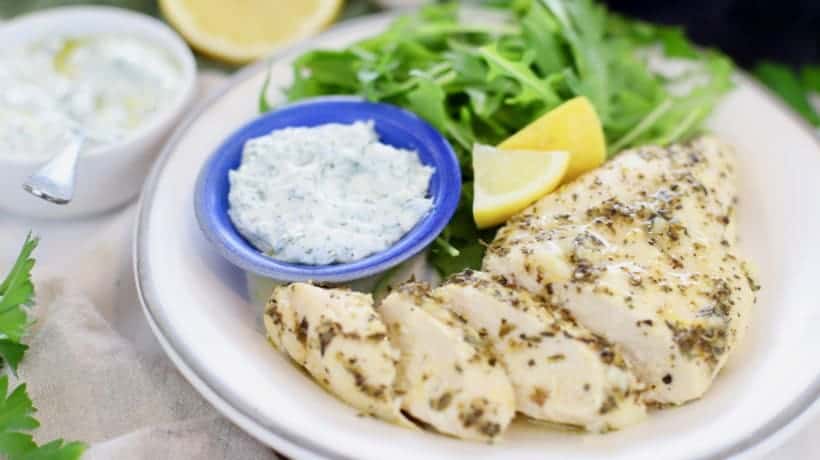 I know that a lot of you have given up on baking chicken breast. Their low fat content often results in dry, rubbery chicken that nobody wants to eat. But that does not need to be the case, these baked lemon chicken breasts come out juicy and delicious every time.
There are just a few simple tricks that you need to know to make a tasty chicken breast. So let's jump to it!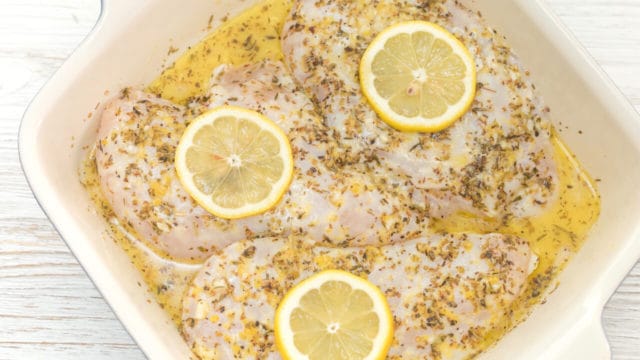 Lemon Garlic Chicken Breast | What You Need
To make this baked chicken breasts recipe, you will need:
Boneless, skinless chicken breasts: You can but them fresh or frozen, just be sure to let them defrost and come to room temperature before baking. I like to look for organic pastured chicken, and often use chicken that comes in my monthly delivery from Butcher Box.
Olive oil: Don't use your fanciest oil for this since we will be heating it. A standard olive oil will do the job.
Lemon: Fresh lemons are key. You will be using the juice and the zest, so buy organic if you can.
Garlic: Fresh garlic is key. I like to crush the garlic to release all the flavors.
Italian Seasoning: I love buying spice blends when I can. It's an easy way to incorporate lots of flavors without breaking the bank.
Also, if you make baked chicken regularly in the oven, I recommend having a heavy, sturdy rimmed baking sheet and a cooking thermometer on hand.
A rimmed baking sheet is one of my most used kitchen essentials and a thermometer is the easiest way to ensure that your chicken is not over or under cooked.
These are the tools that I use and recommend: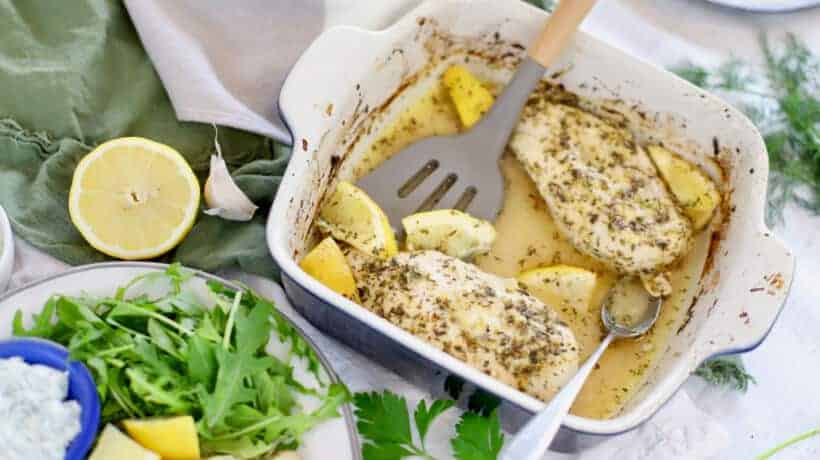 How To Make Lemon Garlic Baked Chicken
Lemon garlic baked chicken breasts are super easy to make and if you follow these easy steps, you can rest assured your chicken breasts will be tender and juicy each and every time.
Gently pound the chicken to create a uniform thickness all around. This step will help to ensure that the chicken cooks evenly and you don't end up with any areas that are over or under cooked.
Make your marinade by whisk together lemon juice, lemon zest, olive oil, garlic, Italian seasonings, salt and pepper.
Pour the marinade over the chicken and let it sit for 20-30 minutes before you get it into the oven. The closer the chicken is to room temperature, the more tender and juicy your chicken will be.
Bake at 425ºF for 20-25 minutes, depending on how thick your chicken breasts are. If you are new to baking chicken, I highly recommend using your thermometer to make sure that you do not over cook your chicken. Pull the chicken out of the oven when the internal temperature of the meat reaches 160ºF (as the chicken rests, the residual heat from the chicken will raise the internal temperature to 165ºF, which is where you want the final temperature of your baked chicken to be).
Rest your chicken once it comes out of the oven. Yes, this is the hardest part, but it will give the juices an opportunity to redistribute and allow the chicken to come up to 165ºF without overcooking the chicken. If you cut in right away, you will lose all of the delicious juices and some of the tenderness that we're going for.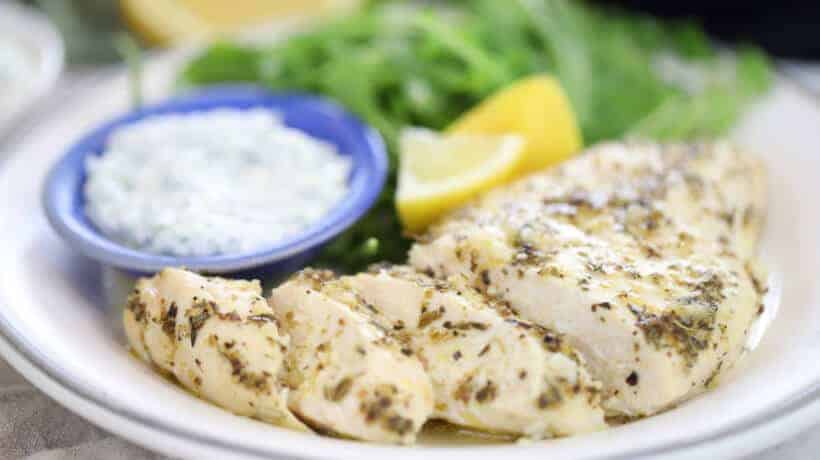 Creamy Dill Sauce for Your Lemon Baked Chicken
This lemon garlic baked chicken does not need extra sauce to add more flavor but I just love how it pairs with this creamy dill sauce. If you want to take the dish to the next level, I definitely recommend whipping up this sauce.
All you have to do is combine; plain Greek yogurt, fresh chopped dill, garlic, olive oil, salt and pepper.
Easy-peasy and so delicious.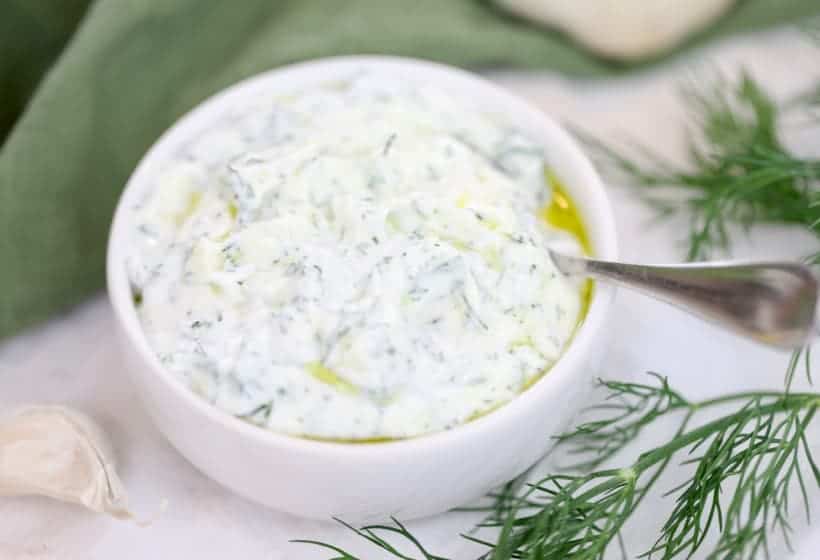 More Chicken Recipes To Enjoy: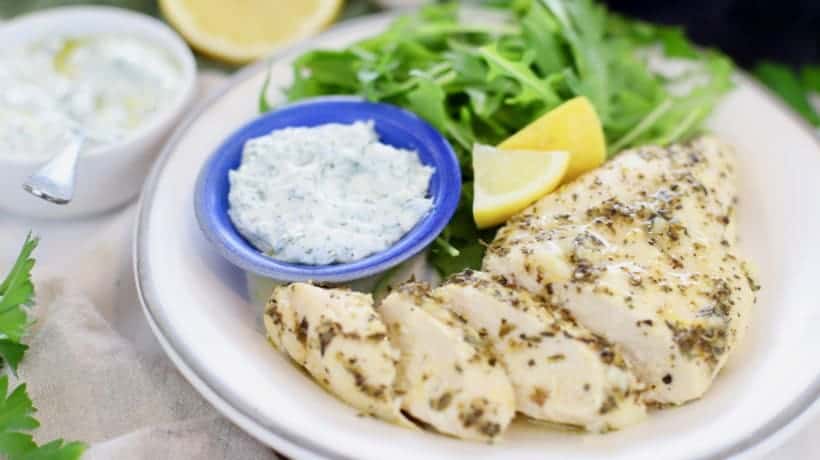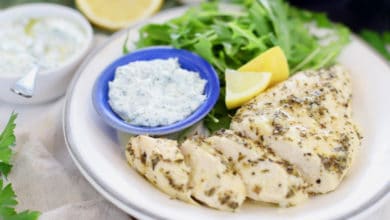 Print Recipe
Lemon Garlic Baked Chicken Breast
This lemon garlic baked chicken recipe is juicy and tender, easy to make, and has a bright, fresh lemon flavor that you will love!
Ingredients
1.5

pounds

chicken breast

3-4 breasts

2

teaspoons

lemon zest

3

tablespoons

lemon juice

2

tablespoons

extra virgin olive oil

1

teaspoon

dijon mustard

2

cloves

garlic

crushed (3 if they are small)

1/2

teaspoon

kosher salt

1/4

teaspoon

black pepper

2

teaspoons

dried Italian seasoning

1/2

cup

plain 2% Greek yogurt

1

clove

crushed garlic

1

tablespoon

extra virgin olive oil

1/4

cup

chopped dill
Instructions
Pre-heat oven to 425 F.

Lay the chicken breasts between two pieces of plastic wrap or wax paper and gently pound with a meat mallet. The goal is to create a uniform thickness all around the breast so the chicken can cook evenly. Place chicken in 88 baking dish.

In a small bowl or spouted cup, whisk together lemon zest, lemon juice, extra virgin olive oil, mustard, garlic, salt, pepper and Italian seasonings.

Pour marinade over the chicken and lest rest on the counter for 20-30 minutes before baking. This gives the flavors a chance to mingle while the chicken comes to room temperature.

Pop in the oven for 20-25 minutes or until the internal temperature of the chicken reaches 160F.

Allow the chicken to rest and continue cooking on the counter for 5-10 minuted or until the internal temperature has reached 165F. Serve and enjoy!

Combine all the ingredients in a small bowl. Stir well and enjoy!
Nutrition
Calories:
297
kcal
|
Carbohydrates:
3
g
|
Protein:
36
g
|
Fat:
15
g
|
Saturated Fat:
2
g
|
Cholesterol:
109
mg
|
Sodium:
503
mg
|
Potassium:
654
mg
|
Fiber:
1
g
|
Sugar:
1
g
|
Vitamin A:
70
IU
|
Vitamin C:
8.4
mg
|
Calcium:
27
mg
|
Iron:
1
mg