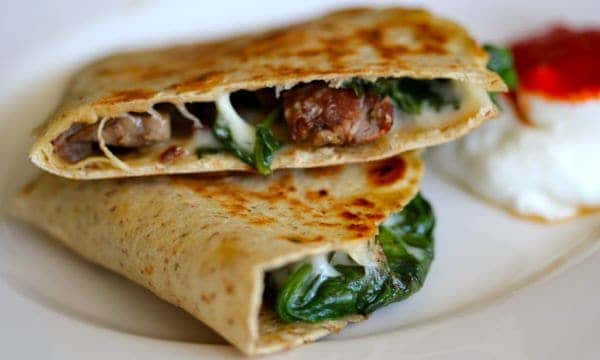 Got Leftover steak? Here's how to turn the leftovers into a quick, Clean & Delicious weeknight meal (this my friends is why you should always make extra! – it's 'head-start ingredients' like this leftover steak that will take your weeknight meals from ho-hum to hip-hop-hooray!)
Now obviously you don't need to use my recipe for left-over steak to make this meal, geez – you don't even need steak at all. You can use whatever ingredients you have on hand, although I can (and will) promise you that the steak, spinach, and provolone make for a winning combination.
If you want to see my 'go-to-quesadilla-making-technique" demonstrated in a video, you can watch my Broccoli and Chicken Quesadilla video. It's really very simple, but if you are a visual learner like myself, watching the video can be extremely helpful.
The best part about quesadillas is that they tend to be a family favorite, meaning that both kids and parents are happy to see them on the table, and as you Mommies know, that alone is worth its weight in gold!
What do you like to stuff your quesadillas with? Do you have any 'go-to family faves' you can share?
Leftover Steak and Spinach Quesadilla with Provolone
Ingredients
1

tsp

of extra virgin olive oil

2

oz

leftover flank steak

or whatever you've got on hand

A big handful of spinach

1- 6

inch

whole grain tortilla

1

slice

part-skim provolone cheese
Instructions
Heat oil in a 12 inch skillet. Add steak and heat until just heated through. Toss in the spinach and cook until wilted. Remove steak and spinach from the pan. Place one tortilla in the pan and heat through. Flip the tortilla and place half a slice of cheese on one half of the tortilla.

Layer the steak and the spinach over the cheese and then place another half slice of cheese on top. Fold the tortilla onto itself to create a half moon. Place a tea kettle or another heavy pot on top of the tortilla to press it down for about 30 seconds. Flip the quesadilla and do the same thing on the other side.

Remove quesadilla from the pan and allow to cool bait before slicing in half. Enjoy with some plain Greek yogurt and spicy garlic sauce.