Scroll down to watch the step-by-step video.
If you are in the mood to eat some spectacular soup this weekend, I've got your back (and yes! this would also be a great addition to any Thanksgiving menu).
Thanks to ginger, red thai curry paste, and coconut milk, this easy Kabocha Squash Soup develops a rich, complex flavor with little effort in practically no time at all.
If you really want to save some time, be sure to cook your squash before hand, because while its very easy, it does take a hot minute to prep and cook.
And finally, if you can't find kabocha squash, you can make this recipe work with sweet potato or pumpkin as well, so no need to worry.  Enjoy!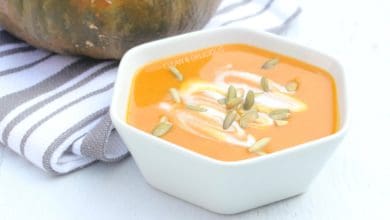 Print Recipe
Kabocha Squash Soup Recipe
Ingredients
1

medium kabocha squash

halved and seeded

1

tablespoon

coconut oil

1

yellow onion

chopped

4

cloves

fresh chopped garlic

1

inch

chunk ginger

shredded

1

teaspoon

Kosher salt

3

tbsp.

thai red curry

4

cups

vegetable stock

1/2

cup

coconut milk
Instructions
Preheat the oven to 425.

Lightly coat a rimmed baking sheet with cooking spray and place kabocha squash, skin side up, on the pan.

Pop in the oven and roast for 20-30 minutes or until the squash is tender (you should be able to easily pierce it with a fork). Allow to cool and then scoop out the flesh and set it aside.

Heat a large dutch oven over a medium low heat and add the coconut oil. Once the oil has melted, toss in the onions and cook for a few minutes, or until the onions begins o turn translucent.

Add in the garlic, ginger, and salt. Cook for one minute, or until fragrant, and then stir in the red curry paste. Combine everything together and then add in the kabocha squash and the veggie stock. Stir and simmer for 20 minutes, so the flavors can mingle and marry together.

Remove from heat and allow to cool down a bit. Working in batches, add the soup to the blender, being sure not to fill the blender more then 1/3 of the way up, and blend until rich and creamy.

Repeat until all the soup is done and then return the soup to the pot, stir in the coconut milk and gently reheat. Serve + enjoy!