I love giving love to under-loved veggies.
And let's be honest.  Beet greens are under-loved.
I think part of the problem is that many people do not realize you can eat them.  They simply do not know that beet greens are edible (and insanely delicious).
But rest assured, unlike rhubarb (who has poisonous leaves), beet greens are totally safe, completely edible, and extremely yummy.
You can prepare your leaves much like you would kale.  Simply pull the leaves off of the stem, give them a rinse and chop them up.  Then you just sautee them in you favorite cooking fat (I went with butter since the first time I ever had beet greens they were cooked in butter) but coconut oil and olive oil would also be delish.  Once they are wilted down they are done.
They taste a lot like spinach or swiss chard and their texture becomes almost velvety once they are cooked up.
One bunch of greens won't provide you with more than a snack but if you had a few bunches of beet greens this would make an awesome side dish to any type of meat, chicken or fish.
You can also scramble the greens into some eggs or try this pasta dish (which uses both the beet and the greens).
And if you wan to learn more about beets in general, check out some of the basics here: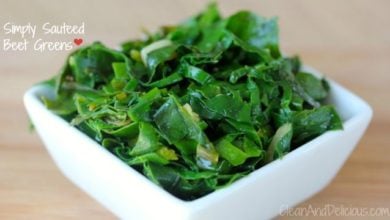 Print Recipe
Simply Sauteed Beet Greens
Ingredients
2

tsp.

butter

1

clove

minced garlic

1

bunch beet greens

stemmed and cut into thin ribbons

Salt and pepper to taste
Instructions
Wash, stem and slice beet greens into thin ribbons.

Heat a medium size non stick saut pan over a medium-high heat and melt your butter.

Once the butter has melted toss in the garlic and cook for 30 seconds before adding you beet greens. Gently toss the garlic and beet greens in the melted butter and season with salt and pepper.

Once the beet greens have wilted, they are done. Remove from the heat and enjoy!
Nutrition
Calories:
71
kcal
|
Carbohydrates:
1
g
|
Protein:
1
g
|
Fat:
8
g
|
Saturated Fat:
5
g
|
Cholesterol:
21
mg
|
Sodium:
70
mg
|
Sugar:
1
g
|
Vitamin A:
245
IU