How To Cook Steel Cut Oats 3 Ways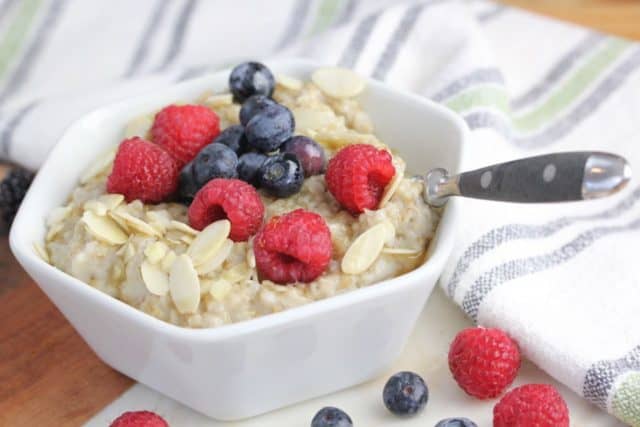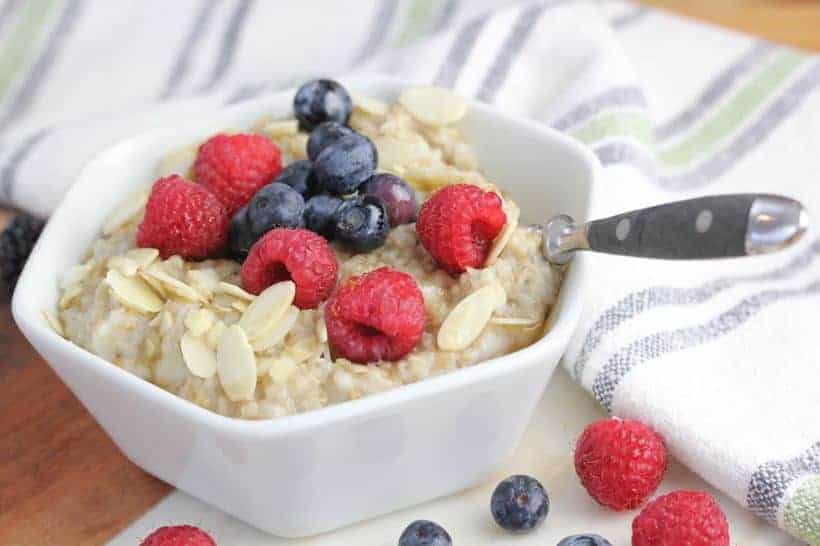 Steel Cut Oats are whole grain groats (which is basically the whole oat kernel), cut into two or three smaller pieces with a steel mill. They have a very hearty, chewy texture, which is super satisfying, especially on cold winter mornings, but they do take about 35 minutes to cook.
I'm going to walk you through three ways of cooking your steel cut oats; on the stove top, in the slow cooker and overnight.
Steel Cut Oats Vs. Rolled Oats
The first question most people have about steel cut oats is, "how are they different from rolled oats"?
Rolled Oats are the entire oat groat (before they are cut into pieces to make steel cut oats), steamed, rolled, re-steamed, and toasted.  They have been through a bit more processing, so they tend to lose some nutritional value and their hearty, chewy texture.
Just to be clear, rolled oats still make for a very delicious and nutritious breakfast and are definitely worth eating when you don't have the time or desire for steel cut oats. As a matter of fact the nutrition labels of both steel cut and rolled oats are exactly the same as far as calories, carbohydrates, protein and fiber. So technically, the macronutrients are not effected by this processing at all but steel cuts oats will take longer for your body to break down which will help keep you feeling more satisfied after your meal.
On another note, what you might want to beware of are the little pre-flavored, individual packages of oatmeal. They are usually made up of instant oats and packed with a ton of sugar.
image credit: David P. Smith
Health Benefits of Steel Cut Oats
Oatmeal is a great source of soluble fiber, which is famous for its ability to lower cholesterol.  Here's how soluble fiber works; when it mixes with water it turns thick, sticky, and gelatinous so as it works its way through your body it pulls the cholesterol along with it, so as it works its way out of your body, it's bye-bye cholesterol and hello happy, healthy arteries.
Steel Cut Oatmeal is also rich in vitamins, minerals and antioxidants, and is said to help stabilize blood sugar levels.
How To Cook Steel Cut Oats
If you've ever made rolled oats then you'll have no problem making steel cut oats.  They are really easy to make and depending on your lifestyle, you can choose the method that works best for you.
I've demonstrated all three methods in the video below, but here are the cliff notes.
If you have time in the morning, keep it simple and cook your oats on the stove.  This can take up to 35 minutes to do, so we usually save this technique for the weekends.
If you want to set your oats up at night to be ready in the morning, try the overnight oatmeal method.  This way the oats cook (without heat) while you sleep and all you have to do is take 5 minutes in the morning to warm them up.
You can also use the slow cooker method if you want your oats to cook while you're away.  This is my favorite method when I am meal prepping my steel cut oats.  I just set them up in the morning and by the afternoon, I can divide my oats into individual containers to store in the fridge for quick and easy meals during the week.
Once you've pick your method, it's time to have fun with your toppings. There are so many roads to travel but some of my favorite combinations are:
bananas + walnuts
fresh berries + hemp seeds
apples + peanut butter
raisins + brown sugar
chocolate chips + bananas (kid favorite)
I can't wait to hear which method you choose first!  Be sure to let me know what are your favorite steel cut oatmeal toppings down in the comments below.
Print Recipe
How To Cook Steel Cut Oats 3 Ways
How to make steel cut oats on the stove top, in the slow cooker, and overnight.  Great for weekend meal prep.
In a medium saucepan, bring water and milk to a boil. Add oats and stir. Watch them closely for the first couple of minutes because sometimes they like to bubble up and over.

Cover and simmer 20-30 minutes over low heat until oats reach the consistency you like (20 minutes for chewy, al dente oats, 30 minutes for more creamy).

Scoop into bowls and serve with your favorite toppings.

In a medium saucepan, bring water to a boil. Add oats and stir.

Cover and turn off the heat. Let sit overnight.

In the morning add a splash of water (or milk) to loosen the oats and heat over medium-low heat until warmed through.

Scoop into bowls and serve with your favorite toppings.

Coat the slow cooker with butter, coconut oil or cooking to spray to prevent the oats from sticking.

Add oats, water milk, salt and cinnamon to your slow cooker and stir.

Cover and cook on low setting 4-6hours, or on high for 2-3 hours.

Scoop into bowls and serve with your favorite toppings.
I like using the unsweetened almond milk because it adds a subtle sweetness and creamy texture but, if you prefer, you can use all water for each technique and still have super creamy, delicious oats.
Calories:
1993
kcal
|
Carbohydrates:
321
g
|
Protein:
82
g
|
Fat:
46
g
|
Saturated Fat:
5
g
|
Sodium:
1400
mg
|
Fiber:
56
g
|
Sugar:
1
g
|
Calcium:
150
%
|
Iron:
110.4
%