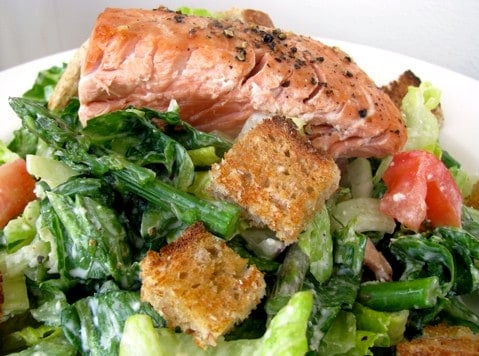 We did it! (I say we because it was 100% team work between me and my husband).
We pre-prepped a ton of veggies, some fruit, hard boiled eggs, sweet potatoes and steel-cut oats yesterday and successfully pulled off our first pre-planned meal of the week!
I had the lettuce and the fennel chopped and washed, and made the dressing on Sunday, so when it was time to assemble my salad all I had to do was broil the salmon (super basic and simple… I just went with a little salt and pepper [I demonstrate this at the end of this Salmon "101"]), chop my tomato and steam my asparagus (which I did in the microwave in two minutes).
I loved this salad!  The dressing is super light and fresh.
I made extra salmon to use in another recipe tomorrow night (it makes the perfect head start ingredient). Enjoy!
Salmon Caesar Salad
Yield: Serves 2
Prep Time:20 minutes
Cook Time:10 minutes
Total Time:30 minutes
Ingredients:
Dressing
1 big or 2 small cloves of garlic, minced
1 tsp anchovy paste
2 tsp Dijon mustard
2 tbsp of lemon juice
½ tsp Worcestershire sauce
½ cup of non fat Greek yogurt
Salt and pepper to taste
Quick Croutons
2 slices sourdough bread
1 fat clove of garlic
1 tsp of olive oil
Caesar Salad
½ lb of cooked Wild King Salmon (check out the end of this video to learn a quick technique for simply broiled salmon).
2 hearts of romaine lettuce, chopped up
1 bulb of fennel, thinly sliced
1 tomato, diced
½ bunch of skinny asparagus spears, tough ends removed
1 tbsp Parmesan cheese
Directions:
Dressing
Combine garlic, anchovy paste, mustard, lemon juice, and Worcestershire sauce in a small bowl.
Stir in yogurt and season with salt and pepper.
Makes ¾ cup.  (You won't need all the dressing for this salad)
Quick Croutons
Pop bread into the toaster and toast.  Remove hot toast and rub each piece with the garlic clove (the garlic will melt right into the bread).

Salmon Caesar Salad
Drizzle each piece with half a teaspoon of olive oil and then cut into bite size pieces.
Combine lettuce, fennel, tomato, and asparagus.  Gently toss with ¼ cup of Caesar dressing and then divide salad onto two plates.
Sprinkle with Parmesan cheese and top with Quick Croutons and Salmon… enjoy!!
Serves 2.

Nutrients per serving: Calories: 429; Total Fat: 13.9g; Saturated Fat: 2.8g; Cholesterol: 86mg; Sodium: 464mg; Carbohydrate: 34.6g; Dietary Fiber: 6.8g; Sugars: 6.2g; Protein: 41g