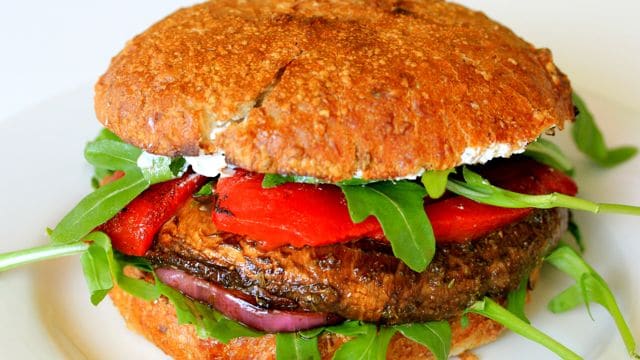 As much as I enjoy eating fish, poultry, and meat my husband and I definitely make an effort to eat a couple of meat-free dinners a week.
And when I say, 'meat-free' what I really mean is, 'veggie-based'.
In other words, I don't recommend swapping out your salmon, chicken, and beef for white pasta and cheese quesadillas, unless of course they are partnered with loads and loads of fresh veggies and perhaps some good healthy fats!
Simply put, it's less about being 'meat-free' and more about eating 'reckless amounts of vegetables'. It's a great way to pack in all those vitamins, minerals, and antioxidants that keep us healthy, energenic, (and let's be honest here) looking good!
Now if you've never tried a Grilled Portabella Mushroom Burger before you are in for a treat. They're rich, hearty, satisfying and I kid you not, are capable of putting a smile on the face of foodies from all walks of life; vegans to hard-core carnivores!

The thing about mushrooms is that they act like great big sponges so you want to keep a few things in mind when working with them:

1. Try to avoid rinsing them under water. Instead wipe them down with a damp towel to wipe off any dirt or debris.
2. Don't use too much oil in your marinade. Much like eggplant, portabellas will absorb just about as much as you are willing to give them and you don't want to end up with a greasy mushroom. I like to use lots of balsamic vinegar and spices with just a kiss of oil in my marinade.
3. No need to wait for hours. Since portabellas do such a great job in the absorption department, they don't need to marinate for a very long time in order to deliver lots of flavor. I find that 10-15 minutes is plenty of time to deliver a flavorful mushroom.
And since you can make these burgers on an outdoor or indoor grill there's no need to wait for the warmer weather to make this recipe.
Grilled portabellas are also great on top of a salad, added into a spinach and cheese quesadilla, or simply eaten as is. What do you guys like to do with portabella mushrooms?!
Portobella Mushroom Burger
Ingredients
2

whole grain rolls

1

clove

of garlic

1

tablespoons

of extra virgin olive oil

1/4

cup

balsamic vinegar

2

tsp.

of oregano

1

tsp

garlic powder

Salt and pepper to taste

2

portabella mushroom caps

wiped down with a wet towel

1/2

red onion

cut into 1/2 inch rounds2 oz. of goat cheese

1/2

cup

of jarred roasted red peppers

A couple of handfuls of arugula
Instructions
Combine olive oil, balsamic vinegar, oregano, garlic powder, salt and pepper in a medium bowl.Coat mushrooms and onions in the oil mixture and let sit for about 15 minutes.

Heat a grill pan over medium high heat and place mushrooms and onions in the pan and grill for about 5 minutes on each side or until the veggies are tender and cooked through.( I like to place a heavy pot over my mushrooms to help them cook a little faster).

In the meantime toast up the rolls and rub each toasted roll with a garlic clove.The garlic will melt right in to the toast infusing a rich, garlic flavor through out the bread.

Layer arugula, onions, mushrooms, peppers and another handful of arugula on the bottom of the roll. Spread the top half of the roll with goat cheese.Pop on the top and enjoy!!

Makes 2 burgers
Nutrition
Calories:
63
kcal
|
Carbohydrates:
12
g
|
Protein:
2
g
|
Fat:
1
g
|
Saturated Fat:
1
g
|
Sodium:
17
mg
|
Potassium:
400
mg
|
Fiber:
2
g
|
Sugar:
8
g
|
Vitamin C:
2.1
mg
|
Calcium:
15
mg
|
Iron:
0.5
mg