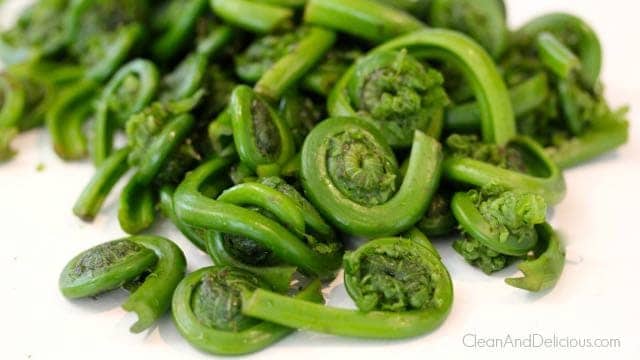 It was 7 years ago that I was introduced to Fiddlehead Ferns.
One of my very best friends growing up, Laurie, was visiting me in California and we were strolling through the farmers market (Southern California had the.most.amazing. markets).
Laurie loves food just as much as I do, so we were spending our morning planning and shopping for a menu to make for dinner that evening.  Laurie spotted fiddlehead ferns and immediately said, 'We have to make these tonight!".    Now, I know Laurie knows about delicious food, so I wasn't going to question or argue with her suggestion, but in my mind I just could not imagine that these bizarre, little, tightly wound discs could be such a culinary delight!  I was doubtful and eager all at the same time (which may be exactly how you are feeling right now if you have never seen or tasted fiddlehead ferns before).
Fiddlehead ferns are literally a fern (think fern plant) that haven't grown to full maturity, so they are still tightly wound.  They have an extremely short seasonal window, they usually show up early-to-mid spring and stick around for a couple of weeks.  For this reason, should you see them, I highly encourage you to pick them up and give them a try because by the time you circle back around to the market, there is a good chance they will be gone.
As for flavor, they sit at the crossroad of asparagus and green beans and when cooked well, they have an al-dente bite and are nice and tender.  They're absolutely delicious and make for a really fun way to experiment with a new veggie.
My favorite way to cook them, is to blanch them for a couple of minutes, then saute them in a little bit of butter and finish them with salt, pepper and a biq squish of fresh lemon.  Delicious, simplicity at it's best.
If you are a complete newbie to Fiddlehead Ferns, I recommend you watch the video below for my step-by-step guide on how to shop, store, clean, prepare, and cook these yummy little spring-time treats.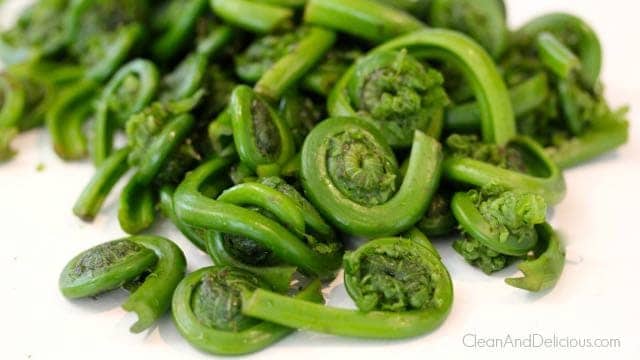 Print Recipe
Simply Sautéed Fiddlehead Ferns
Ingredients
1/2

lb.

fiddlehead ferns

1

tbsp.

butter

Squish of lemon

Salt and pepper to taste
Instructions
Wash and trim your fiddlehead ferns (see video for the step-by-step instructions).

Drop them into a pot of boiling water for 2 minutes and drain.

Heat butter in a medium saute pan and add ferns. Saute for 3-4 minutesor until tender. Season with salt and pepper and finish with a big fat squish of lemon. Enjoy!
Nutrition
Calories:
92
kcal
|
Carbohydrates:
6
g
|
Protein:
5
g
|
Fat:
6
g
|
Saturated Fat:
4
g
|
Cholesterol:
16
mg
|
Sodium:
54
mg
|
Potassium:
420
mg
|
Sugar:
1
g
|
Vitamin A:
4285
IU
|
Vitamin C:
30.2
mg
|
Calcium:
36
mg
|
Iron:
1.5
mg