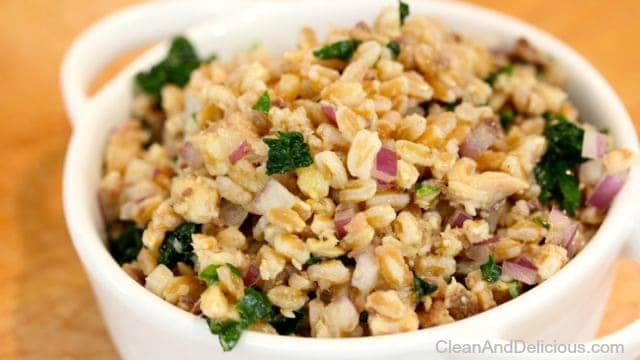 Holy power-packed-nutrient-dense-salad.
Farro, sardines, red onion, and kale with a good dose of olive oil and some lemon. Don't let it scare you! I promise you this salad is insanely yum and comes together in less than 10 minutes (provided you have some pre-cooked farro on hand).
I think some people get stuck on sardines. It's mental thing more than an actual sardine thing. So if you are one of these people, I 'm going to nudge you to give them a try. They really are delicious and so heart healthy and nutritious.
A two ounces of sardines has 12 grams of protein, is packed with omega-3 fatty acids, and weighs in at about 150 calories.
The Monterey Bay Aquarium SeafoodWATCH rates them as a 'best choice' so we can rest our minds that they are sustainably fished.
They are affordable (especially when compared to omega-3 friendly fish like wild salmon) and you can stock them right in your pantry, so you have a tasty, nutrient dense snack that is super convenient and available even when you don't get to the grocery store.
Oh! And buy your sardines packed in olive oil. They are just so buttery and delish that way.
Ok. So did I do it? Did I pique your interest?
If so, you must try this simple salad.
And if you want to learn more about farro, tune in tomorrow, because I have the 'Farro 101' coming your way.
Farro Salad With Sardines and Kale
Ingredients
1

cup

of COOKED farro

1

can of sardines in olive oil

chopped up

2

tbsp.

chopped red onion

3/4

cup

chopped kale

Big Squish of lemon juice

1

tsp.

extra virgin olive oil

Salt and pepper to taste
Instructions
In a medium bowl combine farro, sardines, red onion, and kale. Give it a squish of lemon, a drizzle of olive oil and kiss of salt and pepper. Mix until everything is well incorporated. Enjoy!
Nutrition
Calories:
44
kcal
|
Fat:
5
g
|
Saturated Fat:
1
g
|
Sodium:
1
mg