Easy roasted vegetables is a recipe that every healthy home cook should have in their back pocket! Learn how to make oven-roasted vegetables using whatever type of veggie you have on hand. They're perfect for the holidays, meal prep, or as an easy weeknight side.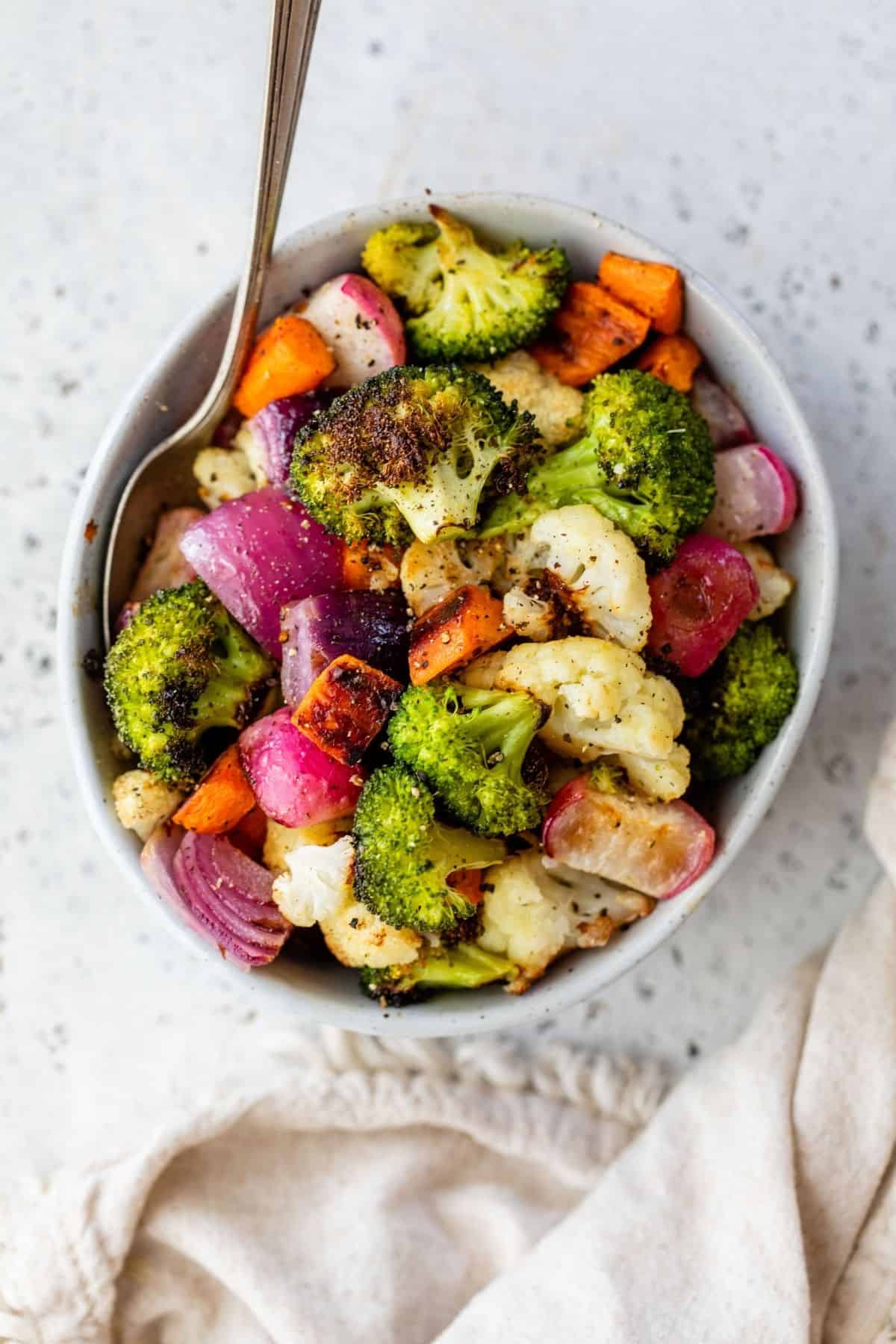 If you're looking for a simple, yet flavorful roasted vegetable recipe that pairs well with chicken or fish or as a festive, nutritious side dish, then look no further because I've got you covered.
Roasting vegetables is hands down my favorite way to cook them. I make a version of this recipe at least once a week. Baking vegetables helps to bring out their natural sweetness and develops a wonderful depth of flavor that just can't be done with other cooking methods.
In fact, my husband and kids have a bad habit of picking the veggies right off the baking sheet before I have a chance to get them into a serving bowl. They're just that good!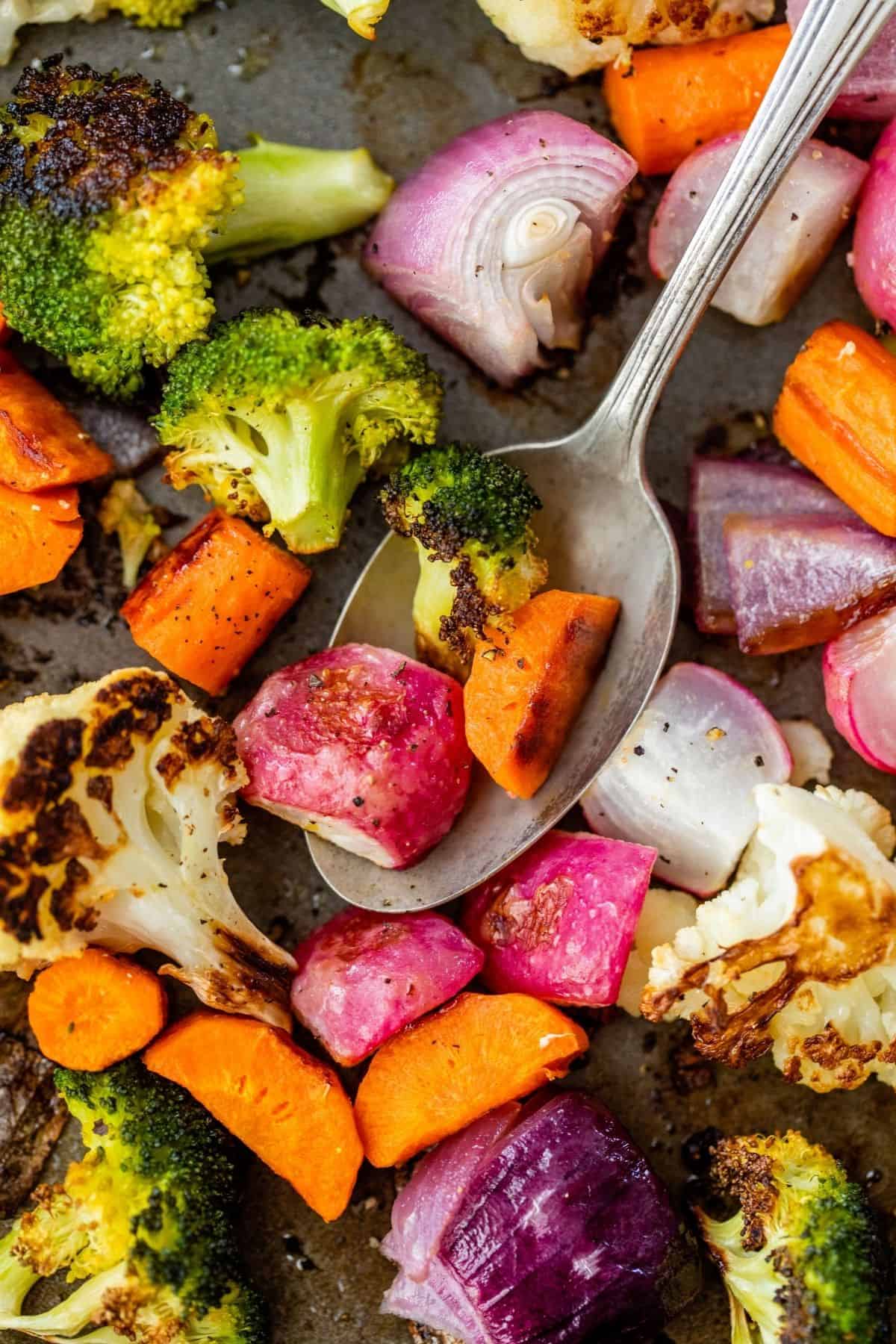 Roasted Vegetable Ingredients
One of my favorite things about this recipe is how versatile it is. You can swap in just about any veggie, depending on your taste preference and what you have available. However, this mix is my go-to medley of vegetables for roasting. This combination is great because everything cooks in the same amount of time, and I love all of the flavors and colors. Below you'll find everything you'll need for this recipe and some suggestions for how to adapt it, using whatever veggies you might have on hand.
Broccoli – Broccoli florets come out of the oven deliciously golden brown, crisp, and tender.
Cauliflower – Cauliflower florets are baked to crisp-tender perfection. Feel free to sub in Brussels sprouts for either the cauliflower or the broccoli.
Radishes – Roasting radishes brings out a lovely sweetness that is typically masked by the peppery kick that fresh radishes have. They are a great low carb option for potatoes but if you'd rather have potatoes, feel free to swap with about 1 cup chopped baby red, Yukon, sweet or russet potatoes.
Carrots – Roasted carrots are tender and golden. You could sub with cubed butternut squash or sweet potato.
Red onion – Roasting takes red onions from bitter and pungent to mild and caramelized, almost sweet. Bell pepper would be a good substitute or you can omit completely if you're not a fan.
Olive oil – For cooking the veggies.
Sea salt + ground black pepper – To bring out all of the delicious flavors.
Garlic powder – I love to keep the seasoning simple and use just 1 teaspoon of garlic powder. Feel free to sub with your favorite seasoning. Italian seasoning or a blend of dried oregano, rosemary, thyme and basil would also work.
How to Make Roasted Vegetables
This roasted vegetable recipe could not be easier and I love that all of the veggies are roasted on one sheet pan, making for easy cleanup. Here's the simple process:
Prep. Start this recipe by preheating the oven, preparing the sheet pans and chopping the veggies.
Season veggies. Next, place all of the prepared veggies in a large bowl, drizzle with oil, add seasonings and toss to coat until all of the vegetables are covered with seasoning.
Add to baking sheets. Transfer seasoned vegetables to the baking sheets. Make sure veggies are spaced out properly and are not overlapping.
Roast. Pop veggies in the oven and cook, flipping halfway through, until everything is fork-tender. Best enjoyed immediately after cooking.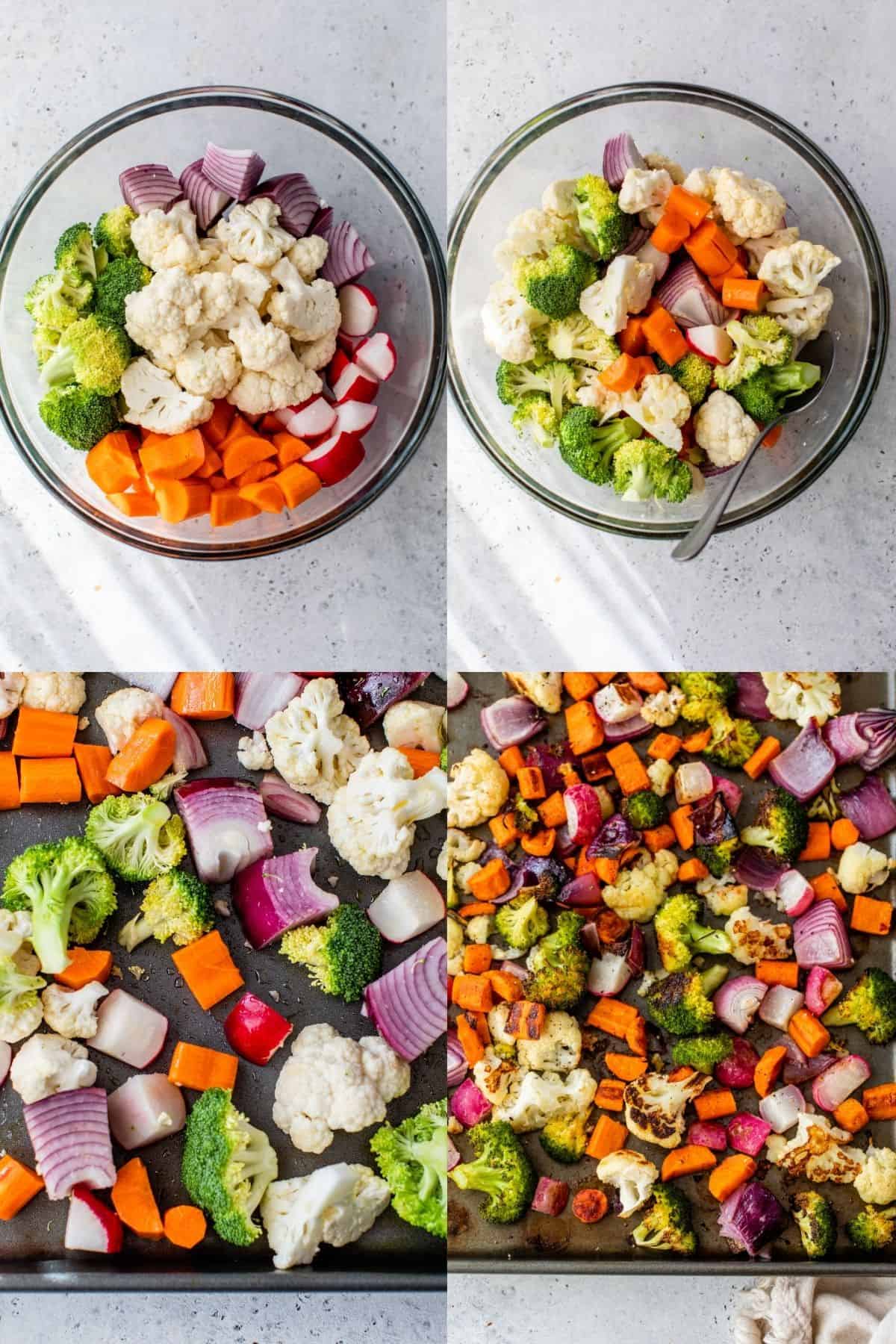 Tips for Roasting Vegetables
Making roasted vegetables is incredibly easy, but I do have a few tips to make sure they turn out perfect every time!
Don't crowd the vegetables. If the vegetables overlap each other and are too crowded on the sheet pan, they will end up steaming instead of roasting. Trust me – these roasted vegetables are way better than any steamed veggies! To avoid crowding the veggies, use two large sheet pans.
Carrots. I prefer to use whole carrots cut into slices because I think they have the best flavor, but the pre-cut baby carrots will also work fine, if you have those in your fridge.
Shortcut. To save on prep time, you can purchase some of these veggies pre-sliced and chopped. You can also buy broccoli florets and cauliflower florets, rather than the whole head of broccoli or cauliflower.
Cutting the veggies. Be sure to cut your vegetables into similar-sized pieces, so that they cook at the same rate.
Flip the veggies halfway through baking. Around the 15 to 20 minute mark of roasting these veggies, make sure to flip and stir the vegetables around a bit. This ensures an even roasting on all sides of your vegetables.
How Long to Roast Vegetables
For best results, cook veggies at a high heat of around 400 – 450 degrees and always preheat the oven first. This is the best temperature range for making baked vegetables with golden brown edges and soft centers. Here are some general roasting times for vegetables that are commonly oven-roasted. Please note: these cooking times are all going to be dependent on the size you cut the vegetable.
Root vegetables (beets, potatoes, carrots) – 30 to 45 minutes
Winter squash (butternut squash, acorn squash, kabocha squash) – 30 to 45 minutes
Crucifers (broccoli, cauliflower, Brussels sprouts) – 25 to 30 minutes
Soft vegetables (zucchini, summer squash, bell peppers, onion) – 20 to 30 minutes
Thin vegetables (asparagus, green beans) – 20 minutes
Tomatoes – 15 to 20 minutes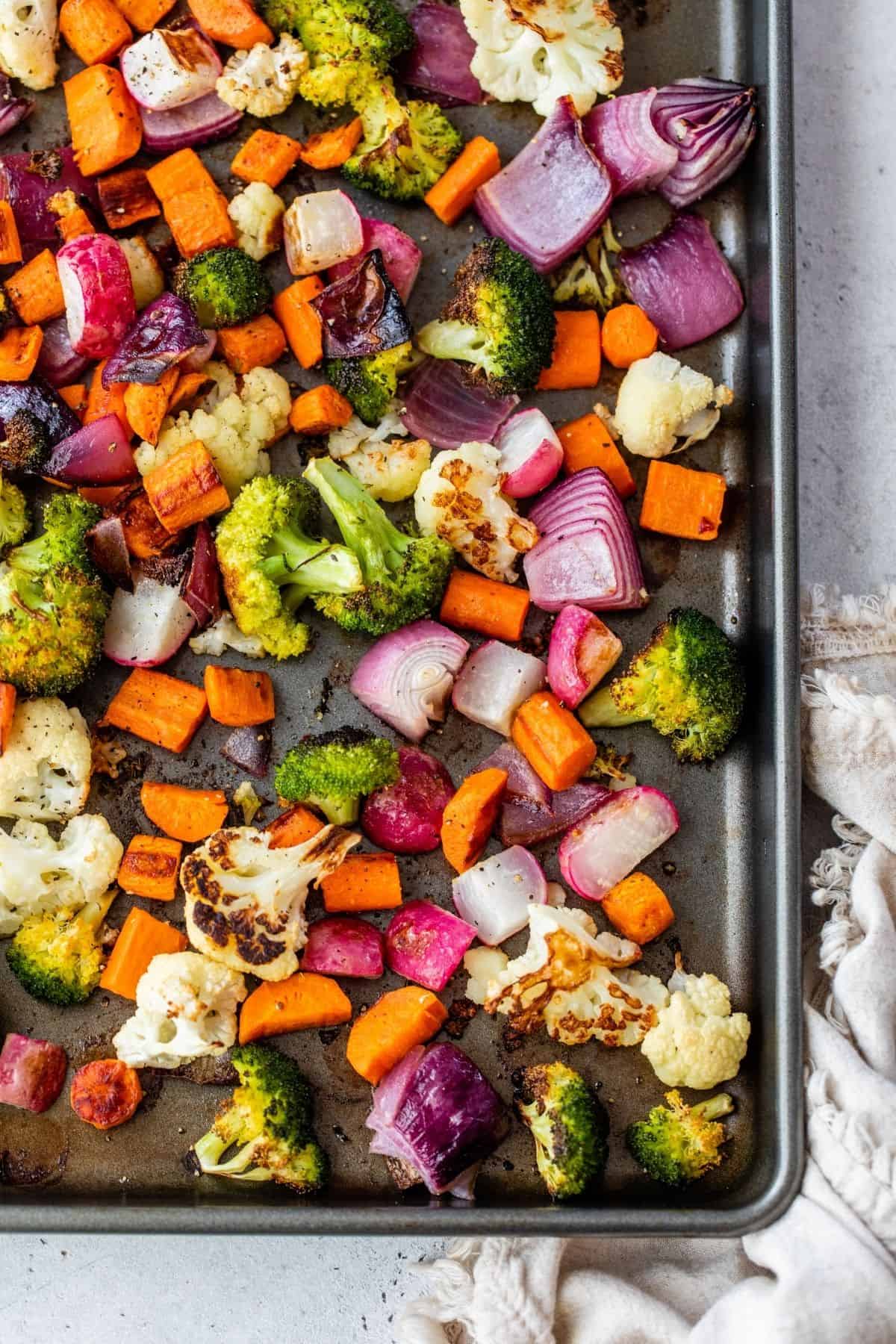 What to Serve With Roasted Vegetables
I love serving these in a bowl or on a platter as a festive side dish for Thanksgiving and other holiday dinners, but they're also great as a side for everyday dinners. As a vegetarian option, these oven-roasted veggies are amazing when stirred into a batch of quinoa, served over brown rice or over pasta with an extra drizzle of olive oil and some Parmesan cheese.
Another idea is to make a roasted vegetable salad: Toss your roasted vegetables with arugula, baby spinach leaves or mixed greens, crumbled feta cheese, toasted pecans, and balsamic dressing for a delicious fall side.
Here are a few other pairing suggestions:
Make Ahead
To get a head start on this recipe, chop the veggies. They can then be stored in the refrigerator until you're ready to cook for 2 to 3 days.
How to Store Leftovers
Store leftover roasted vegetables in an airtight container in the refrigerator for up to 3 days.
How to Reheat Roasted Vegetables
These roasted vegetables are best served straight from the oven, but I've enjoyed them leftover many times. The best way to reheat vegetables that have already been roasted is to pop them in the oven at 400 degrees until hot. They can also be reheated in the microwave, however, I think they turn out much better when reheated in the oven or toaster oven.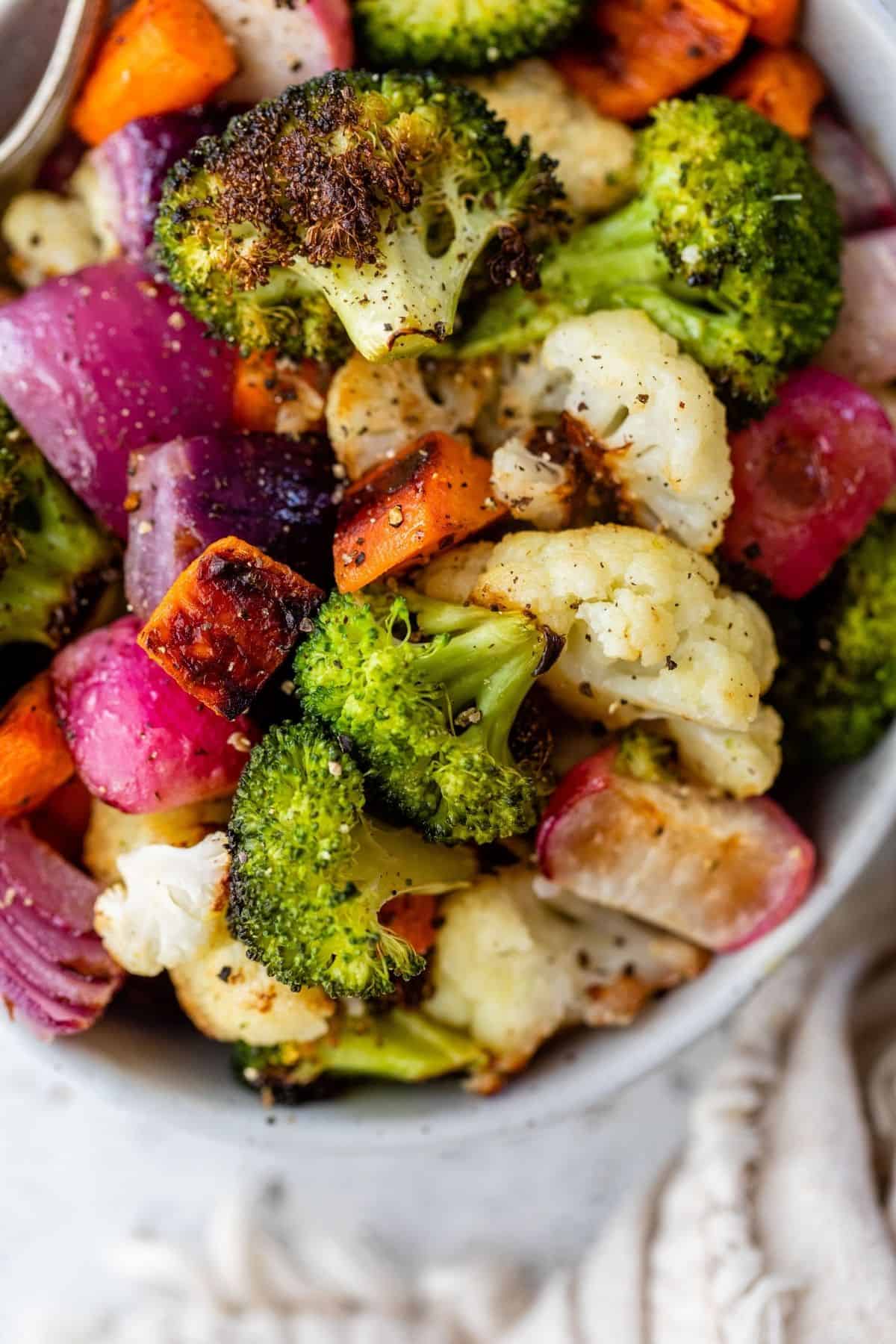 If you make and enjoy this easy roasted vegetable recipe, be sure to leave a comment and ★ rating below letting me know how they turned out. Your feedback is so helpful for me and our Clean & Delicious community (thank you!).
Easy Roasted Vegetables
This easy roasted vegetables recipe contains broccoli, cauliflower, radishes, carrots and red onion, all roasted together until browned and caramelized. A colorful and healthy side dish that pairs perfectly with so many different seafood and meat options.
Servings:
6
side servings
Ingredients
3

cups

broccoli florets

3

cups

cauliflower florets

1

bunch radishes

halved or quartered depending on size (about 1 cup)

4-5

carrots

peeled and cut into bite sized chunks (about 2 cups)

1

red onion

cut into chunky pieces* (about 2 cups)

1-2

tablespoons

olive oil

1

teaspoon

sea salt

1/2

teaspoon

ground black pepper

1

teaspoon

garlic powder
Instructions
Preheat oven to 425 degrees F. Lightly coat two rimmed baking sheets with olive oil or cooking spray. Place broccoli, cauliflower, radishes, carrots and onion in a large bowl.

Season with olive oil, salt, pepper, and garlic powder. Gently toss everything together.

Divide evenly amongst rimmed baking sheets. You don't want to crowd the veggies or they will steam.

Roast for 25-30 minutes, flipping the veggies halfway through. Serve and enjoy!
Notes
*I like to cut each half of the onion into thirds and then slice across.
It's important that all of the veggies are cut into fairly uniform pieces so they cook at the same time.
Flipping the veggie half way through is optional. If you feel lazy, you can skip it. But if you want caramelization on both side of the veggies, be sure to flip!
Ultimately, you need to use 10-12 cups of veggies – the exact mix doesn't matter.
Nutrition
Serving:
1
serving
|
Calories:
78
kcal
|
Carbohydrates:
12
g
|
Protein:
3
g
|
Fat:
3
g
|
Saturated Fat:
1
g
|
Polyunsaturated Fat:
1
g
|
Monounsaturated Fat:
2
g
|
Sodium:
454
mg
|
Potassium:
504
mg
|
Fiber:
4
g
|
Sugar:
5
g
|
Vitamin A:
7080
IU
|
Vitamin C:
71
mg
|
Calcium:
56
mg
|
Iron:
1
mg