This Easy, Healthy DIY Dog Treats recipe is made with just 6 ingredients; peanut butter, pumpkin, almond flour, egg, cinnamon, and turmeric! If you choose to make the optional glaze, you'll also need some coconut oil. My dog loves their peanut butter flavor and softer texture; perfect for older dogs who don't like super crunchy dog treats.
While I don't make our pup homemade dog treats every day of the week, I do try to make him his favorite homemade dog food recipe as often as possible! He just loves this simple stovetop recipe and so I thought it was time to add a fun dog biscuit recipe to the menu!

These healthy homemade dog treats are made with peanut butter and pumpkin. They are quick to make (no cookie cutters required) and can be finished with an optional turmeric glaze if you're feeling extra fancy. They are pretty much like a homemade peanut butter cookie but for your dog (if you'd like one for yourself, this is the peanut butter cookie recipe I recommend for humans, lol!).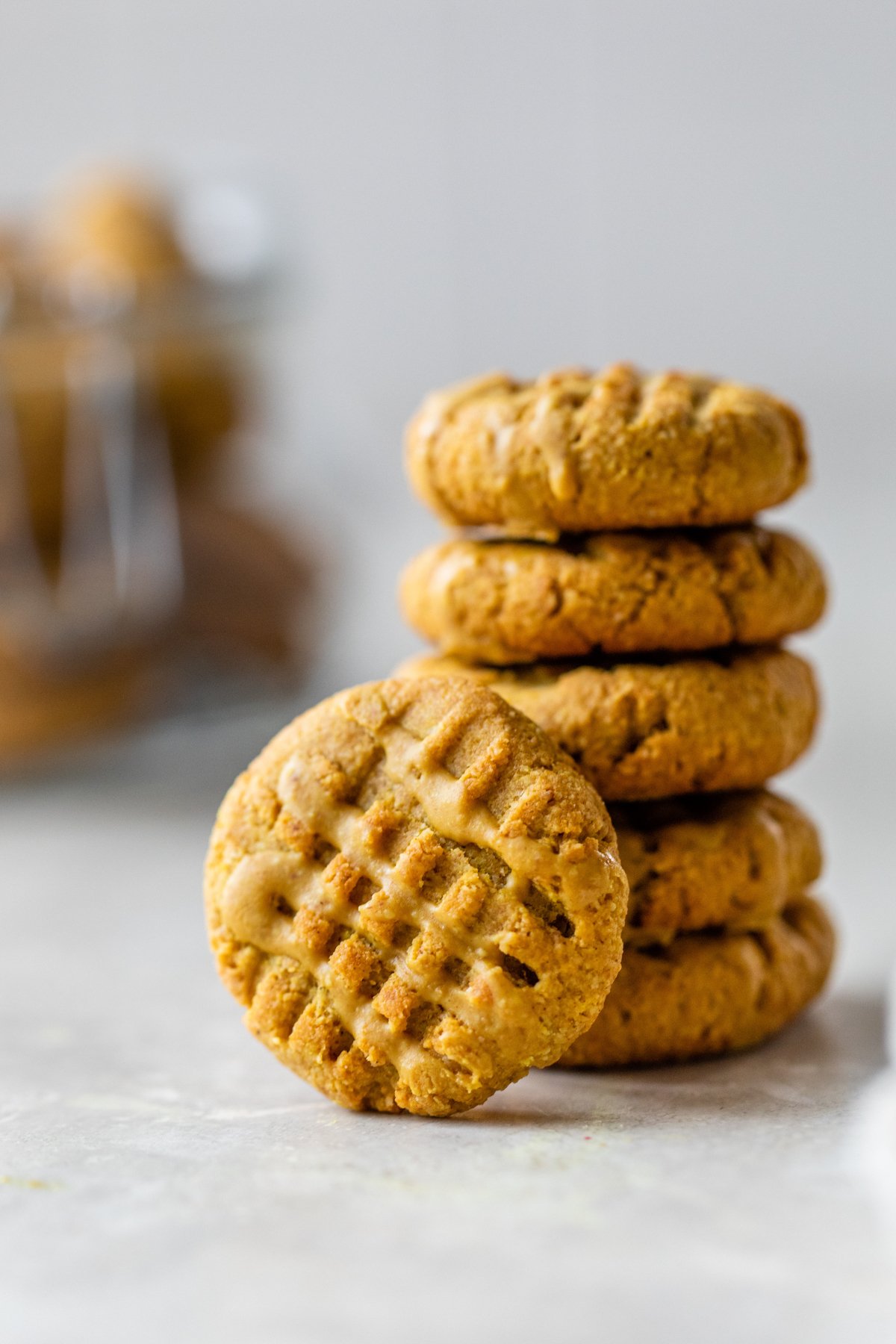 How To Make Homemade Dog Treats
Your dog is going to be so excited about these Homemade Dog Treats! I mean what dog wouldn't love a peanut butter dog treat with pumpkin and cinnamon?!
And you're going to love just how easy they are to make! Here's what you do:
In a large bowl, combine the wet ingredients. Peanut butter, pumpkin puree, and egg. Remember, pourable peanut butter will create the best texture for these dog treats. This is the one I buy, but you can also make your peanut butter from scratch (it's actually very easy to do).
Add in the almond flour, cinnamon, and turmeric. Mix until well combined – you should have a nice thick batter.
Form small cookies by scooping up 1 heaping teaspoon of dough into the palm of your hand. Shape it into a round ball and then flatten it out a bit to create a disc-shaped cookie. If the dough feels sticky, dip your hands in cool water before shaping the DIY doggie treats.
Place the round dog treat on your baking sheet and repeat until you have used all the batter. You may need to work in batches.
Create a criss-cross pattern over the top by gently pushing the flat side of a fork into the top of the dog treat, then rotate and repeat.
Bake for 15-20 minutes or until golden brown and set through. Cool.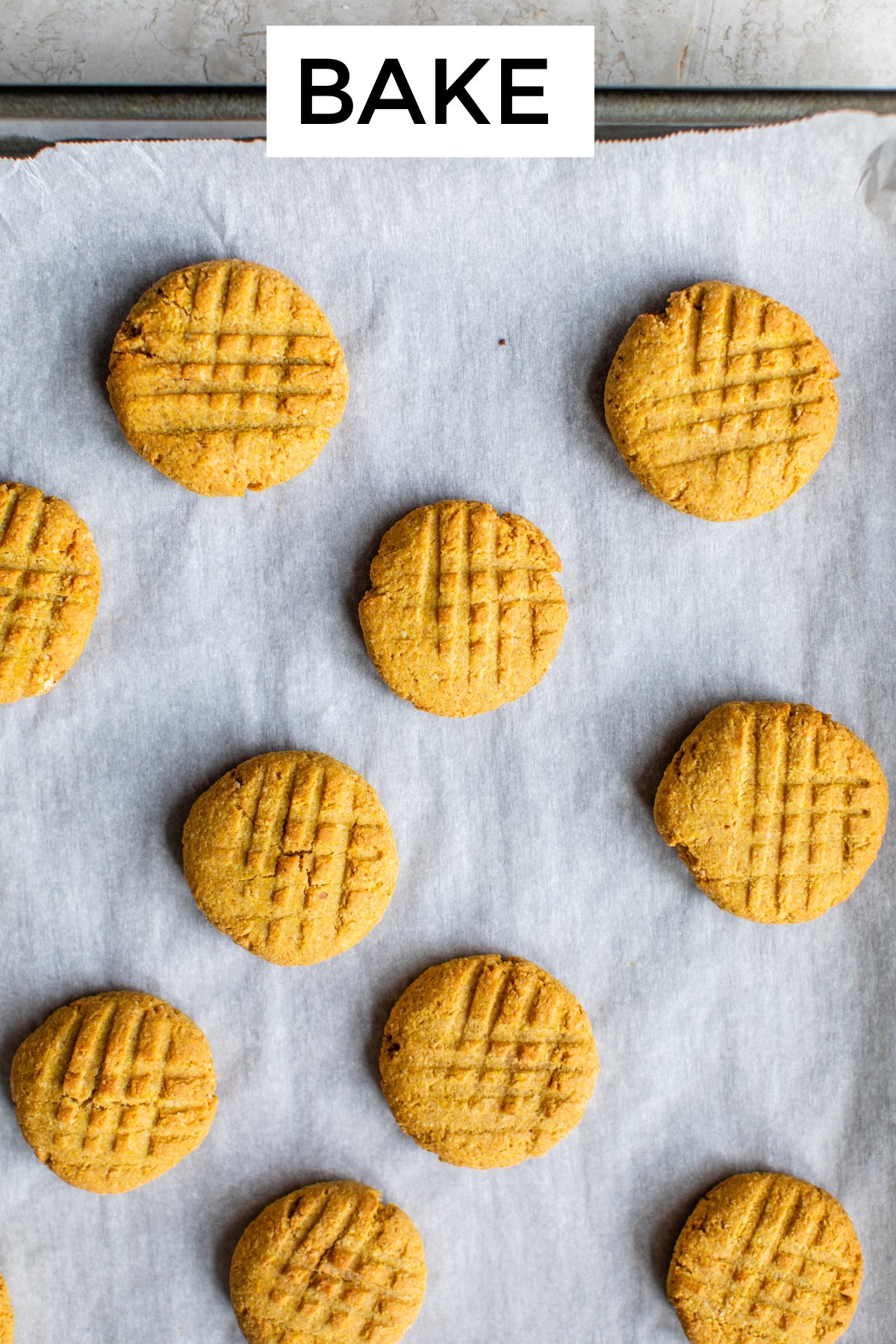 Optional Peanut Butter Turmeric Glaze:
I chose to top these dog treats with a fun and flavorful glaze! All you do is combine peanut butter, coconut oil, and turmeric in a small bowl until you have a thin glaze. Transfer the glaze to an airtight baggie, snip off a tiny corner of the baggie, and then drizzle the glaze in a zig-zag pattern over the top of the cooled peanut butter dog treats.

You will notice that the glaze will be set up in about 30 minutes. It will not harden, but it does dry.

This step is 100% optional! It's fun and tasty and very doable BUT not necessary. If you want to keep this dog treat recipe super simple, simply skip the glaze.
Storing DIY Dog Treats
Keep in mind that this is not a super crunchy dog treat that will last in your pantry for months, so you do need to store them properly.
Healthy DIY dog treats are happiest stored in an airtight container (or bag). You can store them on the counter for 1 week or in the fridge for up to 2 weeks. To get the longest life out of these peanut butter dog treats, store them in the freezer for up to 3 months.
*Note: the texture of this dog treat is firm but soft (similar to peanut butter cookies). I wanted to make a treat that all doggies could enjoy – even older doggies who may have more sensitive teeth. If your dog loves a super crunchy treat, serve these peanut butter and pumpkin dog treats straight from the freezer as they will have more of a dog-biscuit texture (nice and crunchy!).
Is it safe for my dog to eat…
Can dogs eat almond flour?
Almond Flour is a gluten-free flour that contains vitamin E, phosphorus, magnesium, protein, healthy fats, and dietary fiber and is generally considered to be safe for dogs. I found this article helpful if you want to learn more and suggest speaking with your vet if you want to double-check that almond flour works for your dog's diet.

If you feel uncomfortable using almond flour, substitute white or whole wheat flour.
Is peanut butter safe for dogs?
Peanut butter is a healthy food for dogs, containing vitamins and healthy fats. Just like people, dogs can be allergic to things – so always introduce new foods in moderation – and when in doubt, check with your vet!
Are cinnamon dog treats safe for dogs?
In small amounts baked into your dog's treats, cinnamon can be safe and even beneficial because of the nutrients it contains. The same is said for turmeric. The key is not to overdo it!
Is coconut oil good for dogs?
According to PetMD (which is a great pet resource by the way!), "Extra-virgin coconut oil has become a popular choice for humans because it's a healthier alternative to more processed saturated and trans fats, and the same applies to dogs. Coconut oil has also been shown to help dogs lose weight, give them more energy, and offer relief to dry skin. Bonus: It will help improve your dog's bad breath!"
I hope your pup enjoys this easy, healthy DIY dog treat recipe as much as Charlie does! Watch the video below if you're a visual learner as I walk you through the recipe step-by-step.
Easy Healthy DIY Dog Treats Recipe
Attention fur parents! Your pups are going to love these DIY Dog Treats! They are quick and easy to make with nutrient-rich ingredients and a great way to let your pup know how much they're loved.
Ingredients
1/2

cup

all natural peanut butter

1/3

cup

pumpkin puree

1

large

egg

1 1/4

cup

almond flour

I use Bob's Red Mill Super Fine

1

teaspoon

cinnamon

1/2

teaspoon

turmeric
Optional Glaze
1/3

cup

natural peanut butter

2

tablespoons

melted coconut oil

1/2

teaspoon

turmeric
Instructions
Preheat oven to 350 degrees F. Line a baking sheet with a silicone baking mat or parchment paper and set aside. In a medium-sized bowl combine combine peanut butter, pumpkin puree and egg; stir until well combined. You can use a hand-held electric mixer, if preferred.

Add in almond flour, cinnamon, and turmeric and stir again until everything has come together into a dough. NOTE: The dough will be sticky.

Scoop a heaping teaspoon of dough into your palms and gently roll and shape into a disc-shaped cookie. Place on the baking sheet and continue until you have 20 cookies on the tray. Use a fork to create a crisscross on top of each treat. It helps if the fork is wet so it doesn't stick to the dough.

Bake for 20 minutes or until the dog treats are set and golden brown around the edges.

Optional: Combine peanut butter, melted coconut and turmeric in a small bowl and mix well. Transfer into a small zip-top bag, remove all the air and seal. Cut a tiny piece off of the corner and drizzle the glaze over each cookie.
Notes
This is a sticky dough, I find shaping the treats with slightly damp hands helps prevent the dough from sticking to my hands.
The glaze is fun (and tasty!) and while it will firm up, it does remain soft, so if you add the glaze, be sure to store the treats in the fridge.
Store the treats in an airtight container for up to three days on the counter, one week in the fridge and three months in the freezer.
Nutrition
Serving:
1
treat
|
Calories:
86
kcal
|
Carbohydrates:
3
g
|
Protein:
3
g
|
Fat:
8
g
|
Saturated Fat:
2
g
|
Polyunsaturated Fat:
1
g
|
Monounsaturated Fat:
2
g
|
Trans Fat:
0.001
g
|
Cholesterol:
7
mg
|
Sodium:
36
mg
|
Potassium:
54
mg
|
Fiber:
1
g
|
Sugar:
1
g
|
Vitamin A:
464
IU
|
Vitamin C:
0.1
mg
|
Calcium:
17
mg
|
Iron:
0.4
mg