Each of these three easy chocolate dessert recipes would be perfect for Valentine's Day and are also ideal for any time of the year when you are wanting something deliciously chocolatey.
The hardest part will be deciding which chocolate dessert you want to make first; chocolate avocado brownies, chocolate walnut cookies or chocolate mug cake?
All three chocolate desserts are made with real whole ingredients, free of refined flours and sugars and are 100% gluten free.
I've partnered with Bob's Red Mill to bring you these easy chocolate dessert recipes and I couldn't be more excited!  Bob's has been my go-to brand for healthy baking for years, because they have a huge variety of high quality whole grains to satisfy all types of dietary approaches.  So whether you are vegan, gluten-free, paleo, etc., Bob's Red Mill has you covered.
Best of all, the Bob's Red Mill team is offering everyone in the C&D Fam a special discount code that you can use for 20% OFF any and all of their products!
Limited Time Bob's Red Mill DISCOUNT Code
Visit the Bob's Red Mill online store and use the code "CLEAN20" at checkout for 20% OFF your entire order—anytime between now and April 30, 2019!
Refined Grains vs. Whole Grains
We hear a lot these days about avoiding refined grains and focusing on whole grains, so let's simplify what this means.
Refined grains are stripped of the two most nutritious parts of the original grain; the bran and the germ.  This removes all the fiber and most of the essential nutrients that whole grains have to offer.
Another negative side effect of refined grains is their ability to mess with our blood sugar.  Because they have been stripped of all fiber and essential nutrients, they are quickly absorbed into our bodies causing spike in blood sugar that can leave us feeling tired and lethargic.
Whole grains, on the other hand, contain all three parts of the original grain; so they maintain all of vitamins, nutrients and antioxidants while being rich in fiber.  They also take longer for our bodies to break down, which helps maintain even blood sugar levels and keeps us feeling full for longer periods of time.
The team at Bob's Red Mill also knows that whole grains are the best grains for our bodies, which is why I love and trust them so much.  I also adore the fact that they are an employee owned company.
Healthy Chocolate Dessert Recipes
Below, I'm sharing three Clean & Delicious healthy chocolate dessert recipes, that are all free of refined flours, refined sugars and 100% gluten free.
And in each recipe I'm using a different product from Bob's Red Mill, that I will be sure to link to but remember, Bob's has TONS of other items to choose from in their online store, so be sure to take a look around.
And, don't forget to use the discount code "CLEAN20" for 20% off your entire order! (Offer expires April 30th, so make the most of it!).
Chocolate Avocado Brownies
These double chocolate avocado brownies have rich, chocolate flavor with a lite, fudge-like, almost custardy texture.
Swapping avocado for the butter traditionally used in a brownie recipe, yields a lighter brownie that happens to also offer a great dose of healthy fats.
And have no fear, you absolutely cannot taste the avocado.
I'm able to keep these chocolate avocado brownies gluten free by using Bob's Red Mill coconut flour as the base of the recipe.  Coconut flour is a delicious and nutritious alternative to wheat and other grain flours, so it's perfect for grain and gluten free baking.
I love storing these brownies in the fridge and then enjoying them cold with a hot cup of coffee.  But they also freeze really well and would make the perfect addition to your weekend meal prep.
You can PRINT the recipe HERE.
Chocolate Walnut Cookies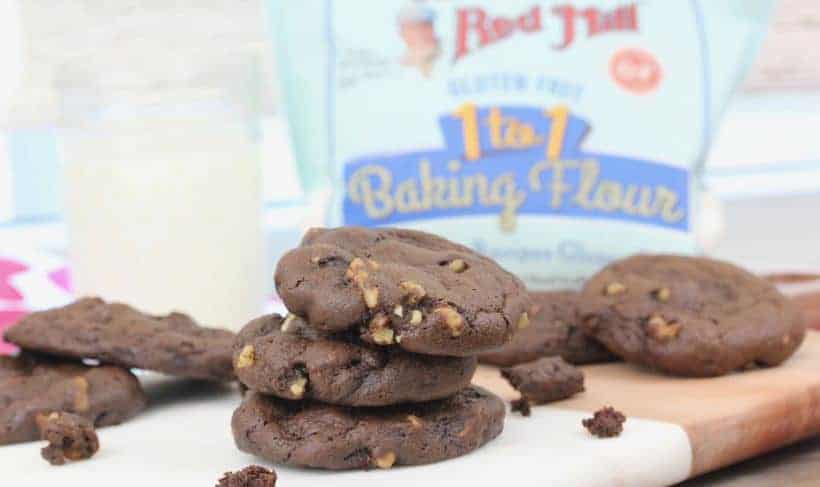 These chocolate walnut cookies have a rich chocolaty flavor with a brownie like texture and are 100% addictive (don't say I didn't warn you).
They get their rich chocolate flavor from a dark chocolate bar that gets melted down and added into the batter and I am able to keep them gluten free by swapping out wheat flour with Bob's Red Mill 1-to-1 Baking Flour Blend.
This is the easiest way to make your favorite recipes gluten free.  Simply follow your favorite recipe as written and replace the wheat flour with this easy-to-use flour blend and just like that your recipe is gluten free.
These chocolate walnut cookies promise to become a family favorite so you may want to consider doubling the recipe.
You can PRINT the recipe HERE.
Chocolate Mug Cake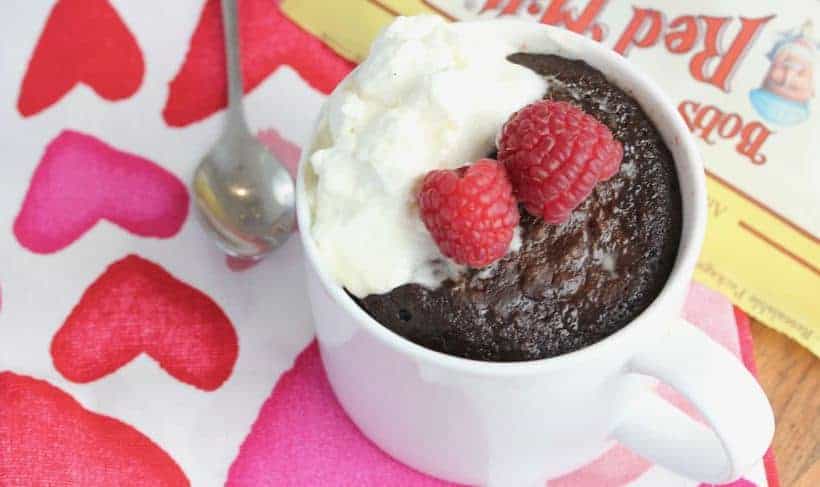 If you haven't tried chocolate mug cake yet, you are in for a treat.  Imagine whipping up a rich, moist chocolate cake, in under two minutes, any time the mood strikes.
This mug cake is the answer to all of your chocolate cravings.
And it's a simple as combining 5 simple ingredients (well actually 7 if you include the vanilla + salt).
I start with Bob's Red Mill almond flour which is made by steam pasteurizing the almonds and then grinding them into a fine flour.  Almond flour is another great option for anyone who is on a gluten free, paleo, and/or grain free diet.
Then I add in unsweetened cocoa powder, maple syrup, an egg, coconut oil, vanilla extract, and a pinch of sea salt.  Give that all a stir and pop it in the microwave for a minute or two (depending on your microwave) and you will be delighted to have yourself a rich and decadent chocolate mug cake that is ready in under two minutes.
I love topping mine with fresh whipped cream and berries, but of course, you can add any of your personal favorite toppings to this mug cake.
PRINT the recipe for Chocolate Mug Cake HERE.
3 Chocolate Dessert Recipes