Collard greens are a beautiful dark leafy green that are part of the cruciferous family; they are related to veggies like broccoli, cauliflower and cabbage. Learn how to shop, store, prep, and cook collard greens so you can enjoy some today.
Did you know that dark leafy greens are the number one ingredient missing from the American Diet? It's true! That's why I recommend experimenting with all different types, so you can find the ones you will enjoy and eat often.
If you've never tried collard greens before, now's your chance! I'm going to walk you through everything you need to know about collard greens so you can get these beauties on your table asap.
Are Collard Greens Healthy?
I'm going to tell you a little secret. ALL dark leafy greens are good for you, and collards are no exception.
But some of the perks of collards include; high in beta carotene, fiber, b-vitamins, vitamin c and they are a powerful, plant-based source of calcium, which is especially great for anyone on a vegan diet.
How To Shop For Collard Greens?
Collard Greens are available at the grocery store all year round, but they are at their peak during the winter and spring. This is when they will have the highest nutritional value, the best flavor and the best cost. Buying foods in season is always a win!
When you are shopping for collards, you wan to look for rich, vibrant green leafs that feel nice and firm. I usually try to avoid the super oversized leafs, because they tend to be tough and not as flavorful. The smaller leaves to be sweeter and more tender.
How To Store Your Collards?
Once you get your collards home, you want to store them in an airtight bag in the fridge. I usually just knot the bag from the grocery store and place it in my veggie drawer where they will last up to a week.
Be sure to press all of the air out of the bag before you tie it up. This will help your collards last longer.

How To Prepare Collard Greens?
When you are ready to use your collards, give them a rinse under some cold water.
You will see, there is a big stem that runs through the center of the greens. And while it can be a bit fibrous and tough, it's edible. So what I like to do is cut the stems out by folding the leaf in half and then, using a sharp knife, trace right along the stem, right where it meets the leaf.
This is an easy way to cut the stem from the leaf.
Once I have the stems separated from the leaves, I like to chop them up. If they are very thick and tough, you can toss them. But I like to use them whenever possible.
As for the leaves, I roll them like a big fat cigar and then thinly slice. This creates long, beautiful collard ribbons, which is my favorite way to prepare them.
If you want to prep and store your greens ahead of time, clean, dry and prep the leaves. Then transfer them into an airtight container that is lined with a paper towel to absorb extra moisture. They will last up to week stored this way.
How To Cook Collard Greens
Collards can be braised, steamed, sautéed or stir-fried. They can also be eaten raw. I love when people make veggie wraps from the collard leafs! I need to try that myself.
They pair really well with ingredients like onions, garlic, tomato, bacon and eggs. You could also use these ribbons as an easy way to add some greens to some soup or chili or make super simple salad by marinating the greens in some olive oil, lemon and salt for a raw collard salad.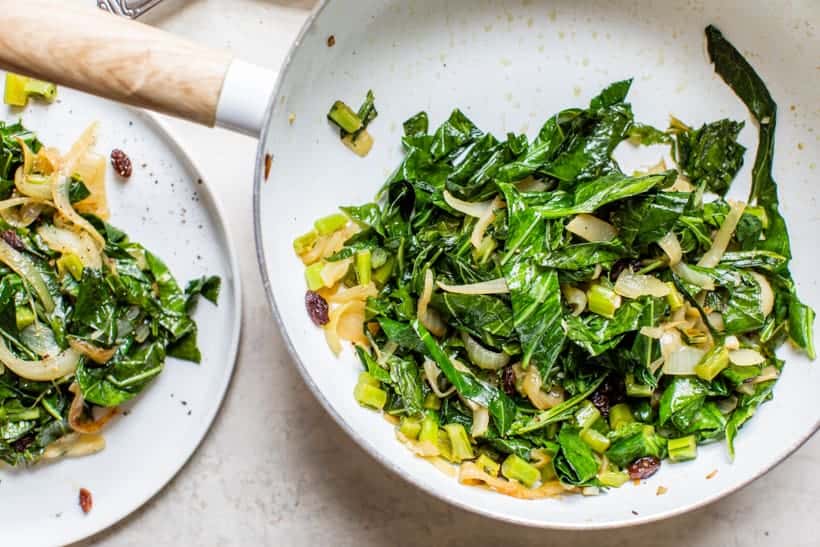 Collard Green Recipes
There are so many ways to enjoy your greens! Here are a few recipes I've shared in the past
I'd love to know if you try this (or any) recipe! Tag @clean_and_delicious on Instagram to let me know and be sure to subscribe to our mailing list to receive more healthy, delicious recipes straight to your inbox.