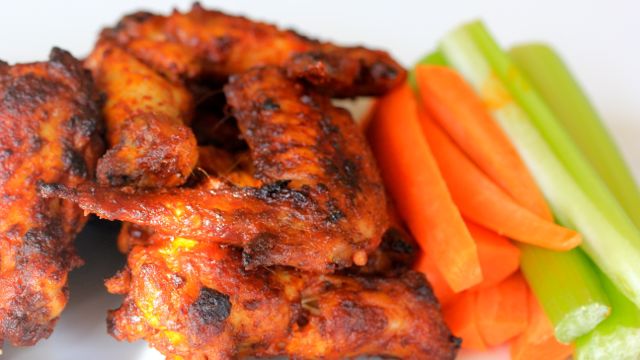 Nothing screams Super Bowl like a plate of fresh baked Clean Eating Buffalo Wings!
That's right, the Super Bowl is quickly approaching and although our team (and by our team, what I really mean is my husband's team – the Patriots) didn't make the cut, we will still be eating Super Bowl food on Super Bowl Sunday.
Here is a roundup of some of my top clean eating super bowl recipes:
1.  BUFFALO WINGS (or anything made with Buffalo sauce!)
When I think Super Bowl, wings are the first thing that come to my mind.  Sure some people deep fry their wings, but not clean eaters like you and I.  And the great thing about Baked Buffalo Wings is that they are much easier than dealing with a deep fryer, they taste absolutely delicious, and just so happen to be better for you.  Take that, deep fried wings!
A few other buffalo sauce options that I absolutely adore are these Clean Eating Buffalo Chicken Meatballs (perfect for passing around at party) and these Clean Eating Buffalo Chicken Butter Lettuce Cups.  I like the these for a smaller group and oftentimes make them for a week night meal, regardless of whether or not we are watching football.
And if you like buffalo wing sauce, but don't eat meat, these Clean Eating Buffalo Cauliflower Bites may be just what the doctor ordered.
Check out my baked chicken wing video here:
2. CHILI
I've got a few different options for you guys when it comes to chili.  I've got the good old fashioned, simple and delicious, Clean Eating Turkey Chili.  You can actually use any ground meat you prefer here; beef, chicken, turkey… they would all work.  This chili is best with a little fresh shredded cheddar or sour cream.   But for those of you who like turkey chili, and also want a good dose of veggies, my Clean Eating Turkey and Veggie Chili is the way to roll.  Packed with protein and chock full of veggies, it's hard to beat.  Unless of course, you are looking for a vegetarian option, in which case you will want to try this Clean Eating Butternut Squash And Kale Chili.  100% vegan and vegetarian, yet hearty and delicious enough to satisfy a meat-eating appetite.
On another note, this Clean Eating White Chicken Chili is also a favorite around here and would be perfect for the big game.  Just leave the pot on the stove and let everyone serve themselves.
And for those of you who like to be a little more adventurous, perhaps you would care to try my Clean Eating Bison, Bean And Chocolate Chili or this Clean Eating Cinnamon Spiked Lamb And Chickpea Chili?  Both are a little outside of the box and insanely delicious for those of you who like to shake things up.
The best part about all of these chili recipes is that you can make them a day ahead, then just throw them on the stove come game day.
Check out My Clean Eating Turkey And Veggie Chili video here:
3. HUMMUS
Hummus is most definitely a favorite around here and so I've got a few different options for you.  You certainly can't go wrong with the basics, in which case you want to go with this basic Clean Eating Hummus recipe.
If you like to add a little twist to your hummus, you can either try this Clean Eating Roasted Red Pepper Hummus or this Clean Eating Avocado Cilantro Hummus.  Both would be great with a plate of raw veggies or maybe some non-gmo corn chips on the side.
And one last suggestion is this Clean Eating Lentil Hummus.  Yep.  That's right, instead of the garbanzo beans, it's made with lentils.  This is a fun way to do something a bit different in the world of hummus and would be delish with some baked pita chips or, of course, raw veggies.
Check out my clean eating hummus video here:
4. JUST SOME RANDOM FINGER FOODS
Now this one may surprise you, but yes, in my book, there is a way to fit Bacon Studded Potato Skins into a clean lifestyle.  Hey, everything in moderation guys and besides these skins are 100% real food.  So, oh yes, enjoy!
Sweet potatoes can also make a delicious game day snack.  These Spiced Sweet Potato Wedges With A Creamy Garlic Dipping Sauce are to die for.  And if you prefer a skinny cut when it comes to your sweet potatoes you can always opt for my  Clean Eating Baked Sweet Potato Fries.
A few ideas that are a little more hearty yet easy to eat with your hands would be these Clean Eating Slaw Topped Bison Sliders and my Clean Eating Broccoli And Chicken Quesadillas.  Both so yum.
And if are looking for something light and crunchy, then my Clean Eating Indian Spiced Roasted Chickpeas are for you (and they just so happen to be perfect with an ice cold beer).
Check out my clean eating indian spiced roasted chickpea video here:
5.  CLEAN+DELICIOUS DIPS
This is one of my personal favorites.  It's my spin on spinach dip.  It'a a Clean Eating Collard Green And Artichoke Dip.  So, so perfect for game day.
I'm pretty sure this can go unsaid, but Guacamole is welcome at any and all parties.  It's another dip waiting for a non-gmo corn chip to stop on by and just so happens to be full of heart healthy fats.
And the last thing I have for you guys is this Greek Yogurt, Beet, & Feta Dip.  It's a beautiful color and an unexpected surprise.
Check out my clean eating collard greens and artichoke video here:
Ok… so that's all I've got for you guys for now.  Enjoy your Super Bowl Sunday!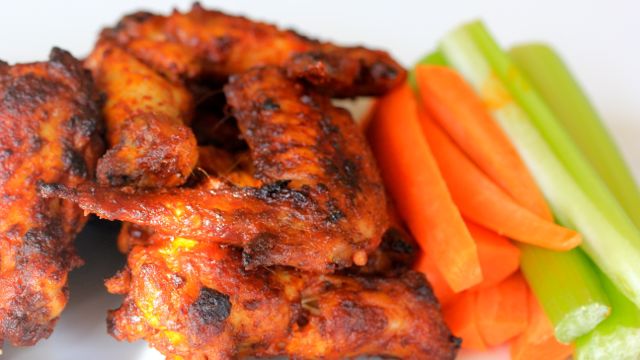 Print Recipe
Clean Eating SuperBowl Snacks