Chicken Piccata is a classic.
Fresh lemon paired with white wine and capers makes a light and refreshing sauce that is perfect for this time of  the year.
I love this recipe because it comes together so quickly and because my whole family loves it, 2 year sold- 40 years old, everyone around here is happy to eat it.
Try serving with some fresh asparagus and brown rice.  Or  double the ingredients for the sauce and serve over some pasta.  Enjoy!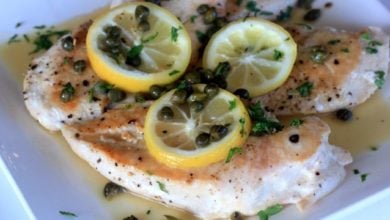 Clean Eating Chicken Piccata
Yield: Serves 4
Prep Time:5 minutes
Cook Time:10 minutes
Total Time:15 minutes
Ingredients:
1 lb. thinly sliced chicken breast
2 tsp. olive oil
¼ cup white wine
¼ cup fresh squeezed lemon juice
4 thin slices of lemon
2 tsp. capers
Salt and pepper to taste
Directions:
Heat olive oil in a large non-stick sauté pan over a medium high heat.  Season chicken with salt and pepper and add to the pan, seasoned side down.
Cook chicken for 2-3 minutes or until it has lightly browned (be sure to season opposite side of chicken while it's cooking) and then flip over and cook another 2 minutes on the opposite side.
Add lemon juice, wine, and capers to the pan then top each chicken breast with a slice of lemon.  Reduce the heat, pop the lid and simmer for 3-5 minute until chicken has cooked through.
Plate up chicken and top with remaining sauce.  Enjoy!
Serves 4.
Nutrients per 1/4th of recipe; Calories: 134; Total Fat: 3.8g; Saturated Fat: 0.4g; Cholesterol: 60mg; Carbohydrate: 1.5g; Dietary Fiber: 0.1g; Sugars: 0.4g; Protein: 23g