I'm pretty much addicted to frozen bananas these days.
Whether it's eating them plain Jane out of the freezer, tossing them into a smoothie, or making some 2-minute banana ice-cream, I just can't seem to resist their cold, creamy goodness.
So one day, while sitting at my desk staring at a box of Kashi TLC Peanutty Dark Chocolate Layered Granola Bars (my 2nd taste test for Kashi) it hit me!
Slice up some bananas, dip them in dark chocolate, and then roll them around in some chopped up granola bars!!!
Now up until this moment I had been enjoying the granola bars as-is. The thick fudgy layer of chocolate sprinkled with peanuts and spread over a chewy granola bar made them the perfect partner for my afternoon coffee and a convenient snack to keep in the car for both parent and toddler snack attacks!
And since my 3-year old couldn't seem to walk past my desk without grabbing one out of the box, I knew I had to work quickly if there were going to be any bars left for my Chocolate Banana Bites.
So I headed to the kitchen, sliced up a banana, chopped up a granola bar, melted a little dark chocolate, dipped, rolled and froze.
And all I have to say is, "OMG these little guys are TDF"!  (Otherwise stated as "oh my God" & "to die for").
The cold creamy banana coated with a layer of dark chocolate and then topped with the chewy, peanutty, chocolate chunks of the granola bar was a match made in heaven and surely a nutritious treat that everyone in your family will love (I know mine did!).
They are the perfect snack to satisfy a sweet tooth without sending yourself on some crazy sugar-binge.
Enjoy!!
*On another note – After posting the first of my three-part series with Kashi I received some comments and emails from caring and concerned readers bringing to my attention the fact that Kashi has been using GMO crops in many of their products.
GMO's are genetically modified foods and they are not something we want to be including in our diets.
After a bit of research, I learned that Kashi has began a Non-GMO Project and vow to have ALL their products GMO free by 2015.
If you are interested in doing a little more research yourself, please use the links below as starting point:
Kashi and The Non-GMO Project – This page will show you which of Kashi's products are currently GMO-Free.
Kashi Go Lean Loaded With GMO's – An article from Sarah, The Home Economist, providing a completely different perspective.
Thanks so much to each and everyone of my caring readers who took the time to share this information with me and therefore all of you.  xo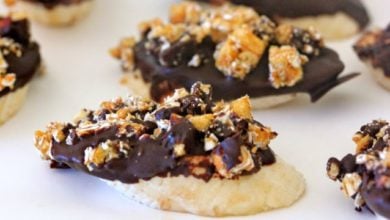 Print Recipe
Chocolate & Granola Bar Banana Bites
Ingredients
1

banana

sliced

1

Kashi TLC Peanutty Dark Chocolate Layered Granola Bars

chopped up

1.5

ounces

dark chocolate
Instructions
Line a plate with a piece of parchment paper.

Melt your chocolate in a small-medium sized bowl. You can either do this in a double boiler or in the microwave.

Using a toothpick, dip a slice of banana into the chocolate and then dip into the granola. Lay banana side down on the parchment paper.

Repeat with all of the banana slices and then pop the plate into the freezer. Freeze for 3-6 hours or until frozen through. Once all the Banana Bites are frozen, you can store them in a freezer bag in the freezer. Enjoy!

Serving Size = a banana
Nutrition
Calories:
180
kcal
|
Carbohydrates:
23
g
|
Protein:
2
g
|
Fat:
9
g
|
Saturated Fat:
5
g
|
Cholesterol:
1
mg
|
Sodium:
5
mg
|
Potassium:
363
mg
|
Fiber:
4
g
|
Sugar:
12
g
|
Vitamin A:
0.8
%
|
Vitamin C:
6.2
%
|
Calcium:
1.6
%
|
Iron:
14.9
%