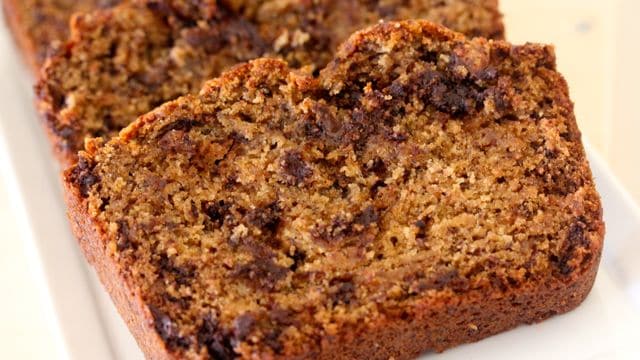 Scroll down to watch the video.
Let me start by apologizing for having no recipe for you guys last week.  As many of you know, my family and I recently moved back east and are not in our new house yet, so things are a little upside down right now (and probably will be for the rest of the summer).
And while we have been pretty unstructured and in major transition mode, we have been really enjoying the east coast summer.  The heat, the swimming, the farmers' markets, friends, family, BBQs… it's feeling really good to be back.
This recipe is an easy way to use up the abundance of zucchini we are seeing this time of the year (especially if you have a garden).  And truth be told, any type of Summer Squash will work, so feel free to use whatever you have on hand.
The funny thing about zucchini bread is that you don't really taste the zucchini at all.  It's more like a quick bread that just so happens to have zucchini in it, which definitely has its perks.
For starters, it's an easy way to add more veggies into your diet (especially if you have kids – they would never know it had a veggie in it) and you can pretty much highlight any flavors you want.  In this recipe, the cinnamon and chocolate take center stage but you could easily go for nuts, raisins, cranberries, orange zest, etc.
Enjoy this bread at room temperature or (if you really want to swoon) hot out of the oven.  It's perfect in the morning with some coffee or late afternoon with your second cup of coffee:).  Enjoy!
*UPDATE – many of you asked why I use sugar in this recipe and/or is agave a good substitution.  I used to use agave a lot, but the more research I did, the less I believe that it is a 'healthy alternative' to cane sugar (or in this case turbinado sugar).  Most agave sold today is highly processed with a lot of chemicals and is extremely high in fructose – more so than high fructose corn syrup.
This is a great, detailed article explaining why agave is not all it's been cracked up to be: https://www.huffingtonpost.com/dr-mercola/agave-this-sweetener-is-f_b_537936.html
Like I mention in the comments below, at the end of the day, sugar is sugar.  Constantly trying to find an alternative is exhausting and delusional and I think part of the problem with modern-day 'healthy' eating.  We are trying to find a way around what's real and natural.   Simply put, sugar is delicious and should be kept to a minimum in our diets.  When we do choose to have sugar, we should make sure it's for something absolutely delicious and that we 100% enjoy it!
---
Prefer Chocolate with your zucchini?  Try this Chocolate Zucchini Snack Cake
Looking for a gluten-free option?  Try these Gluten-Free Chocolate Zucchini Muffins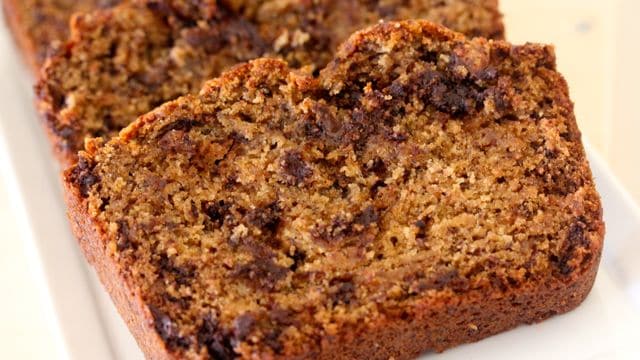 Print Recipe
Chocolate Chip Zucchini Bread
Ingredients
2

cups

whole-wheat pastry flour

1/2

tsp.

kosher salt

1.5

tsp.

baking soda

1

tsp.

cinnamon

3/4

cup

turbinado sugar

sugar in the raw

2

eggs

1/3

cup

melted coconut oil

1

tsp.

vanilla

1.5

cups

grated zucchini

1/2

cup

chocolate chips
Instructions
Pre heat oven to 350

Coat a glass loaf pan with coconut oil or cooking spray.

In a large bowl combine flour, salt, baking soda, cinnamon, and sugar. Set aside.

In a medium bowl, combine eggs, coconut oil, and vanilla. Gently stir in zucchini and chocolate chips.

Add wet mixture to dry mixture and stir until everything is just combined. Pour into loaf pan and pop in the oven (center rack) for 1 hour (or until a toothpick inserted in the center of the loaf comes out clean).

Cool and enjoy!

Makes 8 slices.
Nutrition
Calories:
331
kcal
|
Carbohydrates:
49
g
|
Protein:
6
g
|
Fat:
14
g
|
Saturated Fat:
10
g
|
Cholesterol:
43
mg
|
Sodium:
397
mg
|
Potassium:
130
mg
|
Fiber:
4
g
|
Sugar:
26
g
|
Vitamin A:
85
IU
|
Calcium:
38
mg
|
Iron:
1.5
mg