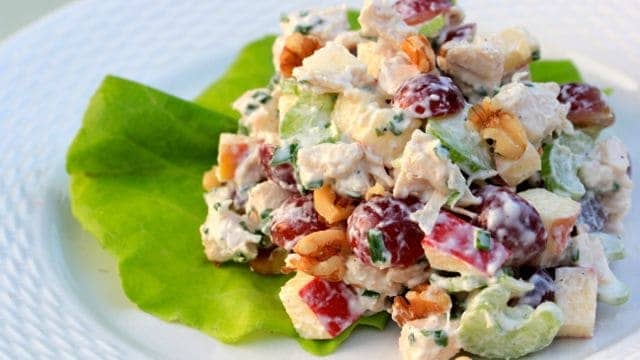 Have you ever just been stuck? Uninspired? Or simply, unexcited about what your next meal is going to be??  Sad to say, I have been in these shoes for a little over a week now – just kind of blank about what to cook up next.
So what to do?
Whenever I find myself in a culinary rut, I start searching around for inspiration, looking for something to get me excited about food.
Here are my top six tricks to shake a culinary rut:
1.  Cook without a plan.  I know this may sound counter intuitive, but rummaging through your kitchen without a plan is a great way to get the culinary juices flowing.  Try letting the ingredients lead the way, rather than you leading the ingredients.
2.  Watch food TV.  This is especially helpful when you are feeling like a blank slate with low energy.  It's a no brainer.  All you have to do is turn on the boob tube and wait for something yummy to jump off the screen.  Instant inspiration!
3.  Search food blogs.  I can honestly say that this has become my number one way to get inspired by food these days.  I am forever searching all the yummy food blogs out there.  It's such an inspirational way to find tons of delicious ideas.
4.  Thumb through food magazines and cookbooks.  An oldie, but a goodie, it works.  Try taking an old classic and giving it a modern twist.
5.  Get inspired by some of your favorite restaurants.  Have a restaurant that you absolutely love?  Borrow some ideas from the menu and try to recreate them at home.
6. Ask your friends what they are making for dinner.  Let's face it, we are not alone in this whole "we need to get dinner on the table every night thing."  I have gotten some of my best ideas from some of my best friends.  So remember to ask around!
As for this recipe, I have to thank Gina from SkinnyTaste.  I was bopping around looking for something to do with all of the leftover chicken I had from my roast chicken this past weekend, when I stumbled upon this Skinny Chicken Waldorf Salad.  This was just one of  the many, many mouth watering recipes that caught my eye from Gina's blog.  Her site is loaded with lite and delicious recipes that will leave you never wanting anything but a healthy and nutritious meal again!
Many people like their Waldorf Salad with all yogurt and no mayo, BUT I am not one of them.  What can I say, I really love mayo; so whenever I have a recipe that calls for mayo, I usually go one part mayo, three parts Greek yogurt.  I find just a little bit of real mayo can go along way when mixed with yogurt.
I also added some fresh chopped chives to this salad just to give it another layer of flavor and a bit of bright color.
This salad is great over a bed of greens, served on a whole grain roll, or piled into a wrap.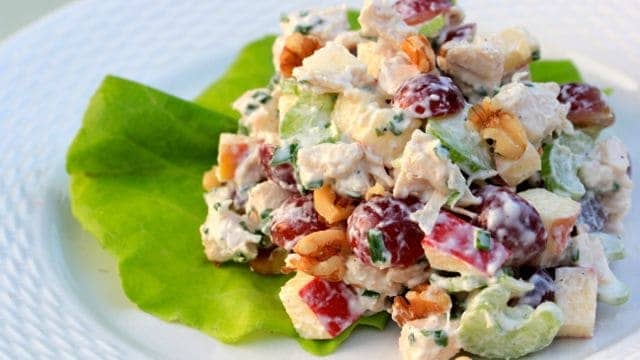 Print Recipe
Chicken Waldorf Salad With Chives
Ingredients
8

oz

pre-cooked chicken breast

leftovers work great here

1

medium apple

chopped

1

cup

of red seedless grapes

cut in half

1/2

cup

of celery

thinly sliced

1/4

cup

of plain

fat free Greek yogurt

2

tbsp

of mayonnaise

2

tbsp

fresh chopped chives

Salt and pepper to taste

2

tbsp

walnut pieces
Instructions
Combine yogurt, mayo, salt, pepper and chives in a medium bowl and mix well. Add chicken, apple, grapes, and celery and toss until everything is coated in the yogurt sauce. Give it a quick taste and adjust salt and pepper if needed.

If you are going to eat it right away, stir in the walnuts and enjoy. If not, cover and refrigerate and then add the walnuts right before you are ready to serve. Enjoy!

Makes 4 1cup servings.
Nutrition
Calories:
35
kcal
|
Carbohydrates:
1
g
|
Protein:
1
g
|
Fat:
3
g
|
Saturated Fat:
1
g
|
Sodium:
10
mg
|
Potassium:
55
mg
|
Fiber:
1
g
|
Sugar:
1
g
|
Vitamin A:
55
IU
|
Vitamin C:
0.4
mg
|
Calcium:
10
mg
|
Iron:
0.1
mg