Stir-fries are a bit of a contradiction. They are super fast to make if, and this is a BIG IF, you have all your veggies prepped and ready to go (I told you it was a BIG IF).
Now here's the deal,  I don't mean to sound like a broken record people, but the only solution that I have found for saving time in the kitchen (especially when it comes to week night dinners) is pre-preppin'.  Ya just gotta put a little forethought into the meal plan for the week if you don't want to get sucked into the: "I'm-too-tired-and-hungry-to-care-so-i'll-just-eat-a-sleeve-of-cookies-for-dinner" vortex (don't act like you don't know what I'm talking about).
Now, I didn't prep my veggies on the weekend for this dinner, but I did chop them up during the late morning while Katie was sleeping; which was my saving grace because I just didn't have the same kind of time when dinner came around.  So…. blah, blah, blah, blah, blah… all I'm saying is,"PRE-PREP!".
This recipe was inspired from a recipe in the South Beach Cook Book.  The first time I made it I followed the recipe verbatim, but it was a little too ho-hum for my liking, so I made it a second time and gave it a little dani d. spin (dani d. is what all my friends call me… and don't ask why, because the d. has no meaning).
Basically, I cut way back on the coconut milk, added some ground ginger for spunk and a little arrowroot to thicken up the sauce a bit.  The ginger really gave this the kick that I was looking for… yum!
I have also been experimenting with different oils and find that cooking with coconut oil is a great option for high heat cooking, like stir-frying.  It has a much higher smoke point so it does not oxidate (like say an olive oil would) when working over high heats.
Overall a really QUICK, clean, simple, and delicious dish (as long as you do a little pre-preppin';)).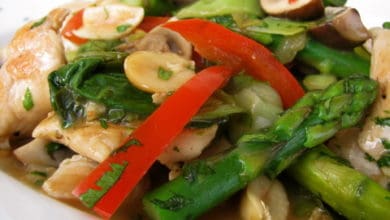 Chicken And Veggie Stirfry
Yield: Serves 4
Prep Time:20 minutes
Cook Time:15 minutes
Total Time:35 minutes
Ingredients:
1 lb of boneless, skinless, chicken breasts, thinly sliced
2 tsp coconut oil
3 small heads of bok choy, stemmed chopped, leaves left whole
½ pint of cremini mushrooms, quartered
1 red pepper, seeded and thinly sliced
1 bunch of asparagus, cut into one-inch pieces
¼ cup peanuts
Big handful of chopped cilantro
1 cup of light coconut milk
1 tbsp of light soy sauce or fish sauce
1 tsp of arrowroot
2 tsp ground ginger
The juice and zest from one lime
Directions:
In a small bowl combine coconut milk, soy sauce, arrowroot, ginger and limejuice.  Set aside.
Heat coconut oil in a large non-stick sauté pan over a medium high heat.  Add chicken and cook for about 5 minutes or until the chicken is browned on the outside and just cooked through.  Remove chicken from the pan and set aside.
Add the coconut milk mixture to the pan and bring it to a simmer.  Add in bok choy, mushrooms, red pepper, and asparagus.  Pop a lid on it and simmer for three to five minutes or until your veggies are cooked to your liking (I prefer them al dente)
Add chicken back to the pan.  Once the chicken has heated through, stir in your peanuts and cilantro.  Enjoy!
Serves 4.
Nutrients pe 1/4 recipe: Calories: 270; Total Fat: 12.5g; Saturated Fat: 5.7g; Cholesterol: 60mg; Sodium: 422mg; Carbohydrate: 14.8g; Dietary Fiber: 4.1g; Sugars: 6.1g; Protein: 28.5g