Chicken burrito bowls are packed with ground chicken, cilantro lime cauliflower rice, black beans, corn, and tomatoes. They are perfect for meal prep and make a great lunch or easy dinner for busy weekdays.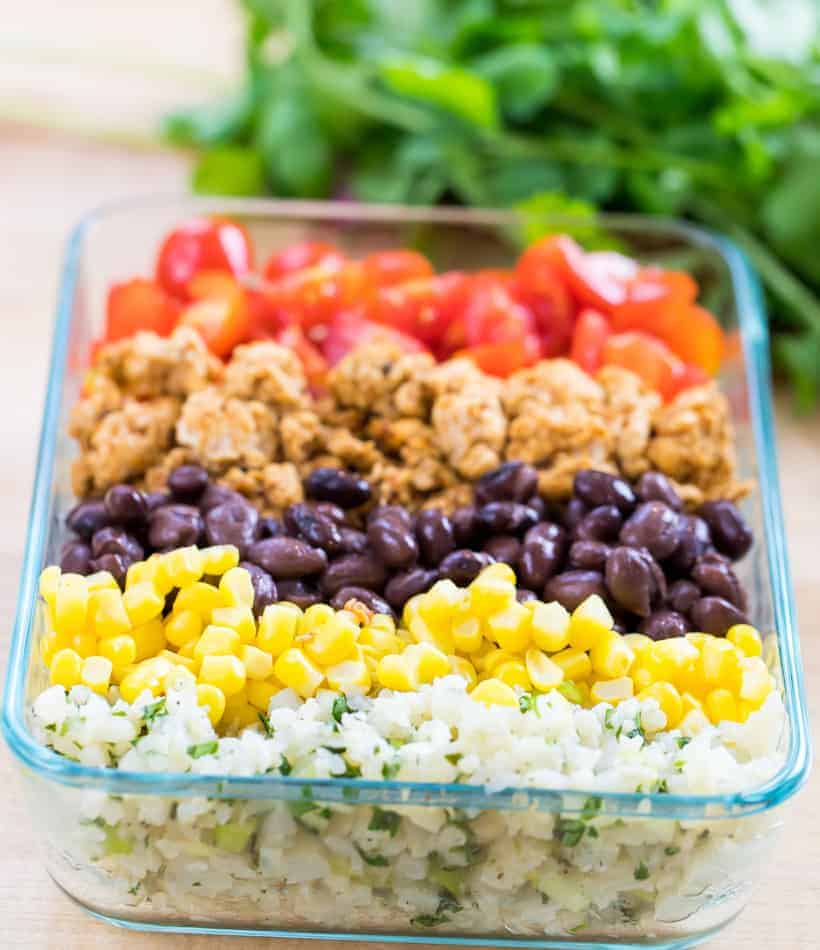 Say goodbye to fast-food burrito bowls like Chipotle, and hello to healthy, home chicken burrito bowls made by YOU!
These chicken burrito bowls are better than anything you can buy on the go. They're also more nutritious and so easy to make.
I like to prepare them on the weekend when I am doing my meal prep, so I have them ready to go for lunch or a light dinner during the week.
If you prefer to keep them 100% plant-based, try swapping in crispy baked tofu for the ground chicken.
Is A Burrito Bowl Healthy?
Making a homemade burrito bowl is definitely healthy! Made from real whole food ingredients, these bowls are certainly a nutritious meal. Let's break it down!
Cauliflower rice offers a delicious veggie base for these bowls. If you prefer a whole grain (which I often do), you can swap in brown rice, quinoa, or wheat berries. Really any whole grain you like will work. But I love how light the cauliflower rice is.
Ground chicken offers a great source of protein. I like to buy organic meats whenever I can find them. Keep in mind, that you can also make these burrito bowls using ground turkey, ground beef, or even tofu.
Black beans also provide lots of protein and are also rich in fiber. Plus beans are super affordable. I love to keep them stocked in my pantry.
Tomatoes provide our bodies with vitamins A, and K, lots of B vitamins, and a huge dose of vitamin C. They also add a lovely fresh flavor to the bowls.
Corn is another ingredient packed with fiber, and also has a variety of vitamins and antioxidants. I always look for non-GMO, organic corn options. And I love using frozen corn for this recipe.
How To Make a Burrito Bowl
Building a burrito bowl is very easy to do. Here's the cliff notes – see the recipe card for the full step-by-step instructions.
Heat olive oil in a non-stick saute pan and saute garlic until fragrant.
Add the cauliflower rice, season with salt, pepper, and chicken broth (or water), and cook until tender.
Transfer to a bowl, cool, and stir in scallions, cilantro, and lime juice.
Heat a saute pan over medium heat, add olive oil, and ground chicken. Season and cook until opaque, breaking the chicken into small crumbles.
Sprinkle in taco seasoning and stir to coat the chicken with the spices. Cook for a couple of more minutes or until the chicken is cooked through. Shut off the heat and allow it to cool.
Assemble! Starting on one side of your meal prep container, layer the cauliflower rice, corn, black beans, chicken, and tomatoes. Repeat until you have four burrito bowls.
*OPTIONAL: combine Greek yogurt, chipotle sauce, and lime juice. Stir well and serve over your burrito bowl.
Chicken Burrito Bowls

Say good-bye to fast food (like Chipotle) and hello to this healthy homemade DIY chicken burrito bowl. Packed with ground chicken, black beans, corn, tomatoes and cauliflower rice these burrito bowls are both delicious and nutritious.

Ingredients

1

tablespoon

olive oil

1

clove

garlic, chopped

4

cups

cauliflower rice

1/4

cup

low sodium chicken broth

1/4

cup

scallions, chopped

1/4

cup

cilantro,

chopped

1

tablespoon

lime juice

1.25

pounds

ground chicken

2

tablespoons

taco seasoning

2

cups

black beans,

drained and rinsed

2

cups

frozen corn,

defrosted

1

pint

cherry tomatoes,

quartered

1/2

cup

greek yogurt

2

tablespoons

chipotle in adobe sauce

1

tablespoon

lime juice

Instructions

Heat one teaspoon of oil into a large non-stick saute pan. Toss in garlic with a pinch of salt and sauté until fragrant.

Add cauliflower rice to the pan along with salt, pepper and chicken broth (or water). Pop on the lid and cook for 3-4 minutes or until the rice is tender.

Transfer to a bowl and allow to cool before stirring in scallions, cilantro and lime juice. Set aside.

Heat a large non-stick saute pan over a medium heat, add in remaining oil and ground chicken. Season with salt and pepper and break into crumbles with a rubber or wooden spatula until the chicken is in crumbles.

Once the chicken has turned from translucent to opaque, add in taco seasoning and stir to coat the chicken with the spices. Cook for a couple more minutes or until chicken is cooked through. Shut off the heat and allow to cool.

Once all of your ingredients are prepped and ready to go, you are ready to assemble your bowls.

Starting on one side of your meal prep container, layer cauliflower rice, corn, black beans, chicken and tomatoes. Repeat until you make 4 burrito bowls.

*OPTIONAL: combine greek yogurt, chipotle sauce and lime juice. Mix well!

Store burrito bowls in the fridge for up to 5 days. Top with yogurt sauce before eating. Enjoy!

Notes

*You can eat these burrito bowls hot, cold or room temperature.

**You can lower the total fat in this dish by using a lean ground chicken.

Nutrition

Calories:

517

kcal

|

Carbohydrates:

57

g

|

Protein:

42

g

|

Fat:

17

g

|

Saturated Fat:

4

g

|

Cholesterol:

123

mg

|

Sodium:

358

mg

|

Potassium:

2077

mg

|

Fiber:

15

g

|

Sugar:

8

g

|

Vitamin A:

1201

IU

|

Vitamin C:

115

mg

|

Calcium:

115

mg

|

Iron:

5

mg