Did you know that if you finish your shower with a blast of ice-cold water in the dead of winter you will actually stay warmer throughout the day?
It's true.
The cold water signals your pores to close so that your body will retain heat which results in you (or me) staying warmer all day long.
Now don't get me wrong, I have NEVER had the desire to test this theory (just the idea of ice cold water in my shower in the dead of winter makes me shudder)  but when I was studying at "The Institute of Integrative Nutrition," I knew many brave souls who put this theory to the test.
The same is true of the opposing theory.
While I do not recommend blasting scalding water in your shower during the middle of summer, drinking or eating something hot on a hot day will signal your pores to open in order to release excess heat which will ultimately keep you cooler.
Who knew?
So the next time you want to cool off on a hot summer day, skip the lemonade and sit down to a nice big bowl of soup.  Perhaps some Chard and Chicken Soup if you are looking for something fresh, light, quick, and easy to whip up.
While doing a little Chard recipe hunting, I found what may just be my new favorite blog, Summer Tomato.  If you want some great tips, recipes, and ideas highlighting local, seasonal foods you have to be sure and stop by.
Darya speaks my language.  She takes the often confusing and misguiding literature of nutritional science and breaks it down into easy to understand, bite-sized, take-away, nuggets that we are all desperately in need of.  She keeps it simple, factual, to the point and her blog is ooozing with a wealth of valuable information.
This soup is a spin off of Darya's Chicken Chard Soup.
I gave it a bit of a Mexican spin by skipping the thyme, parsley, and lemon and adding a big bunch of cilantro and some fresh squeezed lime juice!  I also took a short cut and used an organic rotisserie chicken rather than cooking the entire chicken myself.
The results?
A super quick and nutritious soup that is light, refreshing, and the perfect way to cool down on a warm day.
Try adding some scallions and avocado right before you eat this soup to add a bit of extra flavor and texture. So good.
Do you guys like to eat soup during the warmer weather?  Do you have any warm weather favorites?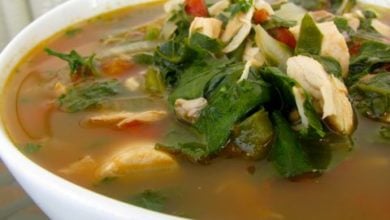 Print Recipe
Swiss Chard And Chicken Soup
Ingredients
1

tbsp

of olive oil

1

onion

diced up

3

cloves

of garlic

minced

1

jalapeno pepper

seeded and diced

1 28-

oz

can of diced tomatoes

4

cups

1 box low sodium chicken broth

2

cups

of water

16

oz

of white meat rotisserie chicken

chopped into bite size pieces

1

large bunch of chard

stemmed and sliced into ribbons

1

cup

fresh chopped cilantro

The juice of one lime

4

scallions

thinly sliced
Instructions
Heat olive oil in a 5-qt, non-stick stockpot and add in onions, garlic and jalapeno. Cook for about ten minutes or until your onions are translucent and the veggies are nice and tender. Be careful not to brown them!

Add in tomatoes, broth, water, chicken and bring to a boil. Once you have your boil, bring it down to a simmer and add chard. Cook soup for another five minutes or until the chard has wilted.

Finish it off by stirring in the cilantro, lime juice, and scallions.

Enjoy!

Makes 6 1.5 cup servings.
Nutrition
Calories:
11
kcal
|
Carbohydrates:
3
g
|
Protein:
1
g
|
Fat:
1
g
|
Saturated Fat:
1
g
|
Sodium:
3
mg
|
Potassium:
63
mg
|
Fiber:
1
g
|
Sugar:
1
g
|
Vitamin A:
285
IU
|
Vitamin C:
6.4
mg
|
Calcium:
12
mg
|
Iron:
0.2
mg